Hundreds of mourners gathered at Pinecrest High School on Sunday to celebrate the life of Dennis "Quan" Purcell, a student who is being remembered as a devout Christian with a magnetic smile.
Purcell, 17, died last week in a motorcycle crash. The accident happened only four days before he was scheduled to graduate high school.
His older sister Vernita Purcell was seriously injured in the wreck. She is being treated at an area hospital.
The memorial service at Robert Lee auditorium featured impassioned readings of scripture and stirring gospel performances. Many in attendance described Dennis Purcell as "a man of God," and said he would have approved of the proceedings.
Pastor Steve Chesney, who officiated the service, said Purcell "left a legacy of great relationships."
"He did more in his 17 years than most people have done in their entire lifetime," Chesney said. "Look at this auditorium filled with people. That's called impact."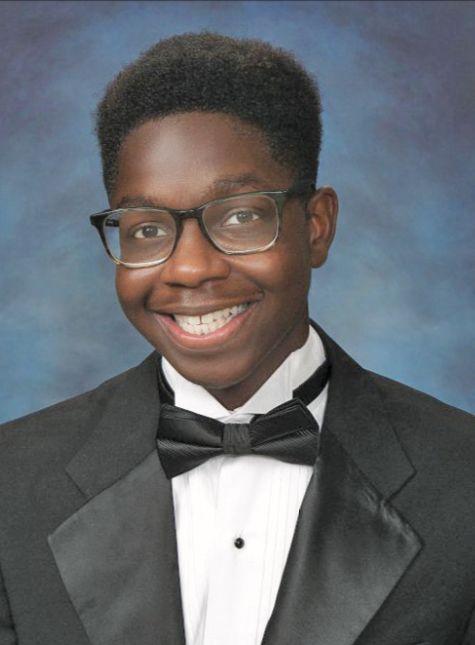 Purcell was a reserve wide receiver on the Pinecrest football team. As a procession of Purcell's coaches and teammates filed into the auditorium, a slideshow of his childhood photographs flickered on the overhead projection screen.
"Our football family lives by four pillars: love, effort, focus and trust," Coach Chris Metzger told the audience. "From the outpouring of love here today, it's obvious that Dennis lived by those pillars."
Metzger added that Purcell is now playing "on the undefeated team," a sentiment shared by the applauding crowd.
Ardrenna McCrimmon, one of Purcell's former teachers, said she will remember the teen's "wit and his smile."
"He was always looking forward to the future," McCrimmon said. "He had big dreams."
During the service, mourners were asked to silently read Purcell's obituary while "I'm Depending on You," a song by Shawn Jones and the Believers, played on the auditorium's loudspeakers. Purcell was later buried at Serenity Memorial Park Cemetery.
Stefanie Phillips, principal of Pinecrest High School, had told The Pilot that Purcell's smile "will forever be in my mind."
"He was just a great kid who was always so positive," she said in an interview Friday. "He was always smiling."
His diploma was accepted Saturday by his cousins Kametra Hunter and Iralynne McBride, who both wore T-shirts emblazoned with Purcell's senior portrait. In the portrait, Purcell is flashing his signature smile.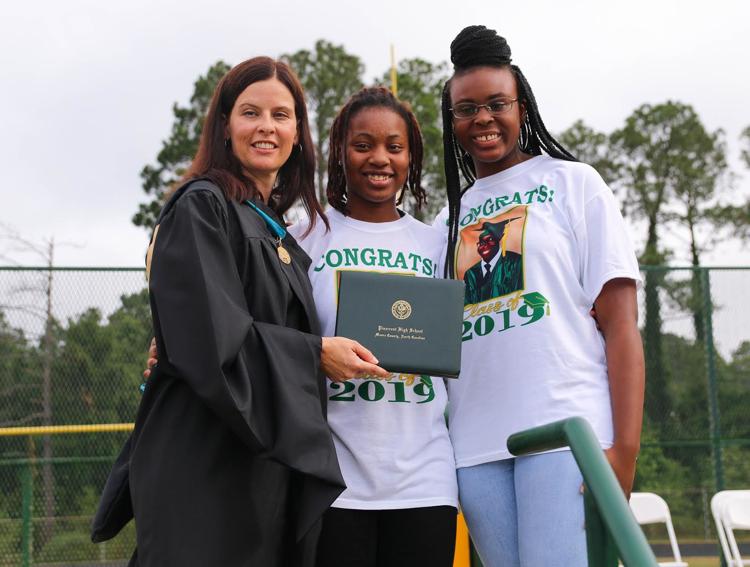 Before the commencement ceremony, Purcell's cap and gown were neatly draped over his empty seat at John Williams stadium. A moment of silence was held in his memory.
A similar observance was held Friday at Union Pines High School for Samantha Davis, another student athlete who did not live to see graduation.
Davis, 17, was a member of Union Pines' cross country team and played trumpet for the school band. She suffered a fatal seizure during a cross country meet in Charlotte on Sept. 23.
As Pinecrest had done for Purcell, Union Pines used Davis' cap and gown to mark her empty chair. Flowers were placed in both students' seats.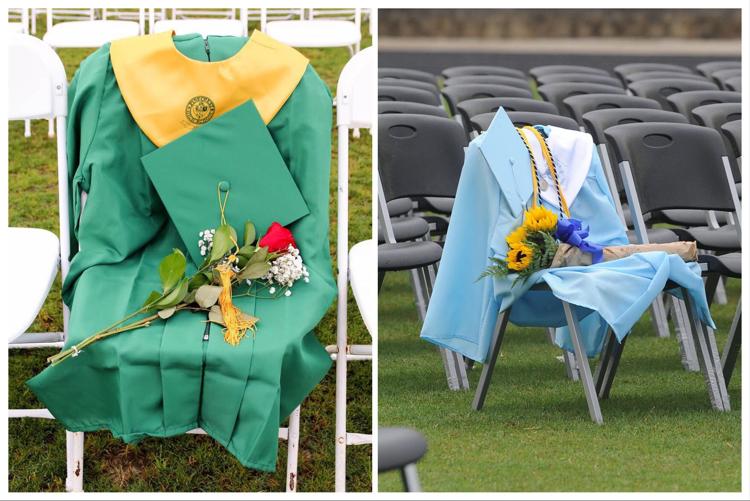 Correction: An earlier version of this article misstated the date of Samantha Davis' death. It was Sept. 23, not Sept. 24.