Editor's Note: The following story originally ran on Sept. 11, 2016, to honor the courage of everyday heroes like Pinehurst resident Shirley Baldwin who rushed forward to help on 9/11.
At 7:15 a.m. on Sept. 11, 2001, terrorists affiliated with al-Qaeda checked in at the American Airlines counter for Flight 77 at Washington Dulles International Airport in suburban Virginia.
It was about that same time Shirley Baldwin arrived at her job at the Pentagon. She and her husband commuted in together to Washington D.C., often leaving around 6 a.m. to beat the traffic and get an early start. It was only 14 miles into the city from their home in Fairfax but it still took over an hour to get in to downtown.
"It had started like any other day," she remembers.
Her husband, Miles, dropped her off and headed over to his job at the Naval Defense University. Baldwin arrived at her office and logged in to her computer. The screen popped up commemorating 'National 9-1-1 Day.'
That struck her as odd. She had never heard of it and asked around. Everyone agreed it must be some sort of new national observance to honor emergency responders.
Baldwin had been at work about an hour when Flight 77, headed for Los Angles, took off from Runway 30 at 8:20 a.m. It was barely a third full, with 58 passengers and six crew.
Thirty minutes later, the five hijackers took over the plane and turned it east, toward the Pentagon.
An exercise physiologist and civilian nurse, Baldwin worked in the DiLorenzo Clinic as a health educator. During her tenure at the Pentagon, she worked with management to install automatic defibrillator devices [AED] throughout the Pentagon and also created a nursing moms' room. One of her primary tasks was overseeing health fairs that were held on the main concourses of the building.
A few minutes after 9 a.m., Baldwin left her office for a cup of coffee. She planned to meet friends on the main concourse but when she rounded a corner, a co-worker grabbed her.
"You need to see this," she was told.
The North Tower of the World Trade Center in New York City had been hit by a plane. People were crowded around a TV in a staff lounge in the civilian portion of the medical clinic.
Just as Baldwin arrived, the live video feed captured the second hijacked plane striking the South Tower of the World Trade Center.
"We could not believe it. The reporters were saying it was a terrorist attack. I remember commenting, "I can't believe they haven't hit the Pentagon."
At 9:12 a.m., American Airlines Flight 77 attendant Renee May called her mother and said the plane had been hijacked. Another passenger had called and reported the hijacking.
Air traffic controllers spotted Flight 77 on their screens, thinking at first it was a fighter jet because of its speed and maneuvering.
At the Pentagon in that staff lounge, people continued to watch on TV what was unfolding in New York.
Flight 77 crashed into the Pentagon at 9:37 a.m., taking eight-tenths of a second for the fuselage to penetrate 310 feet into the three outermost rings of the Pentagon. The western wall of the fortress-like building took the direct hit. That wedge-shaped section had recently been renovated with reinforced steel columns and 2-inch thick blast resistant windows. Many of the offices most severely damaged were not yet reoccupied.
"A military guy came running and said to evacuate. He said we had just been hit," Baldwin said.
Baldwin never felt a thing — no one in the clinic did. They were on the opposite side of the Pentagon and didn't even hear anything.
Ultimately, 125 people in the Pentagon would die that day, along with everyone on Flight 77.
Baldwin was directed to an exit and was crossing a pedestrian bridge in the parking lots when she turned to look back at the building she'd just fled.
"All you could see was black billowing smoke going up in the air. Everyone scattered. Honestly, it was just chaos."
To Baldwin's right was a pregnant woman sitting on the ground. The nurse in her kicked into action. She asked the woman if she was in labor. She said no, but was experiencing discomfort.
"Then I noticed there were others around us with minor injuries," she said. "I had nothing to work with. I had on a lab coat and a $10 bill in my pocket. That was it."
Baldwin calmed the pregnant mother then moved on to a man who was having a seizure. Without any medications to assist her efforts, she relied on calming words and asked the man to repeat the Lord's Prayer with her. The words were soothing to both.
"What do you do? Some guys came up and they had crosses on their lapels. They were military chaplains. They asked if they could help," she said. "I told them, yes. Pray and pray hard."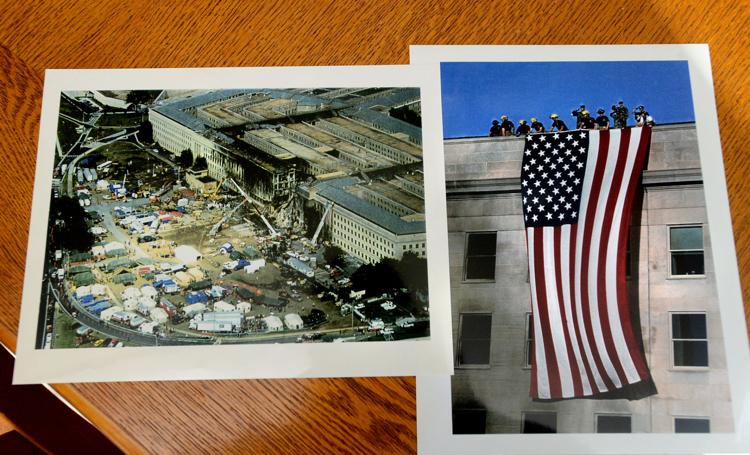 Together they placed the man on a stretcher but quickly had to take refuge at the tree line because they were told another plane was coming. Baldwin flagged down the first car that came along — a D.C. police cruiser.
"I ordered him to stop and take the man to the hospital. I was running on adrenaline," she said.
Crossing back over the parking lot, Baldwin was desperate to reach the south parking lot.
"I knew that was where the triage would be. Every time I tried to get over there, I would get turned back," she said. "I know now it was God. He had a plan and it was not for me to get over there."
Frustrated, she was standing there when two active duty medical personnel came to her with another man on a stretcher.
"They said, "Can you help? They took our ambulance," Baldwin recalled.
Getting closer, she knew why. The man, Brian Birdwell, had already been triaged and was burned over 60 percent of his body. He had an IV in his foot — the only place not burned where they could put it.
"His chances of survival were very unlikely," she said. "He looked at me and asked if he was going to die. I said, "Not today."
Baldwin flagged down a fire truck but they could not help. The next car was too small to handle a stretcher.
"Then I see this SUV vehicle coming out of the parking lot. We stopped it and starting throwing things out of the back. We threw the man's golf clubs on the ground."
Baldwin instructed an x-ray technician and another corpsman to take Birdwell to either Georgetown or Washington Hospital — wherever they could reach first. Then she commandeered another police car to lead the way.
"They got to a point when they couldn't get any further but then a motorcyclist showed up. He said he knew the way and would clear the path," she said. "God had such a hand in this. I know he was there."
Emergency room doctors later told the man if he had arrived even a few minutes later, he would not have survived.
Birdwell had 32 surgeries during his recovery. Today he runs a foundation with his wife that works with burn victims. He wrote a book about his experience at the Pentagon and is currently serving as a state senator in Texas.
"He is alive and well and doing good work," Baldwin said.
Back at the Pentagon, Baldwin finally was able to reach the triage area and was put in the area where medical workers were to start IVs on the wounded.
"We were set up but no one ever came," she said. "Military planes were flying everywhere and it was total chaos. It was the closest thing I've ever been to a war zone."
From Tragedy, Faith Strengthened
While Baldwin worked, her husband worried. Her cell phone was in her purse back at her office. Miles Baldwin could see the flames at the Pentagon from his desk across the Potomac River at Fort McNair, but he knew nothing about his wife's situation. It was five hours before she was able to reach him.
Baldwin stayed in triage until 8 p.m. and returned to her desk the next day — on schedule.
"Donald Rumsfeld said the Pentagon was functioning and we were. I was at my desk at 7 a.m.."
The damaged section of the building burned for three days, charring the nursing moms room that Baldwin had created.
She worked in the Pentagon another year, then transferred to the Navy Yard, serving as a health educator for three more years.
In 2005, Baldwin and her husband retired to Pinehurst, where she fills her time with volunteer work. The Moore County Commissioners appointed her to serve on the Community Advisory Committee for nursing homes. She also teaches CPR classes for the American Red Cross, helped implement the AED program in Moore County, volunteers with the Pinehurst Police Department, is active with the Sandhills Christian Women's Club, volunteers one day a week at the Moore Free Care Clinic and serves on its board.
In 2013, Baldwin was presented with the North Carolina Governor's Medallion Award for Volunteer Service. The medallion represents the state's highest award for volunteer service. It was given in recognition of Baldwin's position as parish nurse at Pinehurst United Methodist Church, a role she's held for 10 years.
Reflecting on her experiences on that world-changing day 15 years ago, Baldwin says she views it as a modern-day Pearl Harbor. The attacks in New York, Washington and Shanksville, Pennsylvania killed 2,996 people and injured more than 6,000.
"Fifteen years is a long time," she said, "but it still feels like yesterday.
"9/11 strengthened my faith. I could see afterward how God was working in every aspect that day. It also gave me a new appreciation for my country, for freedom and the love of family and friends.
"Our country is very special. We should look at it as a privilege to live here. Our country was founded on the principles of God: I think we need to get back to the basics."