Join the American Legion Post 12, in Carthage, on Saturday, June 18, for a Centennial Celebration. The post was founded on July 11, 1922, and this event celebrates its history, our veterans service and camaraderie. Come and share stories, enjoy live music and food, view military displays, and there will be World War II and Vietnam war reenactments. This event is free and open to the public.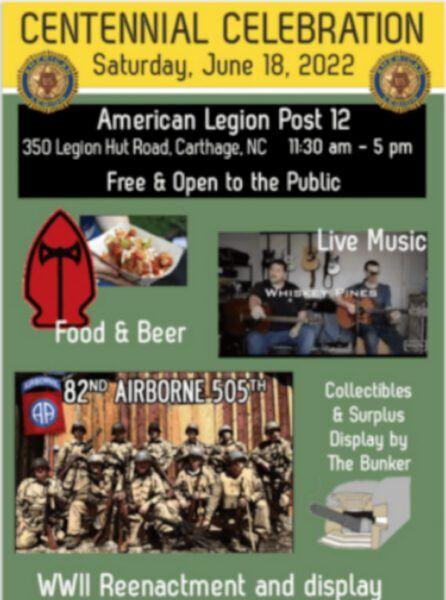 The day kicks off at 11:30 a.m., with a welcome from Post Commander Phil Vandercook and performance of the national anthem by Jenny Muse. Special guests include U.S. Congressman Richard Hudson, N.C. State Sen. Tom McInnis, Post 177 Commander Vincent Gordon and Post 12 member Elton Turner. Centennial coins are available for $20.
The American Legion Post 12 is located at 350 Legion Hut Road, in Carthage.