Aberdeen Police have temporarily shifted operations to a new location downtown, directly across the street from Town Hall on Poplar Street. The move will allow construction to begin on the new police facility planned on U.S. 1.
"We were fully functional at the new (temporary) building late Thursday," said Aberdeen Police Chief Carl Colasacco. "This move would not have come together without the men and women of the Aberdeen Police Department. They went above and beyond to get this done."
The historic building at 124 N. Poplar St. will house most of the department's primary services, under a temporary lease, including administrative staff, and its investigative and patrol divisions; however, an off-site facility was required for evidence storage. In addition, Aberdeen has coordinated with the Moore County Sheriff's Office for additional interview space if needed.
Aberdeen Police will use off-street parking in the downtown area, and Colasacco said he has spoken to neighboring business owners about the temporary building use.
"The space is tight, but it will work out," he said.
As always, in an emergency dial 911. For all non-emergency calls requiring police assistance from an Aberdeen police officer, you may also dial 911. For administrative requests, call Aberdeen Police at (910) 944-9721, Monday through Friday, 8 a.m.-5 p.m.
Groundbreaking is expected to commence soon on the new police headquarters building at 804 N. Sandhills Blvd. Plans call for remodeling the existing 5,230 square foot police building for support use including locker and shower rooms, and a fitness room. A short enclosed walkway will connect to a new almost 13,000 square foot new building that will house all the conventional police operations, including a detention area, evidence room, interview rooms, and offices.
In February, the Aberdeen Town Board approved an agreement for a 20-year, $5.8 million loan from First Bank to pay for the expansion and renovation project.
Discussion about updating the police facility began several years ago. The current structure was built in 1992, to serve what was then a much smaller town. Almost 30 years later, the department has twice as many officers and basically no storage, no communications area, no place for a traffic enforcement office or conference room, nor a garage or evidence room. Parking is also limited.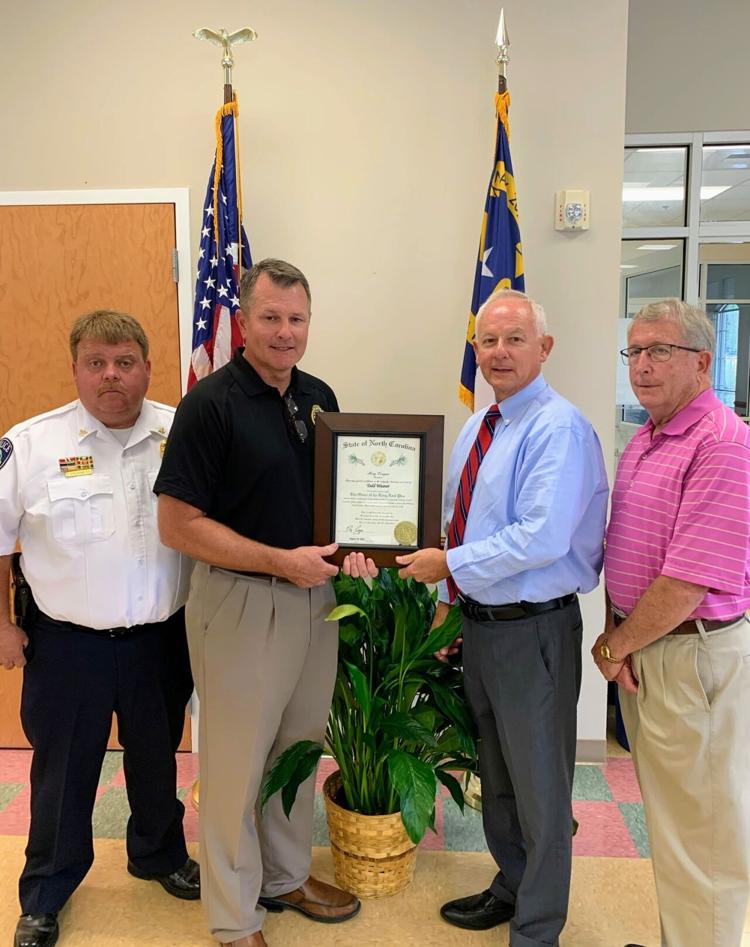 Town leaders hired architect John Heckethorn to perform a needs-based assessment study in 2017. He recommended repurposing the existing police station and adding a second, larger building on an adjacent piece of property.
A modified design plan was approved last year. The project's low bid was received from Apex-based Racanelli Construction South, with a base bid of $4,899,000. Additional project costs include fixtures, equipment and furnishings that are anticipated to run $480,000; and the town also set aside $384,000 for architectural fees.
Also last week, Aberdeen Police honored outgoing Deputy Chief Todd Weaver upon his retirement. He served the town for 21 years and was presented with the Order of the Long Leaf Pine by State Rep. Jamie Boles for his 30 years total in government service.