A development that would add almost 400 new homes and additional businesses on N.C. 5 at the Pinehurst-Aberdeen line has received an initial "thumbs down" by planners.
The Aberdeen Planning Board was asked Thursday night to consider the proposal by Pinehurst-based developer Riley and Walker Homes. The company presented a 119-acre project that would include 120,000 square feet of retail and office space and 370 homes — with a mix of townhomes, cottages and single-family lots.
The site is located between Olivia Lane and Linden Road, across the highway from the Sandhills Bowling Center shopping plaza, and abuts Pinehurst's village limits.
"I know I can't please everyone but I will try to do that," said developer Braden Riley. "I want this to be a nice walkable community that will be affordable to most Moore County residents. I realize the density is higher than CCNC would like to see, but not everyone can afford to live in CCNC."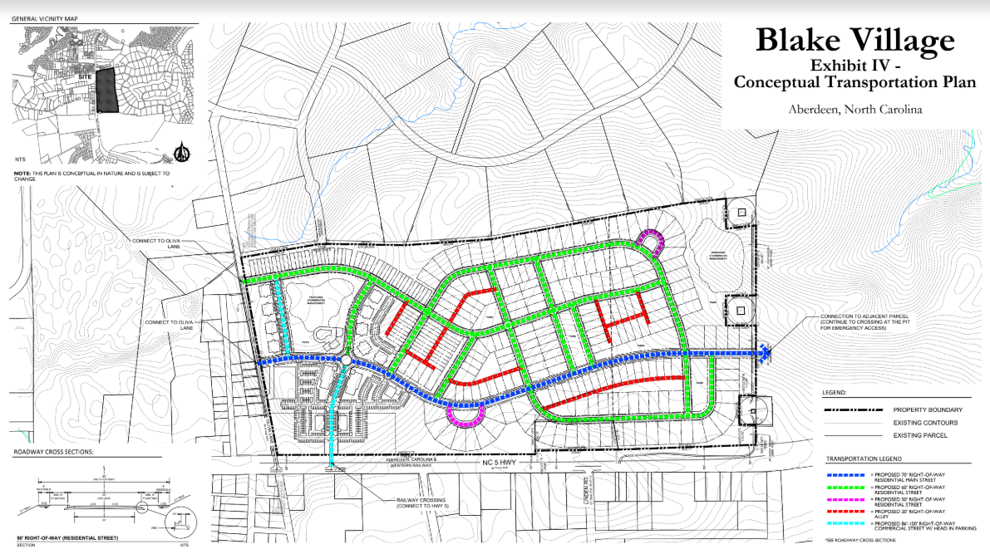 But in the end, it was concern about the impact of that many homes in the proposed Blake Village development that led to the planning board's rejection.
The board's decision is not final. The town Board of Commissioners will review the plan and the board's decision before issuing its own decision.
The views of Pinehurst residents weighed heavily on the issue Thursday night. That wouldn't normally be the case — one municipality's residents affecting the decision of another. But earlier this year, elected leaders from Aberdeen, Pinehurst and Southern Pines agreed to coordinate planning efforts when projects are located within a quarter-mile of shared borders. The agreement does not require consensus for proposed projects to move forward, it simply provides a formalized approach to the exchange of information.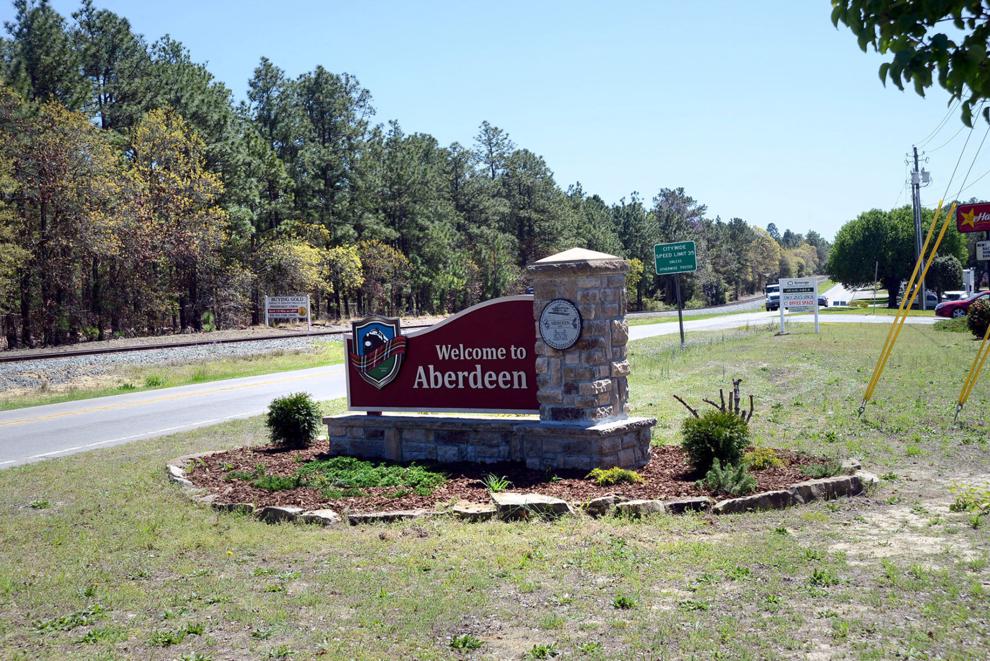 During Thursday evening's public hearing, several Pinehurst residents who live in the Country Club of North Carolina (CCNC) community — which backs up to the project site — said they opposed the minimal setbacks and the high number of homes. Concerns were also expressed by CCNC residents and members of the Aberdeen Planning Board about how the proposed development would impact traffic on N.C. 5 and school crowding issues.
As presented, plans for Blake Village call for three road access points, with a primary entrance directly across the street from the existing Hardee's restaurant. A "spine road" that runs parallel to N.C. 5 would connect to Olivia Lane to the northern property line and a stub-out to accommodate future potential development to the south where there is an immense tract of land owned by Pinehurst, LLC.
Protected railroad crossings would be located at Olivia Lane and the new primary entrance, which would be aligned with the entrance to Sandhills Shopping Center. There is a third protected railroad crossing at The Pit, a defunct golf course owned now by Pinehurst LLC.
Developers projected 4,342 new trips per day when the project is fully built. A traffic study indicated N.C. 5 can handle the additional load, including anticipated traffic counts for the new elementary school under construction nearby. Aberdeen will require a traffic study for the conditional use permit application that is required for the commercial project.
Pinehurst resident Jane Hogeman said she worried about the volume of traffic the development would generate. She cited 2015 data included in the Moore County Comprehensive Transportation Plan that indicates this stretch of N.C. 5 carries 9,000 to 14,000 vehicles a day.
"That means the number of new vehicles estimated would be a 30 to 50 percent (increase) of vehicle trips we have now," Hogeman said, noting also that NC-DOT has plans to widen N.C. 5 south of Blake Blvd.
"Just north of this development would be a two-lane bottleneck. I don't know how widening a part of N.C. 5 will alleviate the traffic," she added.
Don Hunter, CCNC's chief operating officer, said he had a "couple of issues" with the adjoining lots, including size concerns, wildlife impacts particularly with woodpeckers, and minimal setbacks proposed.
"It is a very quiet area now and you will be putting a lot of human activity in those areas," Hunter said. "We would like the CCNC community to have a chance to review these plans."
Lisa Laidlow, a CCNC resident, called the plans "a radical change in zoning."
"We would love to see something great back there with different types of housing. But we are asking for relief from the density that has been proposed," she said, noting the plans called for clear cutting existing trees.
Aberdeen Planning Vice-Chair Bryan Bowles, who presided over the meeting, said the town has a strict tree ordinance. Mass grading is not allowed, and trees may only be removed when there is a direct conflict with construction plans. Trees removed within 10 feet of a setback must be replanted by the developer.
CCNC resident David Nordlow said the recent interagency agreement between Pinehurst and Aberdeen was important. He also cited concerns whether the 100-foot buffer required by state law around the three town-owned water wells on the southern border of the tract was adequate to protect that water supply.
CCNC resident Roy Schneiderman said he was not opposed to development and views it as an inevitable conclusion.
"Development is going to happen. Whether it is today, tomorrow or next year. I would ask that it be done in a respectful manner," he said, noting in particular he would like to see the setbacks mirrored between the two communities. On the CCNC side there is an existing walking path.
CCNC resident Sheila Pellizzari expressed concern about setbacks, potential erosion, light and noise pollution, and the impact of more children crowding the school system.
"Even with the new schools being built they are near capacity," she said. "I'm not opposed to growth, but I don't know where all these children will go."
Following discussion, the Planning Board voted unanimously that the plan was not in the public interest and denied their recommendation of the conditional zoning application.
Planning Board member Brooks Pomeranz said the property use "is too busy, too many things going, and there is a transportation issue. The land will have too much on it with single family homes, townhouses, and businesses that will put a lot of extra traffic on N.C. 5."
Riley and Walker Homes are required to conduct a community meeting prior to presenting their conceptual plan to the Aberdeen Town Board for its review. A public hearing before the board is tentatively scheduled for May 28, at 6 p.m., at 115 N. Poplar St. in downtown Aberdeen.