There is a sense of anticipation at the new Aberdeen Elementary campus on N.C. 5. Construction is nearly complete on the 800-student school that is slated to open in fall 2020.
On Wednesday, local county and town officials met with members of the school board for a tour. The modern well-lit spaces offer a stark contrast from the existing Aberdeen Elementary and Aberdeen Primary — two aging campuses that have served the community for 70 years.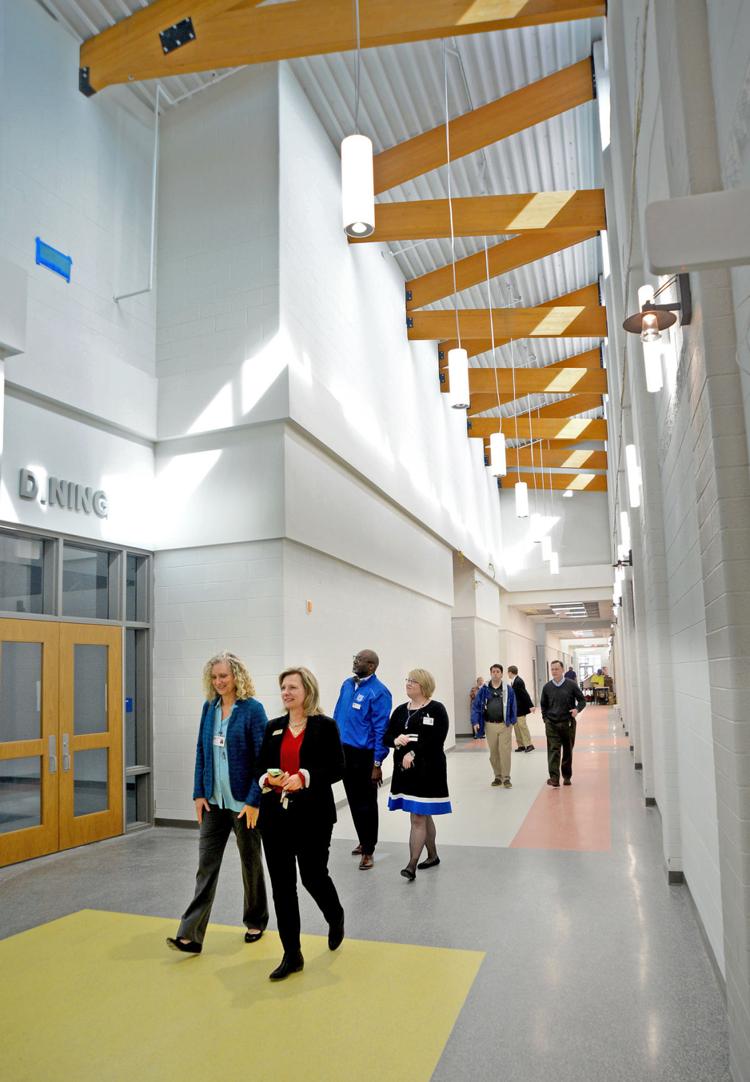 "This has been a dream of mine for years to get out from under the old facilities. This has been a long time coming," said Mayor Robbie Farrell. "It will change southern Moore County and it will certainly change Aberdeen."
A graduate of Aberdeen High School and retired educator, Farrell has been a tireless advocate to see this new school advance. His colleagues on the Aberdeen Town Board recently recognized his commitment by naming the entrance road leading to the new school, Farrell Parkway, in his honor.
"I think the parents of children that come here will be pleased. And this will change attitudes some have about Aberdeen," Farrell added. "This school will be here for a long time. I expect great things to come from Aberdeen Elementary."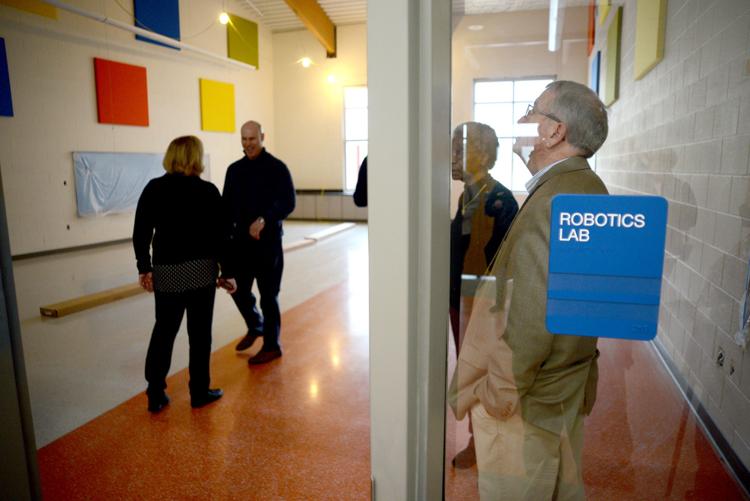 The $30.8 million school is the first of three area elementary schools to be built with $103 million in general obligation bonds that were approved by voters in a May 2018 referendum.
Aberdeen Elementary was designed to be relatively economical with long-term cost savings features built-in. These include LED light fixtures, larger north-facing windows, opaque film on upper south-facing windows to reduce glare and unwanted heat, and durable easy-maintenance terrazzo tile flooring through much of the building. A geothermal system will heat and cool the school, and a continuous thermal barrier is built into the walls and roof to help stabilize the interior temperature. The roof is designed to accommodate solar panels, a potential future investment.
Safety features are also evident, beginning with the outermost doors which are controlled electronically. The main lobby leads to a second set of locked doors and the school office. Staff will have electronic key fobs to control their access, and cameras are positioned to monitor activity around campus.
The school is anchored by a full-sized gymnasium that will double as an auditorium. A ramp to the gym stage connects also to an adjacent music room. The gym, like the main hallways, features a soaring ceiling supported by exposed wooden trusses.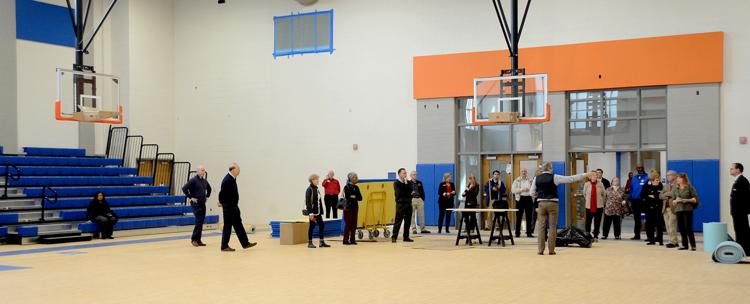 Other shared educational spaces include a cafeteria, media center, art room with a kiln installed in an alcove, a robotics room, and two project rooms that can be converted to classrooms if needed. Each classroom contains a sink and storage closet.
Impressively, the fourth and fifth grade hallway opens to a wide collaborative space where students can work together or independently on projects, outside of their classrooms.
"In laying out the school we worked with teachers and administrators, those who are in schools, to help us determine what works and what they need," said John Birath, the school district's director of operations.
He noted that "wish list" included more storage space, flexibility with spaces, and natural light in the instructional areas. In addition, bright splashes of school colors add a fun visual element. Some of the architectural details also reflect the town's history and commerce, particularly the timber trade and importance of the railroad.
"Aberdeen's heritage is reflected so nicely throughout the school," said Libby Carter, MCS board chair. "We are very proud that this is the first of the three new schools and it is for a well-deserving community."
The 22-acre rural site off N.C. 5 was purchased by the Board of Education for $180,000 in 2015. In years past it was a cattle farm and more recently was used for a timber operation.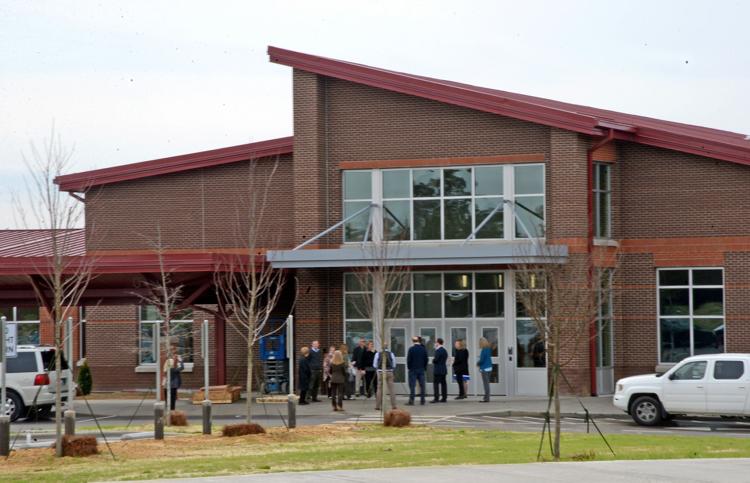 The site came under heavy scrutiny last year when concerns were raised about its proximity to two sites identified by the U.S. Environmental Protection Agency as pesticide dumps. In the mid-1980s, the EPA conducted an emergency cleanup of the five sites in and around Aberdeen, three in the N.C. 5 area, one off Roseland Road, and a smaller site on N.C. 211.
The school tract is located between the "Fairway Six" site on the former Pit Golf Course and the "McIver Dump" site off Roseland Road.
Last summer, the MCS Board commissioned a comprehensive study, known as a Phase II environmental assessment, on the tract.
According to the geological engineering firm that prepared the report, the results of the study do not indicate "significant environmental risks," on the school site. Engineers say that trace amounts of pesticides detected in the groundwater, though not near state or federal limits requiring action, nevertheless render it unusable for drinking or irrigation.
The school never had any plans to use groundwater for irrigation or as a drinking source, instead relying on public water service.
A new gravity-fed sewer line was installed in 2017 as part of a cost-share agreement between MCS, the town of Aberdeen, and the adjoining property owner, to allow for organized development in an area considered ripe for residential development.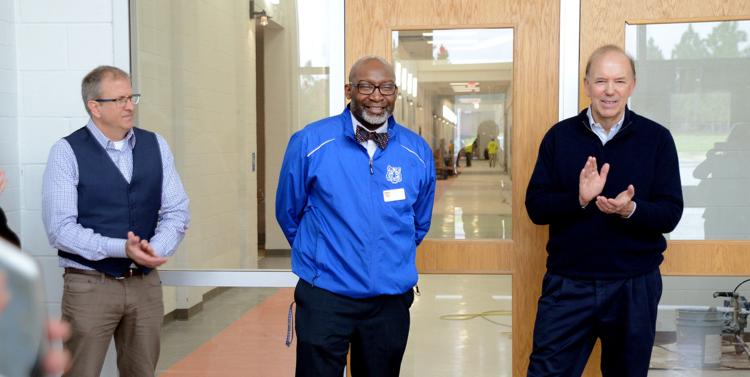 "It is amazing that two-and-half years ago where we were and now here we've broken ground on five school projects in Moore County," said Helena Wallin-Miller, school board member. "It is amazing what you can do when you get the public involved. We worked so hard on the bond campaign educating people."
Farrell said he is looking forward to seeing the school open to students next August.
"All the planning, all the details. When people who have qualms come and see what we have at Aberdeen Elementary, they will want their children to be here."