Aberdeen residents saw their property values increase approximately 11 percent, on average, as a result of the county's recent tax revaluation process.
"That is a sign of the town's good health but it is also a mixed blessing," said Town Manager Paul Sabiston, noting that increased property values means higher tax bills.
Aberdeen's growing economy means more stores opening in the downtown area, more shops and restaurants in the main commercial district, and new houses being built. This robust growth coupled with public safety needs and priorities drove this year's budget process.
On Tuesday during a special called meeting, the Aberdeen Town Board approved a two cent tax increase for Fiscal Year 2019-2020 on a 4-1 split vote with Commissioner Ken Byrd opposed.
"No one likes raising taxes," said Mayor Robbie Farrell. "The department heads and this Board have all strived to make sure this budget will work for next year. We want to ensure that the money is spent wisely and we are cognizant of those paying taxes."
When Farrell graduated from the former Aberdeen High School, there were 1,500 people in town, he said. Today that figure is closer to 8,000 people.
"The town has grown so much in the last number of years that it is almost unrecognizable," added Farrell. "With that said, when a town is growing like this it puts pressure on services. The more houses, the more subdivisions, that means more routes for our sanitation trucks to travel. The more streets the fire department has to check, and more streets the police have to patrol."
"All these things add up," Farrell said. "Fire trucks are not cheap. Garbage trucks are not cheap. The police have to have things up-to-date...every town in Moore County is going through this. We are growing and to provide these services we have to have the revenue."
Earlier this year, Sabiston predicted a tax increase would be required to accommodate prioritized capital expenditures -- including a new garbage truck -- and with an eye on setting up financing for the new police station building.
He initially projected a three cent tax rate increase was needed, but reduced his recommendation to two cents based on input from town leaders; however, Sabiston said another tax increase will likely be necessary next year.
Mayor Pro Tem Jim Thomas asked his fellow commissioners to give "serious consideration" to the three cent request.
"The bottom line is we already have been forewarned that we will be going to have to do more," Thomas said. "We know we will probably have to come back next year. The police department, we will need to pay for it. The fire engine, you can't reduce those costs."
"Things are not going down in price, only up," he added. "It is a point well-taken that our population, I hope, will continue to grow. You are either moving ahead or you are shrinking. And I feel like at this juncture, while we are sitting here, we need to give serious consideration to that."
But Commissioner Ken Byrd said he could not advocate for increasing taxes whether it was three cents or two cents.
"I'm concerned about our spending," he said. "I am concerned that we raised taxes four years ago and while that was probably long overdue, here we are now talking about raising taxes again."
He cautioned that Aberdeen's tax rate was already on the higher end and looking ahead, will likely see another tax increase request next year.
"Aberdeen has grown substantially. But just because we're growing doesn't mean we have to grow smart. I think we need to sit down and look at our wants and must haves," Byrd said. "Each penny we need to spend that money wisely."
Town Commissioner Joe Dannelley said he was "all about needs versus wants" but took issue with Byrd's assessment.
"We began this journey in February and have held multiple meetings of the Board and department heads and we've talked about wants and needs," he said. "We've had four months at this!"
"This budget clearly articulates our needs -- a new police station building, an additional garbage truck, taking care of the needs and morale of our employees," Dannelley added. "So to get to a budget hearing and when we are ready to decide as a governing board what is wants versus needs, I am 100 percent convinced the budget our Town Manager has presented gets at those needs."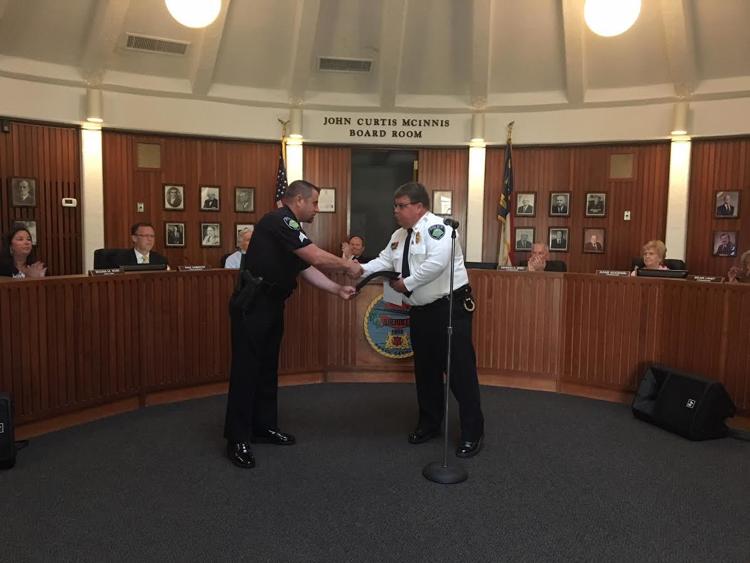 Commissioners Wilma Laney and Elease Goodwin also spoke in support of the proposed budget.
"The town needs a new police station. If we wait another few years, it will cost more money. Costs don't go down, they go up," Laney said. "If the only way to get these things is to raise taxes, then I don't know what else to do."
"We've all heard this budget over and over, in and out. My feelings are we need to go with the budget as proposed at 49 cents," Goodwin said.
As approved, the Fiscal Year 2019-2020 budget includes funding for water and sewer line repairs ($215,000), installation of phase two of the water and sewer AMR program ($290,000), a new garbage truck ($165,000), sidewalk improvements to Johnson Street ($54,000), repairing drainage issues at Lake Park and Ray's Mill Park ($83,000), continuing improvements to the downtown area ($65,000), rebuilding the Lake Dam using FEMA funds ($240,000), and repairs to the town-owned depot and wholesale grocery buildings ($42,500); and a $3.6 million water and sewer fund budget.