A proposed 77-lot subdivision drew mixed reviews from neighbors during a public hearing before the Aberdeen Town Board on Monday, but no action was taken on the conditional zoning request.
According to plans presented by the developer David Upchurch, the mostly vacant 37.19 acre tract located off Bethesda Road -- directly across the street from the E.L. Ives Drive -- has a substantial natural slope. He is proposing a cluster-style development with houses grouped on smaller lots to the rear of the property. The front area closest to Bethesda Road would be primarily open space.
The conditional zoning application was received ahead of the town's decision earlier this spring to amend the Unified Development Ordinance (UDO) to temporarily reduce permitted density levels for new home construction. In simple terms, this change placed a more demanding minimum-acreage requirement on each residential zoning designation.
Using the current zoning on the subject tract, Upchurch would be permitted to build up to 80 lots. His request is for 77 lots, setting aside 7.63 acres for open space (20.5 percent) -- which exceeds the town's minimum requirement.
However, Upchurch is requesting waivers to allow for reduced lot sizes and setbacks, which is common in cluster developments, but raised concern from several area residents who view this as a reduction in standards. Others opposed the additional traffic the development would generate along Bethesda Road.
Bob Koontz of Koontz Jones Design presented the plan on behalf of Upchurch and described the project as an "infill" residential community because it is located less than a mile from downtown Aberdeen. He said a trip generation report, completed in July, projected 770 trips per day and that no turning lanes or other road improvements were recommended.
He said there were special conditions on the property that the design worked around, including the slope, a gas line easement, and a 4.5 percent grade downward slope.
"They layout works with the contours of the land and will make the grading scenario a lot better," Koontz said. "This will be a single family home cluster development. We are looking at creating a nice neighborhood, a high quality neighborhood in Aberdeen."
Plans call for minimum 2,000 square foot houses that Koontz anticipated will be listed for sale in the low to mid-$300s.
Lynn Clifford said she had lived in the area for 25 years and said she had always enjoyed her property because it was quiet.
"We like it quiet," she said.
Michael Frye expressed concern about running water lines into the development and the smaller lot sizes and decreased setbacks proposed.
"They are asking us to lower everything we have to meet this needs. I think this is quantity building not quality building. Imagine what this will look like when you get 77 homes back there and the traffic you get with that will be tremendous," he said.
Town Manager Paul Sabiston said the density proposed was not higher than what was already permitted with current zoning.
"They are asking to build the same amount of houses, minus 3. But on smaller lots shifted to the back of the property with the larger open area in front. The density is not any different," he said.
Frye countered that he felt the town would be making to many concessions to the developer. He said the town already was struggling to keep up with infrastructure needs such as fixing potholes on neighboring streets.
"This is all about money for them. Don't lower your standards to get more people in here," he said.
Other neighboring property owners asked town leaders to consider increasing the required buffer between the project and existing houses, to protect their privacy and view.
Harold Chamberlain lives adjacent to the project site and said he would prefer to see the land remain vacant, "but someone will develop it one way or another."
"I've had a long talk with these fellows," he said, speaking of Koontz and Upchurch, "and I like the way their plan looks. There is no way around it, it will increase my property value and all around it will go up. That is the way it looks to me"
The public hearing on the conditional zoning application was continued until the Town Board's next regular business meeting on Monday, Sep. 24, to allow additional time for review and consideration.
In other action on Monday, the Aberdeen Town Board:
Heard from Maurice Holland Sr. that roads in the Midway community are in poor repair and continue to flood, due to backed up drainage areas.
Town Manager Paul Sabiston responded that he has looked into the issue and discovered the roads are private; therefore, not subject to town-maintenance.
The Town Board has previously sent two letters and a signed resolution to the Department of Transportation Division 8 requesting assistance, which have gone unanswered. Town Commissioner Ken Byrd called for a review of the resolution to see if there was additional language that could be added to encourage action.
Commissioner Wilma Laney said if the town does not own or maintain the roads, that perhaps there are recommendations, information or other resources that could be shared to assist Midway residents.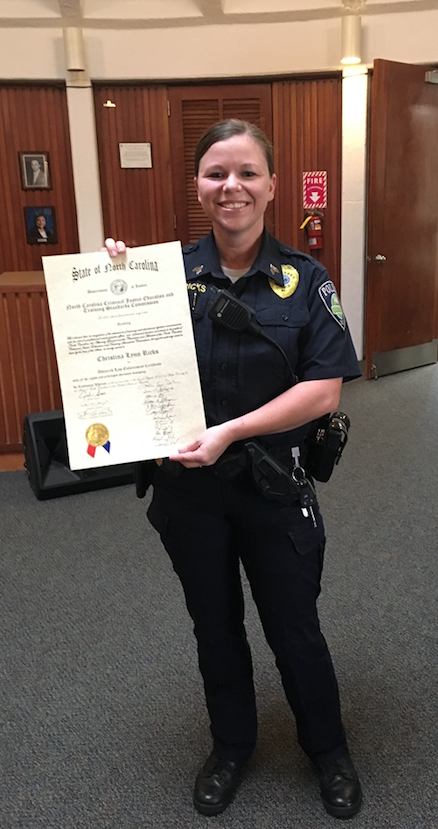 Recognized Aberdeen Police Sergeant Christina Ricks for completing the Advanced Certificate for law enforcement training. 
Welcomed new Aberdeen Planning Director Justin Westbrook and IT Support Specialist Kevin Taylor
Approved a voluntary annexation request for a .56 acre parcel on Carolina Road
Proclaimed September 2018 as Chiari Malformation Awareness month