The future of rail travel in Moore County could look a lot more like the past, if conceptual plans for improved passenger and freight movement take root.
Currently, the state Department of Transportation (DOT) is exploring possibilities for improvements along the CSX S-Line that runs from north of Raleigh to Hamlet -- passing directly through Cameron, Vass, Southern Pines and Aberdeen, among other areas.
NC-DOT's interest in the Southeast Corridor, one of​ the​ first five federally designated higher speed rail corridors in the country, comes on the heels of the state of Virginia working out a deal with CSX to purchase the S-Line corridor within Virginia.
Local planning jurisdictions are being asked to consider passing resolution in support of NC-DOT's efforts to secure federal grant funding for right-of-way acquisition. In addition to Virginia, other state partners in the initiative include Florida, Georgia, South Carolina, Tennessee, and Washington, D.C. to develop and promote a plan to finance, design, construct and operate an interstate rail service.
During Monday's work session, the Aberdeen Town Board discussed the proposed resolution and voted unanimously to support the request.
"The overall goal of the Southeast Corridor is to create a high speed line through North Carolina," said Aberdeen Planning Director Justin Westbrook. 
Following a workshop with NC-DOT officials, Aberdeen Mayor Robbie Farrell said the improvements could increase traffic on the S-Line to possibly include a light rail or commuter line to Raleigh.
"Aberdeen is unique. It is the only small town on this section with three active railroads," Farrell said, referring to the CSX line that runs north and south, the Aberdeen & Rockfish Railroad that runs east, and the Aberdeen Carolina & Western Railway that runs west.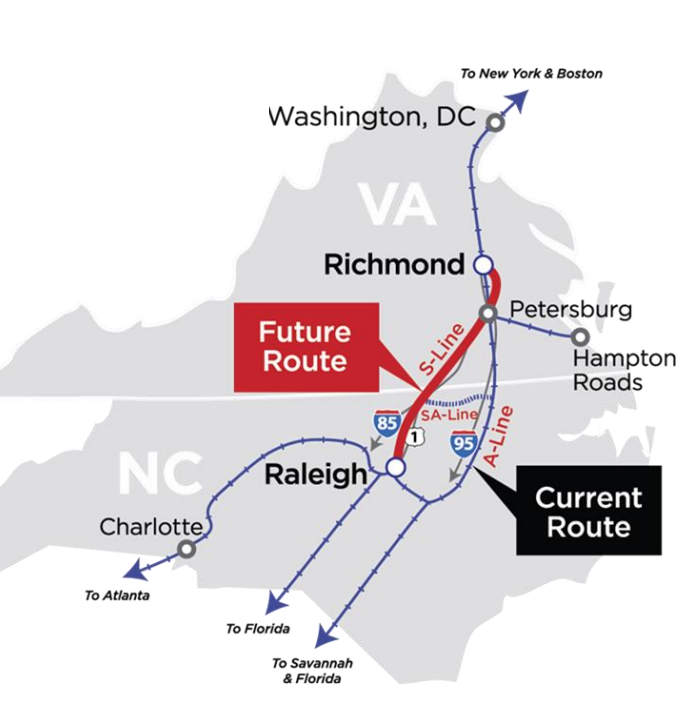 "If CSX stopped running freight on this line, there would be a huge (negative) ripple effect," Farrell added. "As long as CSX is not going away, I don't see a downside. In fact, it could improve things. There are a lot of small towns in North Carolina that have dried up, but still have a railroad track. This may also improve their opportunities."
Town Commissioner Teressa Beavers agreed and called the motion in support of the NC-DOT resolution, which was seconded by Commissioner Elease Goodwin.
In other action, the Aberdeen Town Board:
Approved a 5 percent match agreement with NC-DOT to construct sidewalks along N.C. 211 from U.S. 15-501 to the town limits, near Pee Dee Road. The project will include installation of sidewalks on both sides of the widened highway and across the proposed bridge at the Aberdeen & Rockfish Railroad crossing. The projected cost to the town for its portion of expenses will run $5,561. Construction work is scheduled to begin following the 2024 U.S. Open.
Scheduled a public hearing on March 23 to consider a rezoning request for a Planned Development on the 230-acre Martin Property, adjacent to the new Aberdeen Elementary School. As proposed to the Aberdeen Planning Board in September 2019, conceptual plans call for a 515-lot residential community.
Scheduled a public hearing on March 23 to discuss a proposed annexation of a 23-acre tract located between the Meadow Ridge subdivision and Turning Leaf Way. The property will be donated to the town as part of a development agreement, and Town Manager Paul Sabiston recommended a 1-acre portion be designated as a fenced-in dog park. Residents of the subdivision expressed concern about the potential for increased traffic if the park were to be developed as proposed. After discussion, town leaders agreed to shift the dog park's location closer to the county landfill. Farrell also recommended adding signage to residential roads within the Meadow Ridge subdivision to prohibit thru-traffic and truck traffic.
"In a perfect world we could put all the park facilities in there," Farrell said, "but there is a cost. To put in a dog park is a low cost option."