A woman was asked to leave an anti-mask rally in front of the Moore County school system's district office on Monday after telling protesters that she recently tested positive for COVID-19.
Kate Bonsal, a mother-of-three who said she supports the district's policy requiring students and faculty members to wear face coverings in schools, attended the outdoor demonstration as a counter-protester. She held a mirror with a handwritten message affixed to the frame: "Fighting for the Right to Spread a Virus."
"I held the mirror in front of people's faces," said Bonsal, who was one of the few masked individuals in the crowd of more than 100 people. "I needed them to see themselves."
Bonsal said she told some of the protesters that she tested positive for COVID-19 less than two weeks ago. She said she had undergone the 10-day quarantine required by her employer before attending the protest.
"I said that I had had it and completed my quarantine, and any one of them could have it as well," Bonsal said. "They called me a 'super-spreader.' One man was streaming a video on Facebook Live that showed my children and the license plate on my car."
Catherine Murphy, director of communications for the school system, confirmed that a school resource officer asked a person to leave the property "because they were walking around claiming to have COVID."
"The resource officer told me that I shouldn't be walking through the crowd if I had just finished a COVID quarantine and that I needed to leave," Bonsal said. "He was telling me that I needed to go and if I would not leave then he would arrest me for trespassing."
Before the rally ended, a protester told the crowd that a criminal complaint would be filed against Bonsal. Chief Bart Davis of the Carthage Police Department said an officer was later called to the scene to investigate a complaint of "somebody communicating threats."
Bonsal said she never threatened anyone.
"I didn't make any move tonight to put anybody in danger," she said. "They were all standing very close together and I walked by them. I didn't make any threats to anyone. I just informed them that I had completed a quarantine and there were likely people there that also had COVID, and it was a dangerous thing to have that many unmasked people together sharing a microphone."
She added that the protesters "don't have any grounds for the argument they're making."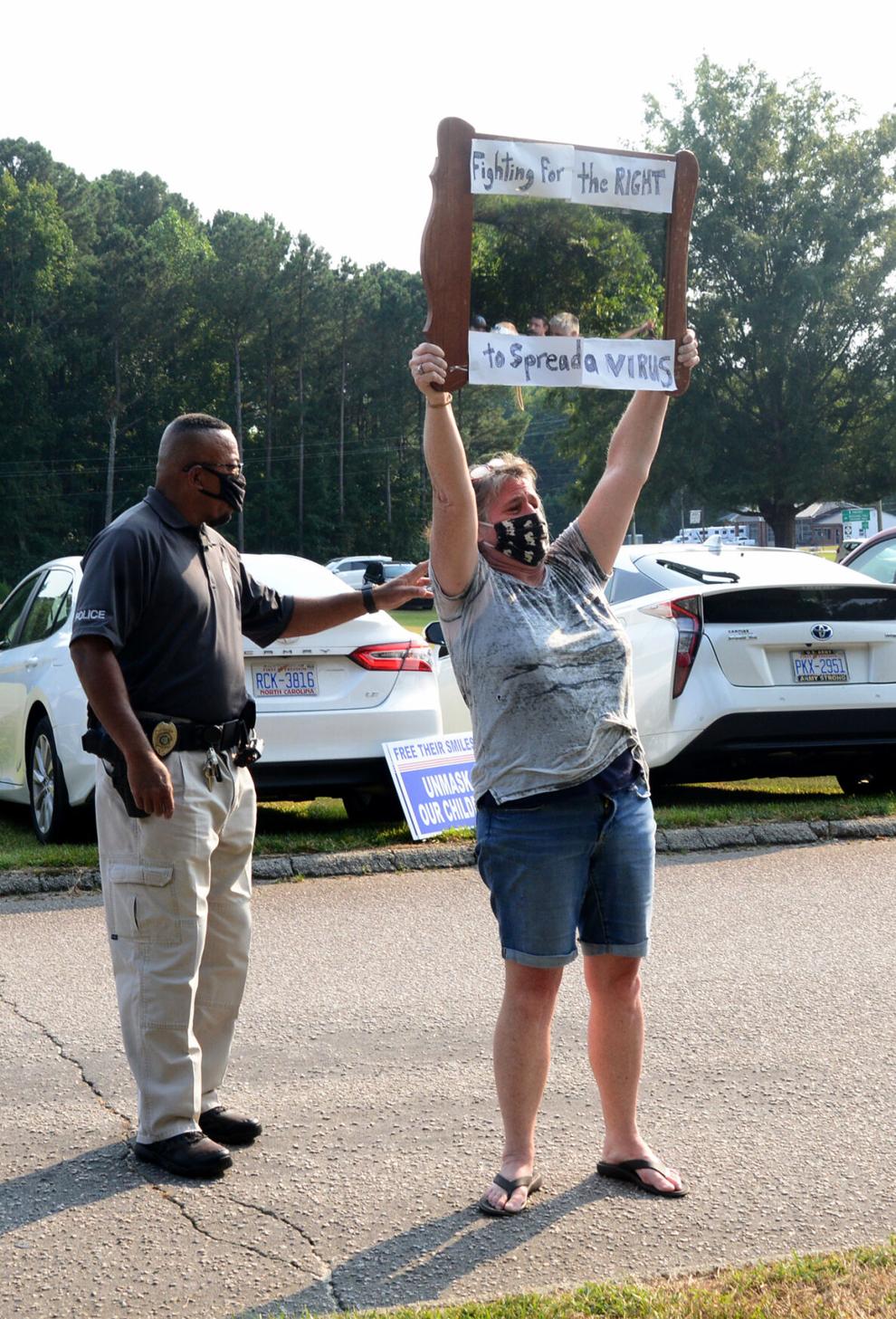 "If the fact that somebody might be around them and have COVID makes them so afraid they need to call the police, why don't they want their kids wearing masks?" Bonsal said. "If you are so afraid of somebody that has had COVID in the past and is no longer contagious, why are you arguing for your kids not to have masks?"
Bonsal, who is fully vaccinated, said she tested positive after experiencing mild symptoms including temporary loss of taste and smell.
Last month, the Moore County Board of Education narrowly approved a policy requiring masks for students and employees until at least the end of September. Masks have also been mandated at Sandhills Community College and in some of the county's private schools.
When the policy was adopted by the Moore County board in a 4-3 vote, about half of the state's school districts had mask mandates in place. A vast majority now do, though the Harnett County Board of Education voted Monday evening to switch back to a mask-optional policy beginning in October.
The highly contagious delta variant of COVID-19 has fueled a surge of new infections and an uptick in coronavirus-related deaths in Moore County. Matt Garner, public information officer for the local health department, said Monday that children and teenagers younger than 17 recently accounted for more weekly cases than any other age group.
Over 330 infections have been reported across the school system since the start of the current school year. Students account for about 97 percent of the reported cases.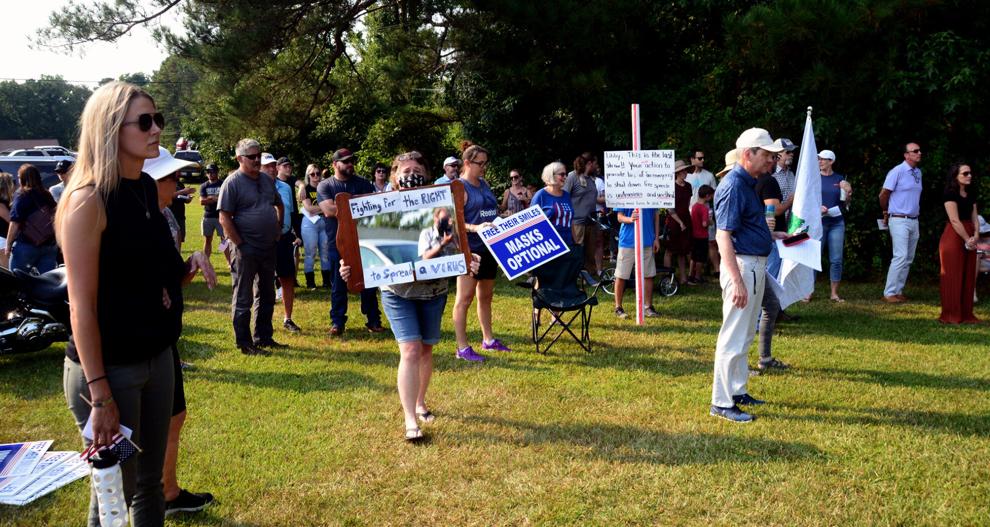 Still, many of the protesters gathered Monday said they believe masks should be optional for students. Emily Grace Rainy, a mother and military veteran who has repeatedly protested mask mandates with the group Moore County Citizens for Freedom, told the crowd that "medical interventions" like face coverings for children "are the responsibility of their parents."
"We're doing these things not based on science, not based on logic, so what is it based on?" she said. "Sounds like superstition. Well, I'm a Christian and I'm forbidden from engaging in superstition as a Christian. I'm not allowed, per my faith, to get involved in unscientific superstition that is ineffective for preventing whatever they say it's preventing."
Rainy went on to reference the earlier incident involving Bonsal.
"I'm hearing 'mirror lady' right now," Rainy said. "She's saying, 'but Jesus would have worn a mask.' Get behind me, Satan! Jesus hung out with lepers. Open a Bible."