Around 70 paratroopers with the Airborne and Special Operations Test Directorate from Fort Bragg conducted a proficiency training "water jump" into Lake Auman on Thursday.
Overcast weather delayed the scheduled jump by several hours, but residents of the Seven Lakes West community were able to enjoy the spectacle from various vantage points around the 1,000-plus acre lake.
Jumping in groups of four, the soldiers are members of one of the most unique units of the U.S. Army's Operational Test Command. A direct descendant of the original parachute test platoon founded in 1940, the Airborne and Special Operations Test Directorate (ABNSOTD) is responsible for extensive testing on parachute systems and any new or modified combat equipment or individual weapons systems delivered by Army or Air Force aircraft.
Immediately prior to the exercise, directorate commander Col. Brad Mock and Sgt. Major Kyle Margelofsky performed a flag raising ceremony at the lakefront home of World War II veteran Arnold "Ray" Lambert.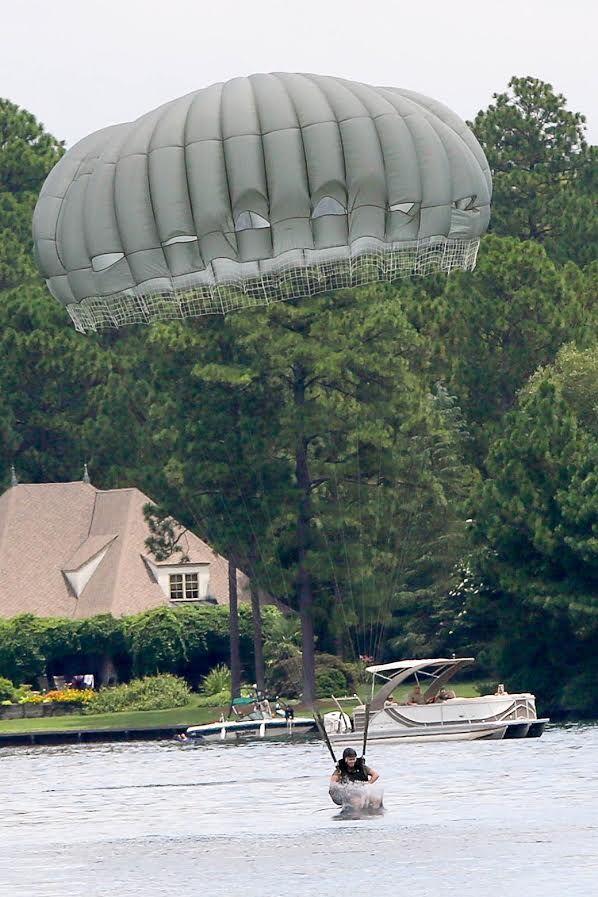 Neighbors gathered on land and boat to witness the event, keeping a safe distance due to COVID-19 restrictions. Ben Benjamin played 'To the Color' on a 1923 cornet.
Lambert, 99, said the ceremony and seeing the flag brought back memories to when he first enlisted in 1940 and of the friends he'd lost in battle.
"Seeing all these people, it makes me happy. We fought for the freedom of our country. So many guys gave up everything and sacrificed their lives," Lambert said. "With God's blessing and help, we will still have America as we know it."
An army medic, Lambert was among the first waves of soldiers to hit Omaha Beach during the Allied invasion of Normandy — called Operation Overlord, or D-Day. Lambert established a treatment area, saving soldiers and comforting the dying behind a slab of concrete that would come to be known as Ray's Rock. During his military service, he was wounded four times and was awarded three Purple Hearts, two Silver Stars, a Bronze Star and the French Legion of Honor.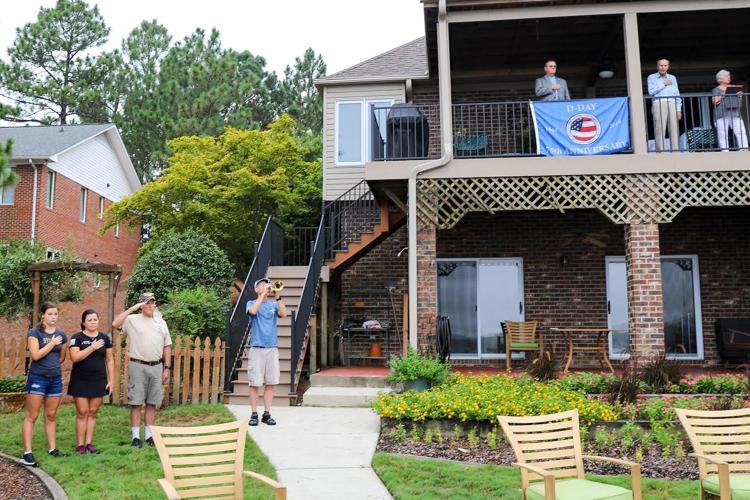 On June 6, 2019, Lambert joined fellow soldiers and dignitaries from around the world in honoring Allied Forces during a D-Day 75th anniversary celebration in Normandy.
Gen. Stephen Joyce (ret.), who previously served with the Deputy Chief of Staff with Allied Command Europe Projects and Operation Enduring Freedom in Kabul, Afghanistan, met Lambert during the D-Day event last year and the two stayed in touch. On behalf of Annin Flagmakers, the nation's oldest and largest flag maker, Joyce presented Lambert with an American flag and a D-Day 75th anniversary commemorative flag that had flown over Omaha Beach.
On Thursday, Lambert also displayed a one-of-a-kind rifle presented to him by the Henry Repeating Arms Co. based in New York. The rifle serial number includes Lambert's birthday and initials.
"I had planned to attend their national convention this year as a guest. But since they couldn't hold the event because of the pandemic, they sent the rifle to me. It is very special," Lambert said.
Immediately following the flag raising ceremony, Col. Brock announced the promotion of Sgt. Major Margelofsky who was frocked in front of Lambert's flagpole.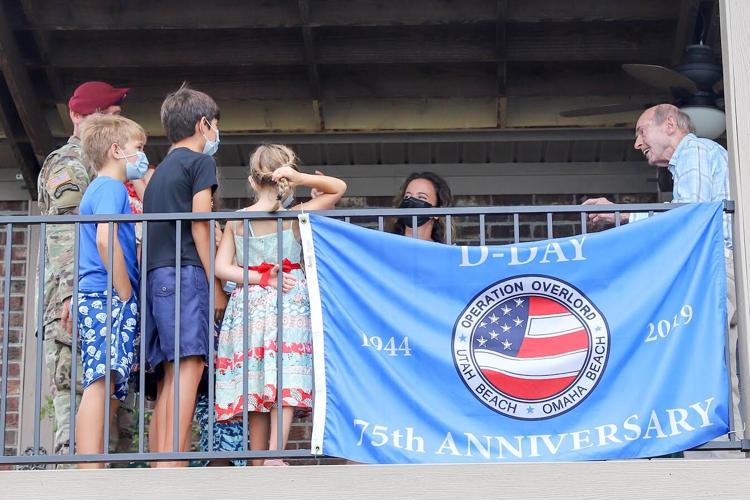 Lambert presented Margelofsky with a signed copy of his memoir, "Every Man a Hero," co-written with the New York Times bestselling author Jim DeFelice.