There is freshly poured white sand on the beach and nostalgia is in the air at Cardinal Park, a newly reopened recreational facility in Pinebluff that has served generations of families.
Established in the early 1960s by the late Felton Capel, Sr. and his wife, Jean, the privately run park offered lake swimming, fishing and vast picnic areas where local African-American families were welcome to gather.
"I feel close to my father when I am here. I feel his presence a lot," said Mitch Capel, who is the guiding force behind the rebirth of the Cardinal Park, Motel and Recreation Center. "It is a beautiful park."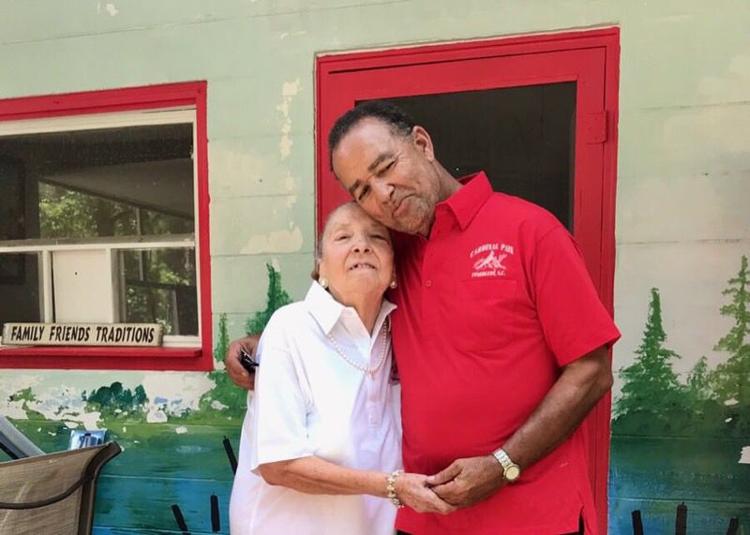 Last Saturday he held a soft-opening for family and friends that attracted hundreds of well-wishers to spend the day.
Capel was seven-years-old when his parents acquired the property on U.S. 1 south, in 1962, where they established Cardinal Park.
The elder Capel was a businessman who dedicated his time and talents to countless civic organizations, and was a benefactor of the community and education throughout the region. But he is perhaps best known for his role in helping to peacefully desegregate restaurants, movie theaters, golf courses and bowling alleys in Moore County with his good friend Voit Gilmore by his side.
Capel also served on the Southern Pines Council for 12 years and during that period, helped successfully lead a $35,000 bond referendum to build the West Southern Pines Pool Park, the first such facility for blacks.
But it was in Pinebluff where he created a place far more personal and special.
"There were few places where African-Americans could go swimming. He bought the land as a place to hold his sales meetings, but then everybody wanted to come here to have cookouts," Capel said. "My father realized he could turn it into a business."
Keno Livingston, Cardinal Park's cook, said he vividly remembers being in the backseat of a car as it pulled up to the entrance gates on summer days.
"This is one of the best spots in the world. You would look out and see the beach," he said. "It was wonderful."
For the next few decades, Cardinal Park was a popular recreation destination and also served as homebase for Capel's primary business, Century Associates of North Carolina; however, Capel struggled with health issues in his later years and the park fell into disrepair and was shuttered.
Four years ago, Mitch Capel moved back to Moore County to care for his parents. No matter where he went in town, people would approach him to ask about the park.
"They wanted to know when it would open again. But I had a lot of irons in the fire with my work, and being a professional storyteller, and taking care of my parents. It consumed all of my time, but it was also the greatest thing I could have ever done," he said.
Finally this past spring he stopped by the park for some basic yard upkeep and decided it was a now-or-never situation.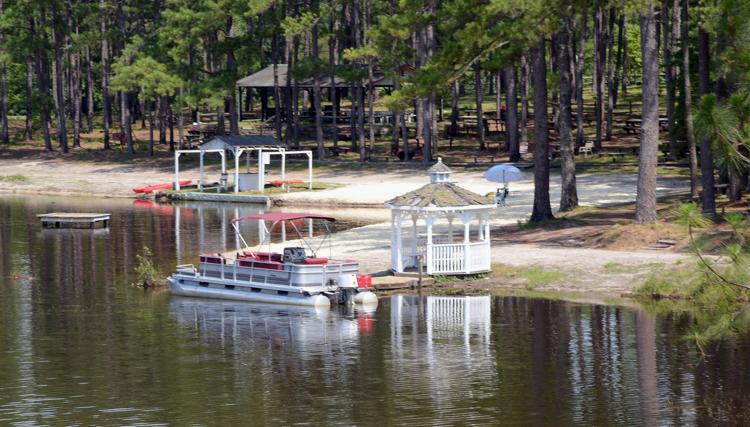 "Mother Nature was taking over. I had to either let it go or figure out a way to make it work," he said.
When he rallied his family and friends, the response was immediate and overwhelming: everybody wanted to be a part of the park's revitalization.
One local woman told Capel she simply wanted to be out of her house, and has shown up every day at 7 a.m. ready to paint. Another former neighbor of Capel's, a friend he had not spoken to in more than 30 years, offered to donate the beach sand when he reached out for pricing.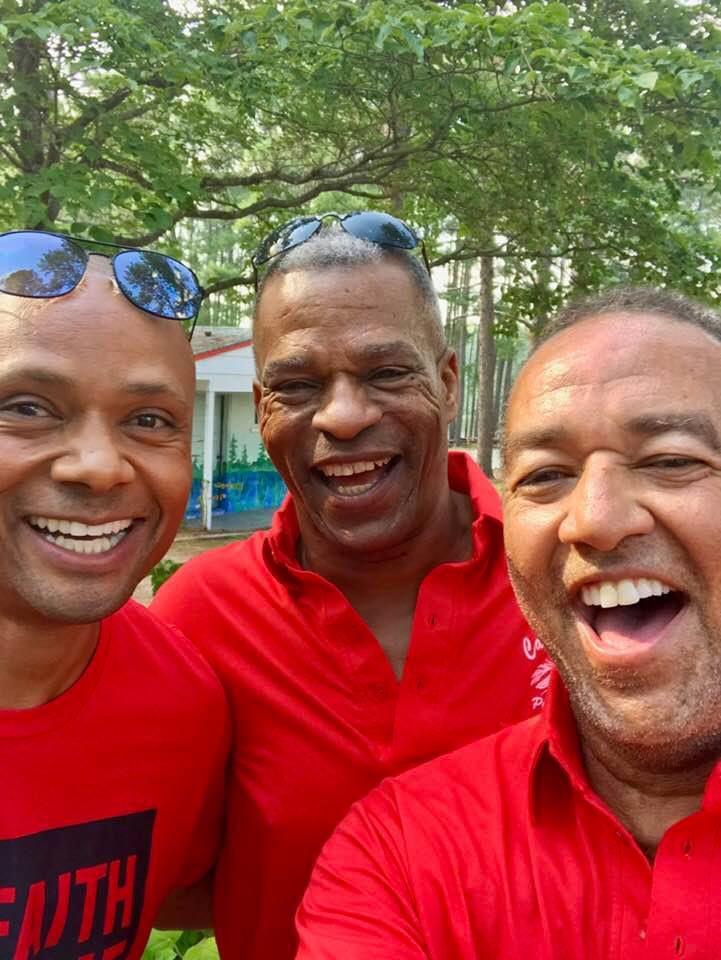 The 36-acre rolling parkland includes a 9-acre springfed lake, four picnic shelters that can also be rented for private events, and areas for basketball, volleyball, horseshoes and cornhole. A new section of land across from the main beach has been cleared as a future campground.
Capel's longtime friend John Hamlet, a skilled carpenter, is designing camper-friendly tree houses that will be rented out and also helping him rebuild the many picnic tables and benches that dot the property.
"John loves being here. He sees my vision," Capel said.
The work has not been without challenge. The buildings are older and need quite a bit of updating, in particular the restrooms and the five-room motel at the front of the property. In addition, Capel had all of his tools stolen from the grounds.
But he is optimistic and inspired by what he sees each day.
"I am doing this to honor my father. It is his legacy. I can visualize what he saw when he created this park," Capel said.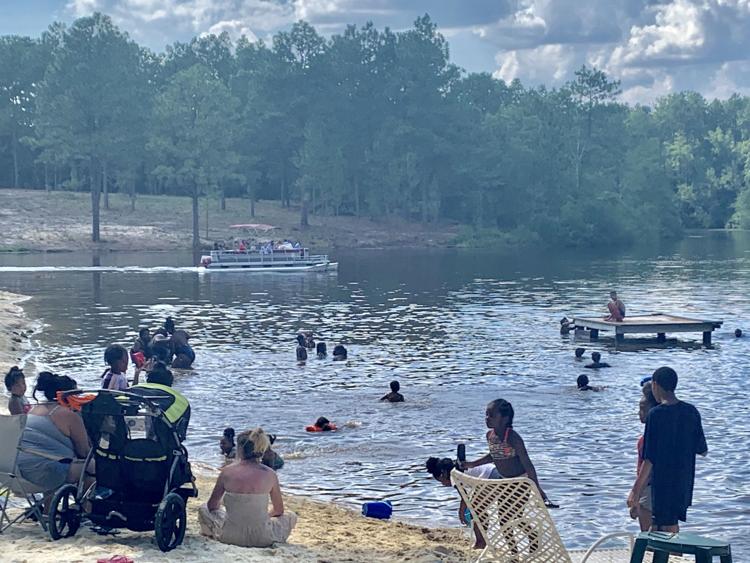 Looking ahead, he plans to reopen the concession stand on weekends, once permits are in-hand, and expanding the motel with a commercial kitchen. The campground area will eventually have hook-ups for RVs.
"I hope to have live music on the lake and maybe get a big movie screen. We will see," he said.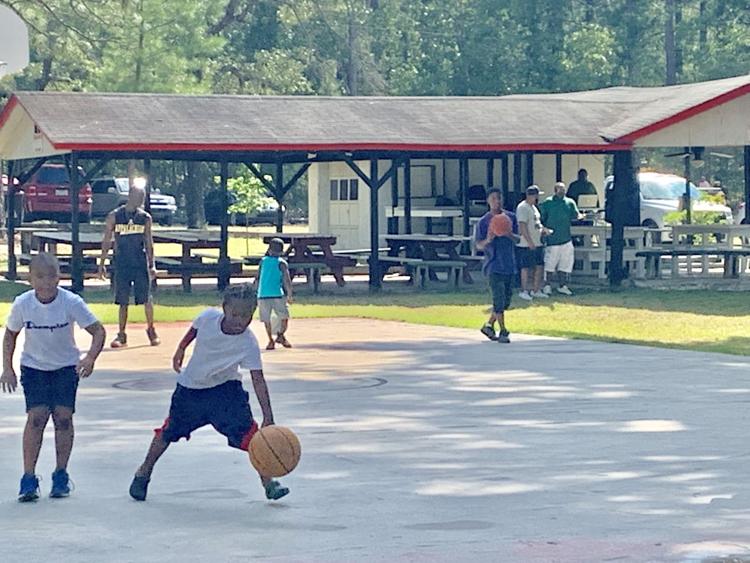 "There have been so many great people that have come through here and now they and their children are coming back," he added. "It is a generational thing. People want their children to enjoy the same experiences they did, and this is a great place to get kids outside."
Cardinal Park is located on U.S. 1 south, at 129 Cardinal Park Drive in Pinebluff. The facility is open everyday 9 a.m. to dark. A lifeguard is on-duty at the lake beach swimming area on summer weekends.
Day use fees are $10 per person, and $5 for children under five years, and include all fishing privileges and all other on-site activities. For more detailed information, contact Cardinal Park at (910) 494-0696.