On Saturday, a blessedly cool wind ruffled Fr. Andrew McNair's long white robe as he emerged from St. Anthony of Padua to bless the animals.
The annual event celebrates the feast day of St. Francis of Assisi, a 13th century Italian friar who spoke to the animals, preached to the birds, tamed a wolf and called these creatures his brothers and sisters.
The founder of the Franciscan order died at age 44, of malaria. According to legend, a flock of larks swooped down at the moment of his death.
Pope Francis chose the patron of animals and ecology as his namesake.
Religious institutions worldwide hold similar blessings, often attracting llamas, emus, pot-bellied pigs, exotic birds and caged snakes.
The observance, McNair said, "shows that all creatures glorify God and that animals assist and help us." McNair himself grew up with dogs in tiny coastal Swansboro. After postings in Rome, Yucatan and throughout Europe where he became conversant in Italian and Spanish, the young priest returned to his home state in 2014.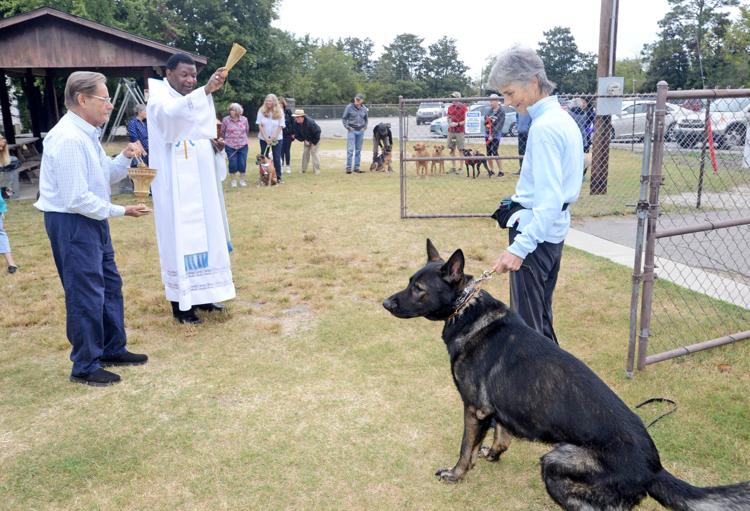 First to arrive Saturday was sweet but feisty Tiger, an 8-year-old Morkie (Maltese and Yorkie) dressed in a designer vest and accompanied by Pat Brennan.
Tiger's shrill bark signaled excitement. "Maybe Father could perform an exorcism, for the barking," Brennan laughed. She decided that bringing her Amazon parrot might be too frightening — for the parrot.
Sable, a snow-white American Eskimo (previously Spitz) added to the din. "He has a lot to say," said owner Suzanne Martin.
Della, an 8-month-old black Lab-ish rescue owned by Ken and RoseMarie Gagnon danced with excitement. Their reason for participating touched the heart: RoseMarie tells of bringing another dog for a previous blessing. Later on, she disappeared into the woods. They searched for three days, finally finding her tied to a tree. RoseMarie credits the blessing for the reunion.
Uber-rescuer Pam Colberg chose Chelsea from her seven cats and two dogs, who romp happily in a fenced yard. "I'm Roman Catholic. I've been rescuing forever. This is St.Francis's feast day."
Natalie Gorenseu wrapped "my girls," guinea pigs Papaya and Polenta in towels, like hot dogs in buns, for the outing — quite a change from the cage that takes up a quarter of her living room. They peeked out, noses quivering, to see what the ruckus was about, as McNair read familiar verses from Scripture, proclaiming how God has given us care over all living things, followed by the sign of the cross.
McNair then went around the circle sprinkling each pet liberally with holy water. This made Sammy, a yellow Lab, cringe and shake, no problem for Abby Sabalburo. "I want her to be OK. She's such a blessing."
Oscar, a 15-year-old cat, took the commotion in stride while McNair joked, "I don't want them to have Father for breakfast."
The ceremony was over in 15 minutes. Two-legged participants chatted about the cool-down and four-legged companions sniffed each other while walking back to their cars, one sporting a popular bumper sticker that says it all: "God is dog spelled backwards."