Since the pandemic began, everyone is spending more time at home and investing in ways that make their home life better. One such investment, detached accessory structures (sheds), can be a great way to create the perfect personal space for uses like a home office, gym, workshop, she-shed or man-cave. 
The Shed Depot has provided some important planning considerations and tips to make your space unique without breaking the bank.
First, what size space will you need?
Think about how the space will be used and what you plan to put in it.
Use a room in your house or garage to lay out your desired floor plan.
Sites like LP Outdoor Building Solutions and others can even help you estimate how much space you will need.
Where will your new building go?
Determine how level each of your location options are. If it's not level within a few inches, you may consider some grading work to ensure your shed is user-friendly and aesthetically appealing.
Confirm that your chosen location is in observance with required setbacks from the property lines and off of any utilities or septic systems.

Will you need a permit or other approval?
In North Carolina, any building larger than 12' is required to be permitted, meet building requirements and be anchored to the ground. See your local zoning and / or inspections department for applications and additional information.
Homeowners Associations may have additional requirements you will need to meet.
What if you want to install electrical wiring and finish the interior of the building?
Electrical wiring is a separate permit regardless of the size, uses, or if you plan to finish the interior. The permit should be pulled by the licensed electrician who connects the building's wiring to the appropriate nearest source.
To finish the interior of the building, you will also need to comply with building code requirements for doors, windows and energy efficiency. Accessory buildings and wood foundations for structures under 400 square feet are permissible, as are wood- and block-pier combination foundations if designed by an engineer.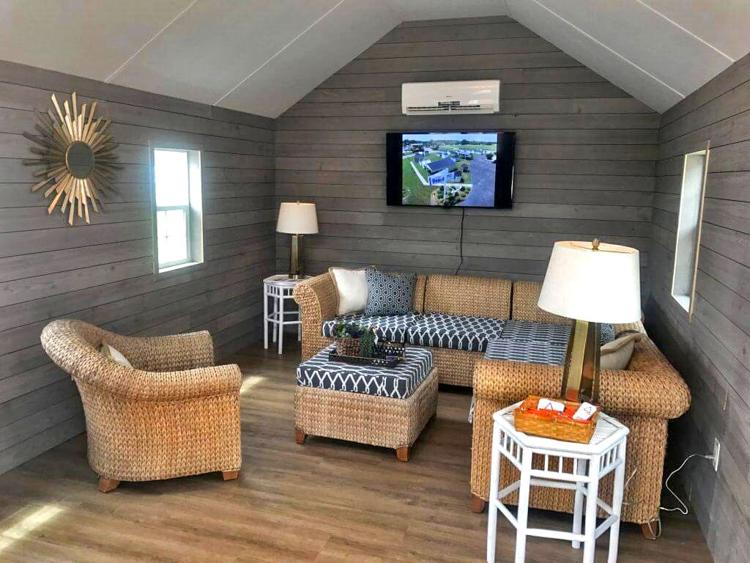 How can you create your dream space without breaking the bank?
Consider pre-built, portable sheds as they are often less expensive than built on-site options and can be delivered without damaging your yard.
Ask the builder if you can add a single unique feature such as a window or door, perhaps from a thrift store.
Consider a custom paint option that matches your home or your desired feel for the space, be it bold, soothing or somewhere in between.
Source interior floor and wall coverings from building discount centers or stores that often end up with materials in small quantities that are perfect for small buildings. If you are handy, you may be able to add those coverings yourself for about a third of the cost. One of our favorite cost-saving options is paint — it can go a long way to make a space look chic.
Stage the inside to your tastes with items from stores like TJ Maxx and Hobby Lobby or local garden supply stores like Big Bloomers in Sanford, Gulley's Garden Center in Southern Pines or The Garden Hut in Fuquay-Varina. Auctions, thrift stores and estate sales are also great places to store unique finds.
How do I get started?