Focusing on moving forward by simply putting one foot in front of the other is a habit that Bonnie King began when mourning her husband — a walking therapy that was taken away by back pain that spread to her hip and spine, leaving the active senior with an uncomfortable limp.
Facing an inevitable back surgery and long recovery, Bonnie began looking for ways to strengthen her body. Two sessions with Dr. Mac McLaurin at his practice, Restore Physiotherapy, has her back on the road, walking 2-3 miles at a time.
"I did not want to do something that would harm myself," says Bonnie, who's accustomed to working out with a trainer. "I didn't want to start something at home on my own, not knowing how it could affect my back."
She had worked with physical therapists in the past, but at clinics that were insurance driven and forced to limit the time providers can spend with patients. It's a business model that Mac McLaurin knows all too well; one he's abandoned in favor of a personal, one-on-one approach at Restore Physiotherapy.
"There is a huge emotional aspect to pain," Mac says. "Whenever you're able to connect with people and hear their story, you learn the effects that the lack of mobility has on all aspects of their life, and are able to better help them achieve their goals. It's not just about physical pain; movement directly relates to mental health."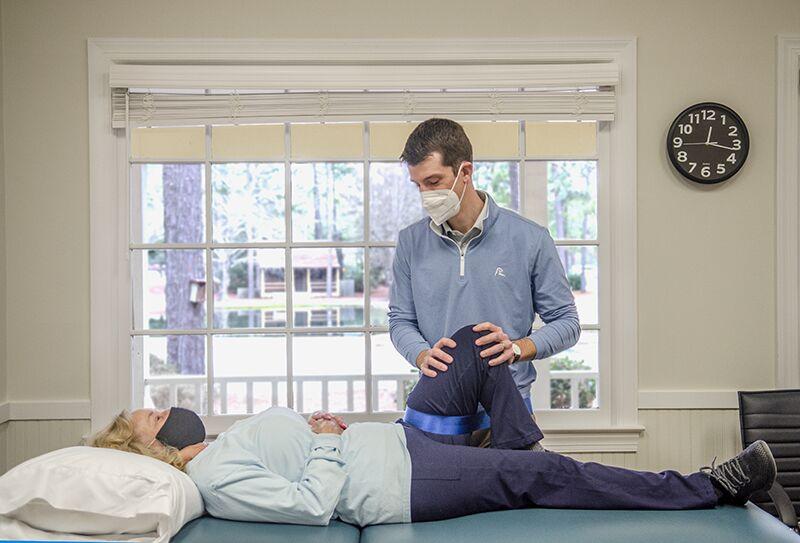 A Focus on Feeling Better
Days later, Bonnie limped into Mac's office for an appointment that included soft tissue work on her back and stretches to improve mobility in her hip. When she left, she limped a little less. Weeks later, with the help of Mac's prescribed "homework," her gait is nearly back to normal.
"The physical therapists I've had in the past are very good, but I've never felt like I've gotten the results I should be getting for the time spent in their office," she says. "Working with Mac is so different."
Restore Physiotherapy was founded to be different. After more than five years spent working with hundreds of patients in the constraints of insurance-driven, fast-paced clinics, Mac wanted the time to focus on each client's needs and make real, positive change with each visit.
"I don't like treating 3-4 patients at once," he says, "and I don't believe in simply writing a prescription and sending patients home with a sheet of exercises. Being able to treat patients the way that I wanted to and put in the time with them was the big driver behind opening my own practice."
Continued concerns over safety in crowded waiting rooms during the coronavirus pandemic was another factor. Restore Physiotherapy is open by appointment only, for one patient at a time, and masks are required to be worn by all who enter. Time between appointments is reserved for extra cleaning and sanitation measures.
How it Works
Restore Physiotherapy operates outside of the traditional insurance model, though payment for some treatments may be reimbursed by insurance providers. Clients can pay a flat fee for each visit or purchase a package at a discounted rate. Unlike larger clinics, which offer limited options, Mac can work with you to find the right fit.
Restore Physiotherapy is located at 45 Dowd Circle in Pinehurst. If you're experiencing pain, schedule a free discovery visit, which requires no commitment and no physician referral.
For more on the clinic or treatments offered, visit RestorePTNC.com or call 910-621-5003.