For the past 7 years, the Drum & Quill has served up casual cuisine and cocktails to locals and tourists alike in the heart of the Village of Pinehurst. But the deeply personal story behind its name might not be something readily known. It starts with owner Kevin Drum's dad, Bob Drum, a World War II vet-turned-sportswriter whose work documenting Arnold Palmer's every swing is as legendary as the golfer himself.
"My dad wrote stories that would document the exploits of the greatest athletes for the Pittsburgh Press," Kevin Drum said. "But he was drawn to golf and covered it in its golden era, eventually discovering a kid from Latrobe, Penn. that would make golf history."
Drum's Early Life
Raised by a single mother in Brooklyn, Bob was recruited by a basketball coach for The University of Alabama while shooting hoops on the playground. His basketball career was cut short upon the arrival of the second World War that eventually sent him off to North Africa as a soldier in the United States Air Force.
Bob arrived home from the war only to find basketball was no longer an option, so with the help of his stepfather, he landed a job as a feature writer for the Pittsburgh Press. In the 40s, he first spotted a 14-year-old Palmer at the West Pennsylvania Junior championship.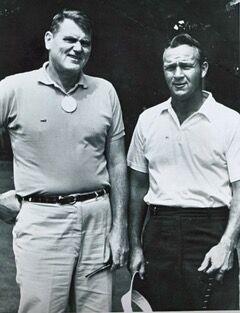 "Arnold didn't even make it to match play for that junior tournament," Kevin Drum said. "But my dad saw something and told the world 'this kid from Latrobe will be the best golfer in the world.'"
Drum and His Quill
The prediction Drum penned when Palmer was just 14 later came true when a young Arnold Palmer won the recently formed 1958 Masters. And so began Drum's work in recording the career records of one of golf's most illustrious players.
It was during his time with the Pittsburgh Press that Drum traveled to Pinehurst with fellow golf writers to cover golfer Ben Hogan in the Ryder Cup and again to watch Palmer play in the North & South Championship.
Throughout 1960, Drum wrote a series of stories on Palmer, projecting that he would accomplish something similar to what fellow golfer Bobby Jones had done in 1930 when he won the US and British Amateur and the US and British Opens; that feat was considered then to be Golf's Grand Slam – a term borrowed from the card game Bridge.
Golf was changing, and Drum knew it; it was now a game of professionals. The Grand Slam that Bobby Jones had accomplished with two amateurs was never going to happen again. He felt the Grand Slam had to be reinvented for professional golf, with four professional tournaments of equal stature so today's pro golfers could pursue a Grand Slam of their own; but which ones?
Drum's Grand Slam
In 1960, Drum and Palmer decided that Palmer's win at the still-relatively-new Masters, and his first-place trophy at the 1960 U.S. Open, would be the first two legs of the new Professional Golf Grand Slam. The final two legs of the "Grand Slam," Drum & Palmer decided, would be The Open Championship at St. Andrews and the PGA Championship.
Arnold didn't win those last two events, but came close enough in 1960 that PGA professionals still pursue those four tournament wins to this day, in the hope of completing what Palmer, with the help of Drum, immortalized as the Professional Grand Slam.
Drum and the U.S. Open
In 1971, Drum moved his family to Pinehurst to help the resort manage the World Open. All the while, he was gently nudging the USGA to bring the U.S. Open to his new hometown. With the help of local fellow golf writers Dick Taylor, Charles Price and John Derr, he kept asking the same question to the USGA: "Why don't you bring the US Open to Pinehurst?"
"The USGA said it would never happen, I was there in the press room hearing it," Kevin Drum said. "But my dad and his golf writer friends kept pushing, and it didn't pay off until 20 years later."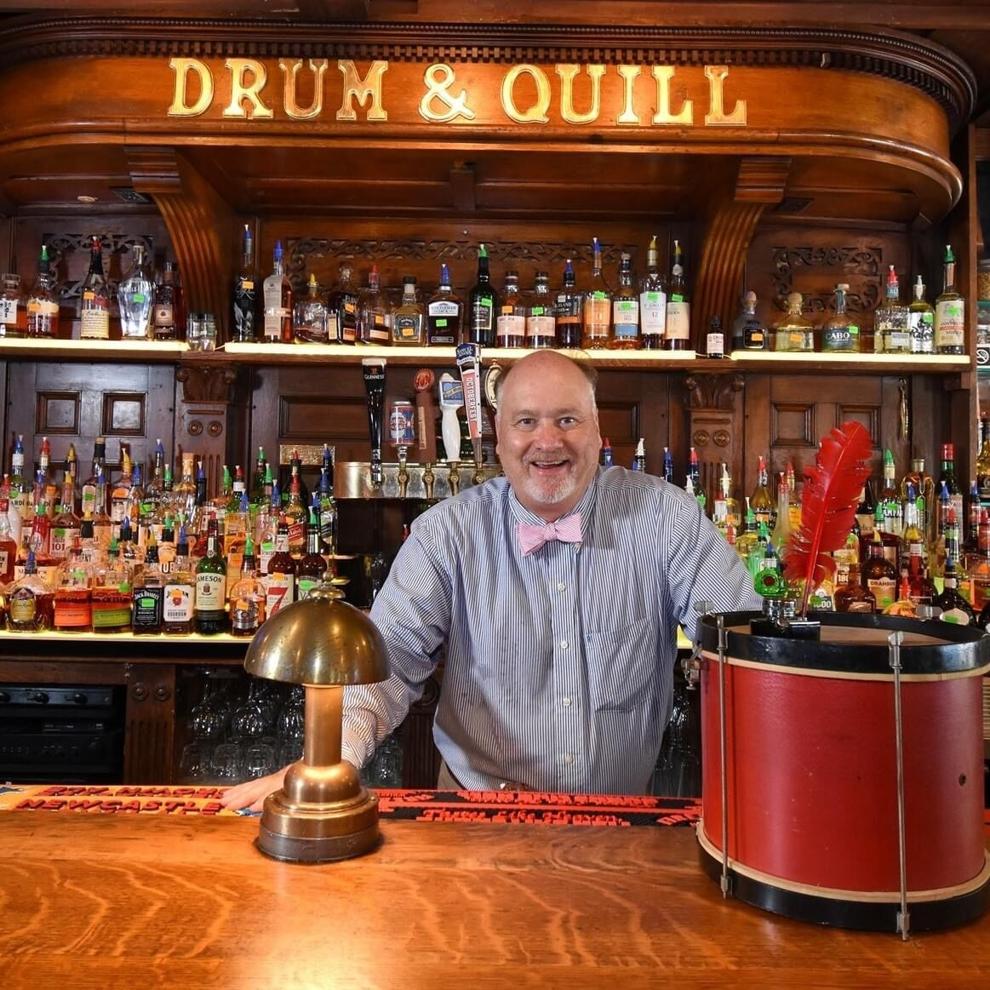 With a dynamic Bob Dedman taking the helm at Pinehurst, and USGA winds changing to the country's great courses, his dreams were finally realized. It was announced in the 1990's that the 1999 US Open would be played at Pinehurst, for the first time. Drum got his wish, but he didn't live to see it. Just as he knew Palmer would be the greatest, and knew golf needed a "Professional Grand Slam," he knew a US Open should be played at Pinehurst.
"In 2014, I created the Drum & Quill and named it to honor my dad, and remind people the impact he had on the game of golf," Kevin Drum said. "The 'Drum' represents my dad, and the 'Quill' represents his pen. I wanted to create the only golf-writer themed tavern in the world here in Pinehurst, to add to its rich golf texture."
At Drum & Quill, you'll find a place to share stories over a pint, classic cocktail or casual dining — served up 7 days a week.
"Golf writers' stories can turn golf pros' exploits into that of legend, like my dad did with Arnold Palmer," Kevin Drum says. "We also hope to shed light on how my dad contributed to creating golf's greatest prize, the Professional Grand Slam."
Drum & Quill is open from 11 a.m. to 10 p.m., Monday through Sunday. For more info, visit drumandquill.com or call 910-295-3193.