If you're looking for a dental practice with a small-town feel but big-city service, family-run Dogwood Family Dental should be on your short list. Dr. Sheena Neil joined her husband, Dr. Kevin Patel, full-time at the practice in August, and has been taking care of patients — and making them into friends — ever since.
"I know that not everyone loves to go to the dentist," she says. "But when our patients start to get to know us, we start to build a relationship and become invested in each other's lives. They know us as people, and we love to have them come back and see us."
Sheena, who graduated from the University of North Carolina and the inaugural class of East Carolina University School of Dental Medicine, met Kevin during his orientation in dental school. The two now reside in Whispering Pines with their son, James Caleb, and pup Baxter.
A Practice That Feels Like Family
Dogwood Family Dental is a small practice, where you'll likely see the same people every time you stop in; and with touches like handwritten thank-you notes and reminder cards, the Patels go the extra mile to make sure their patients feel like family.
That includes taking care of you during an emergency, often with same-day treatment. Recently, a patient came in with pain, and with the unpleasant knowledge that he had to have a tooth pulled within his smile line. Sheena was able to remove the offending tooth, and called in some favors among her network to get a fix for his smile that afternoon.
"When a patient is happy, not in pain, comfortable to speak and comfortable showing off their smile, then we've done a good job and it's been a good day," Sheena says.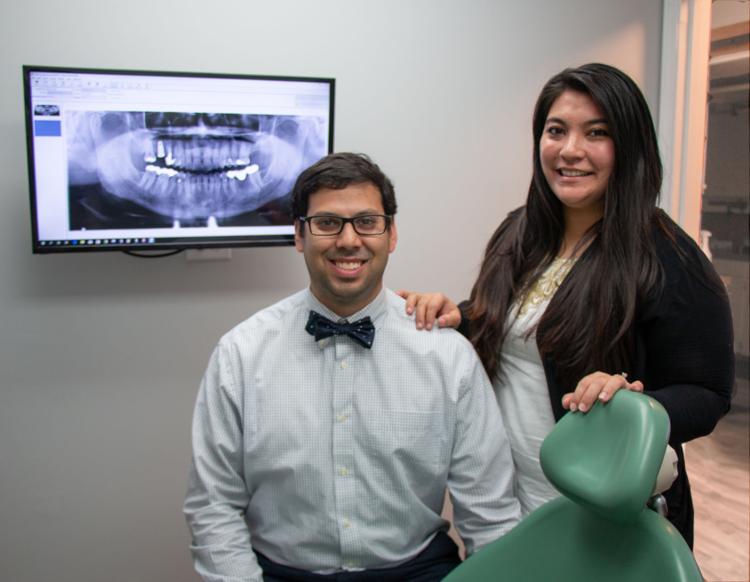 Small Practice, Modern Conveniences
While Drs. Patel and Neil pride themselves on running a practice with a small-town feel, they are also committed to employing the newest tech. Full-screen televisions in each treatment room are used to display x-rays, screening, and plans of actions that every patient can understand.
Dogwood Family Dental is also committed to keeping as many services under one roof as possible. Following dental school, Sheena continued her education with advanced training in surgery, endodontics and implant placement and restoration. She is also certified in Invisalign, a service offered in the practice.
"People don't have time to go to five different places to get things done," Sheena says. "We try to be a one-stop shop."
That means each of the office's providers are also well-versed in the latest technology and treatments. See a list of everything they offer here.
Dogwood Family Dental is located at 908 N. Sandhills Blvd. in Aberdeen, and is in-network with several insurance providers, including those affiliated with the military. The office hours are from 8-5, Monday through Thursday. Call 910-944-5600 to schedule an appointment.