As an administrator of Moore County's most popular Facebook group, Alyce Lee has the often thankless task of moderating impassioned comments from users in response to the COVID-19 pandemic.
Some members say not enough is being done to curb the spread of the coronavirus. Some feel that the threat of COVID-19 is overblown. Several commenters appear to think the whole crisis is a hoax.
Lee and her fellow admins at Moore County Ask a Neighbor intervene when comments turn vitriolic. Derogatory or inflammatory posts are in violation the group's user policy, which is basically a code of conduct for the page.
"The drama that flares up on posts is from people who get off-the-charts angry," Lee said. "Some of (the response) seems so visceral and so out-of-line in terms of what the subject matter is."
Recently, few topics have been as divisive as face coverings. Lee said the page saw a surge in uncivil interactions following Gov. Roy Cooper's executive order requiring face coverings in public places, a mandate that took effect Friday.
"It had become, over time, less divisive and less hostile, but then it picked up again with the mask mandate," Lee said. "That day, we had to put out a lot of fires."
But are masks really that divisive among Moore County residents? A tally of shoppers at four local retailers suggests far less local resistance to face coverings than social media may have one believe.
As part of the observation, The Pilot counted every customer entering Food Lion, Circle K, ALDI and Dollar Tree during separate 30-minute intervals on Monday. Shoppers leaving the stores were also counted, but only at the beginning of each observation period to avoid potential duplication. 
Of the 177 individuals tallied by The Pilot, only 22 were seen without face coverings. That's about 12 percent.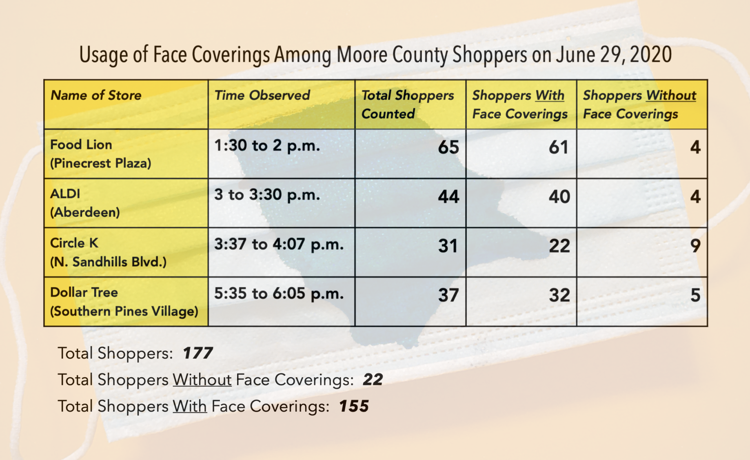 People at each store were greeted by a sign announcing the governor's mandate, but only a handful of shoppers were seen fetching a mask from their car after seeing the signs. For the most part, the customers counted by The Pilot had their face coverings in place well before they reached a store's entrance. 
While the statewide order requires masks "where physical distancing of 6 feet from other people who are not members of the same household or residence is not possible," the mandate also says law enforcers are "not authorized to criminally enforce the face covering requirements (…) against individual workers, customers or patrons" of a business. This language has led several law enforcement officials, including Moore County Sheriff Ronnie Fields, to call the order "unenforceable."
The mandate also contains exemptions for people with medical or behavioral disabilities that make it difficult to wear face coverings. These exemptions are based on the "honor system," and individuals are not legally required to present proof of their disability when entering an establishment without a mask.
Despite all the leeway, people are wearing face coverings.
"I think initially, you always see comments from the people who feel most strongly about (an issue)," Lee said. "Then as time goes on, you get a better sense maybe of what the majority of the community or other voices in the community are saying."