Correction: The Moore County Health Department said the two new cases at The Greens involve employees of the nursing home, not residents. 
A Pinehurst nursing home is currently experiencing its fourth coronavirus outbreak.
The Moore County Health Department on Thursday reported that two employees of The Greens, a 120-bed facility on Rattlesnake Trail, recently tested positive for COVID-19. An outbreak is defined by the N.C. Department of Health and Human Services as two or more active infections in a congregate living setting.
DHHS on Tuesday reported that two residents of the facility had tested positive, but this was a "typo," according to the local health department.
Nearly 120 infections and 15 coronavirus-related deaths are linked to previous outbreaks at The Greens. The facility is now tied with Peak Resources Pinelake, a nursing home in Carthage, for the most outbreaks recorded at a local long-term care community.
Like The Greens, Peak Resources Pinelake is dealing with its fourth outbreak. Nineteen of the nursing home's residents died of complications from COVID-19 last year in what remains the deadliest outbreak to date in Moore County.
Other facilities reported to have active outbreaks on Tuesday include:
• Magnolia Gardens, an assisted living community in Southern Pines where two employees and six residents recently tested positive. This is the facility's second outbreak.
• Pinehurst Healthcare and Rehabilitation Center, a nursing home where three staff members and four residents recently tested positive, and where a resident recently died. This is the facility's third outbreak.
• Quail Haven Village, a Pinehurst nursing home where five workers and six residents recently tested positive, and where three residents recently died. This is the facility's third outbreak.
Every nursing home and assisted living community in the county has suffered at least one outbreak since the start of the pandemic. An outbreak is considered to be concluded after a facility goes 28 days with no new infections.
Half of the county's deaths and 9 percent of its cases are linked to outbreaks in congregate living settings, according to an analysis by The Pilot. Still, only a handful of the area's long-term care facilities require their employees to get vaccinated against COVID-19.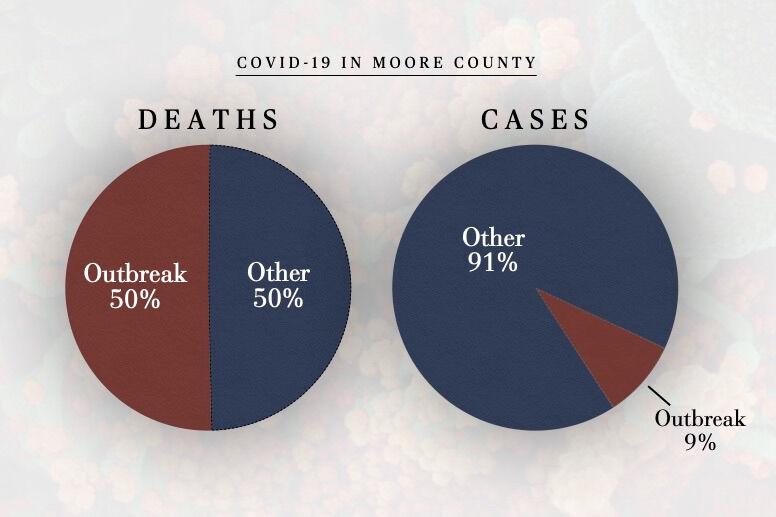 About 49 percent of the county's population was fully vaccinated as of Tuesday morning. A total of 218 deaths and over 11,600 cases have been recorded by the Moore County Health Department, with 379 new infections added in the past week alone.