The N.C. High School Athletic Association has announced a plan to resume sports that shortens regular playing seasons this year to about six weeks, and further delays the date when practices can begin.
On Tuesday, the NCHSAA Board of Directors approved a calendar for the 2020-2021 year that begins on Nov. 4, the earliest day that cross country and volleyball teams can practice, and pushes football season into the spring of 2021.
The NCHSAA had previously set Sept. 1 as the starting date for fall sports, but the association announced another delay last week after Gov. Roy Cooper decided to prolong the second phase of the state's reopening plan.
"We know that times are difficult for everyone across our state, and across our nation, as we continue navigating the difficult decisions that have confronted us all due to COVID-19," said NCHSAA Commissioner Que Tucker.
"We believe that NCHSAA coaches and programs across the state have a tremendous impact on their students in both good and bad times. We want to ensure that students have the opportunity to gain the benefits from participation in education-based athletics while mitigating the risk associated with that participation."
The calendar that the NCHSAA rolled out on Wednesday is based on guidance from the U.S. Centers for Disease Control and Prevention and N.C. Department of Health and Human Services as well as input from the association's Sports Medicine Advisory Committee, sports ad hoc committee and a survey of public school superintendents from around the state.
Games for most sports will be limited to 14 during the regular season. Cross country, swimming and diving, and track and field will have no more than 10 meets.
Football teams will be limited to seven games in a regular season that runs from Feb. 26 through April 9, 2021. Football team practices can begin on Feb. 8.
The basketball regular season will run from Jan. 4 through Feb. 19. Practices can start Dec. 7.
Practices for mens' soccer, and mens' and women's lacrosse, can start Jan. 11. The regular season will run from Jan. 25 through March 12.
Golf, women's soccer, softball and Men's tennis practices can start on March 1, with the season beginning March 15 and ending April 30.
After the start of practice no earlier than Nov. 4, the regular seasons for cross country and volleyball will run from Nov. 16 through Jan. 8.
Swim team practices can begin Nov. 23, and meets will run from Dec. 7 through Jan. 30.
Baseball, women's tennis, track and field and wrestling practices can begin on April 12. The season for those sports will run from April 26 through June 11.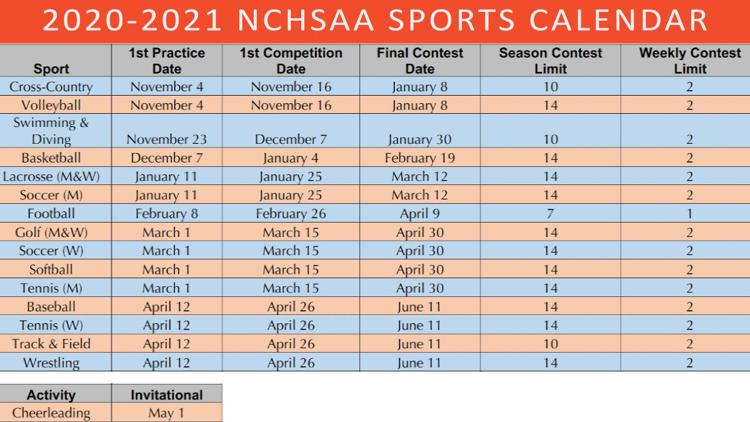 Indoor track is not included in the calendar for the coming year. Those athletes should plan to participate in outdoor sports this year.
"Facility constraints and the difficulty in conducting large meets indoors while still needing to social distance also factored into that decision," said Tucker.
Tucker said that the proposed dates for all sports are subject to change based on conditions created by the coronavirus pandemic later in the year and into 2021.
"I applaud our staff and the members of the Board of Directors for approving a 2020-2021 sports calendar that we believe provides us the most realistic chance of providing interscholastic athletic opportunities for our students while at the same time balancing the challenges of our new academic setting," she said.
The NCHSAA allowed athletic workouts to begin in June, but directed that they should be suspended for the first five days of the school year. Moore County Schools started those workouts last week.
Local school districts will have jurisdiction over to what extent student athletes have access to locker rooms and weight training facilities once workouts resume in the second week of the semester.
"While there are risks with resuming NCHSAA-sanctioned athletics, it has also become very clear that there are significant negative consequences with not providing this option to student-athletes," said Josh Bloom, a sports medicine physician and member of the association's Sports Medicine Advisory Committee.
While the consequences of not participating may be more difficult to quantify than the risks of a COVID-19 infection, we must recognize and acknowledge that these consequences of not participating are real and they are grave. With this in mind, we feel it is crucial to provide some good news for out student-athletes in the form of a plan for NCHSAA member schools to resume athletics."
Though postseason dates have not been announced, the association is planning to hold playoffs for each sport.