Five more residents have died of complications from COVID-19, bringing the pandemic's death toll to 223 in Moore County.
The latest deaths were announced Thursday by the Moore County Health Department. Matt Garner, public information officer for the department, said one of the deceased individuals was a man in the "25 to 49 age group," making him one of only five residents younger than 50 to perish since the start of the pandemic.
He was the first of three residents to die this month. A woman in the "50 to 64 age group" died on Sept. 3, and a woman in the "65 to 74 age group" died last Saturday, according to Garner.
Fatal infections are typically announced in batches by the health department, and it can take several days before a death is publicly confirmed by the agency.
Garner said the two other deaths announced Thursday involve a man in the "50 to 64 age group" who died Aug. 29 and a woman older than 75 who died on Aug. 21. August was the third deadliest month of the pandemic in Moore County, with 30 lives claimed by COVID-19.
More people in the county died of COVID-19 in August than during the previous six months combined, an uptick fueled by the highly contagious delta variant of the virus. North Carolina surpassed 15,000 deaths this week, a grim milestone that seemed remote when summer began.
"Sadly, most all of the COVID deaths that are now occurring are preventable with a safe, easy, free vaccine, and I want to thank the millions of North Carolina residents who have stepped up to get one," Gov. Roy Cooper said during a news conference on Thursday. "But we need more people to get vaccinated. How many more people have to get sick and die because people don't get this miraculous, God-given, effective and extraordinarily safe vaccine? How many more people will have to witness the painful, cruel death of a loved one to finally see that vaccines are the way out of this?"
Data from the N.C. Department of Health and Human Services showed that 49 percent of the county's population was fully vaccinated as of Thursday. Fifty-three percent of the county's population had received at least one dose of the vaccine, according to DHHS.
Of the more than 11,760 infections recorded by the local health department since the start of the pandemic, about 1.8 percent have been fatal.
Outbreak at The Greens
A Pinehurst nursing home is currently experiencing its fourth coronavirus outbreak.
Karen Koenig, a nurse with the Moore County Health Department, said that two employees of The Greens, a 120-bed facility on Rattlesnake Trail, recently tested positive for COVID-19. An outbreak is defined by DHHS as two or more active infections in a congregate living setting.
The latest outbreak at The Greens was first reported Tuesday by DHHS, which incorrectly reported that two residents of the facility had tested positive. The error was caused by a "typo" made by the local health department, according to Koenig.
Nearly 120 infections and 15 deaths are linked to previous outbreaks at The Greens. The facility is now tied with Peak Resources Pinelake, a nursing home in Carthage, for the most outbreaks recorded at a local long-term care community.
Like The Greens, Peak Resources Pinelake is currently dealing with its fourth outbreak. Nineteen of the nursing home's elderly residents died of complications from COVID-19 last year in what remains the deadliest outbreak to date in Moore County.
Other facilities with active outbreaks include:
• Magnolia Gardens, an assisted living community in Southern Pines where two employees and six residents recently tested positive. This is the facility's second outbreak.
• Pinehurst Healthcare and Rehabilitation Center, a nursing home where three staff members and four residents recently tested positive, and where a resident recently died. This is the facility's third outbreak.
• Quail Haven Village, a Pinehurst nursing home where five workers and six residents recently tested positive, and where three residents recently died. This is the facility's third outbreak.
Every nursing home and assisted living community in the county has suffered at least one outbreak since April 2020. An outbreak is considered to be concluded after a facility goes 28 days with no new infections.
Nearly half of the county's deaths are linked to outbreaks in long-term care settings. Still, only a handful of the area's nursing homes require their employees to get vaccinated.
The majority of workers at most local nursing homes remain unvaccinated, according to data released Thursday by the U.S. Centers for Medicare and Medicaid Services.
Vaccination data for the week ending Aug. 29 showed that Pinehurst Healthcare and Rehabilitation Center had the fewest immunized staff members. Only 27 percent of the facility's staff were vaccinated.
At the same time, the data showed that the majority of the county's nursing home residents were vaccinated. Pinehurst Healthcare and Accordius Health at Aberdeen were tied for the lowest percentage of vaccinated residents at 80 percent; Peak Resources Pinelake had the highest percentage at 97 percent.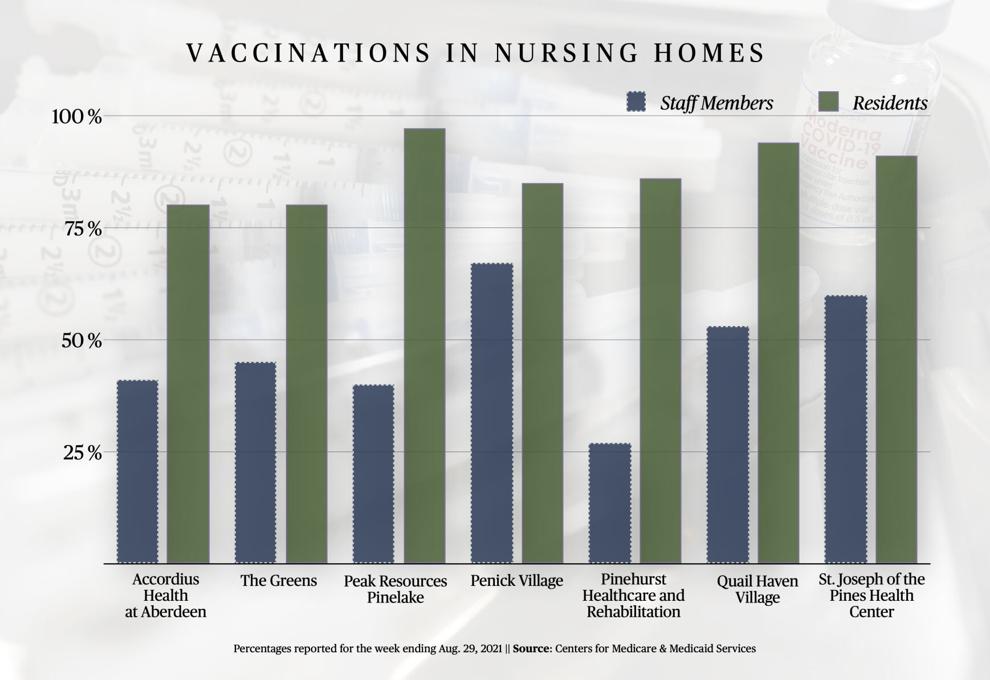 Biden Announces Mandate
President Joe Biden announced Thursday that vaccination will be mandatory for workers in hospitals and other health care facilities that receive Medicare or Medicaid reimbursement.
FirstHealth of the Carolinas, the county's largest private employer, does not currently require its employees to get vaccinated against COVID-19, making the company an outlier among other North Carolina-based hospital systems. It is not yet clear if the organization, which serves both Medicare and Medicaid patients, plans to change its policy in light of Biden's announcement, which is expected to go into effect after a final rule is issued in October.
Gretchen Kelly, director of public relations for FirstHealth, did not return phone calls for comment on Friday but, in an email, she said the company had no "new information to disclose about vaccine mandates."
Kelly did not immediately provide an answer when asked to explain why FirstHealth, which regularly promotes the benefits of vaccination on its website and social media pages, is not requiring its own employees to get shots.
"FirstHealth has been holding vaccine clinics regularly for employees, and we have seen our percentage of vaccinated employees increase to nearly 62 percent," she said. "The turnout for our clinics continues to increase, and we are encouraged at the level of participation. We continue to strongly encourage all of our employees to get vaccinated as soon as possible."
On Thursday, FirstHealth reported that 85 people were hospitalized with COVID-19 across its multi-county system. Thirteen of those patients were in intensive care units and four were attached to ventilators.
The vast majority of the patients were unvaccinated, FirstHealth said.
Spreading in Schools
The coronavirus continues to spread among students and faculty members in Moore County Schools, with the system documenting 146 new infections this week.
An online spreadsheet tracking new cases and quarantines across the school system showed that 243 students and 27 staff members have tested positive since the start of the academic year in August. Pinecrest High had the most cases, with nearly 40 students testing positive.
Following close behind is Westmoore Elementary, where 23 students and three staff members have tested positive. The number of affected students at Westmoore represents almost 10 percent of the school's enrollment.
Catherine Murphy, director of communications for Moore County Schools, said the school system "cannot say definitively that any one thing" is to blame for the spike in cases at Westmoore.
"What we're really trying to stress with folks is making sure that if your child has any symptoms at all, don't bring them to school," she said. "And if you have someone in your household that is waiting for a COVID test result, that's another situation where you don't want to bring your child to school."
Murphy said the school system is also reminding students and employees to "make sure they're wearing their masks correctly." Face coverings are required in district schools until at least the end of September, when the mandate will be revisited by the Moore County Board of Education.
"I think if we help the parents and students understand how important it is to remain consistent with our protocols, maybe that will help stem some of what we're seeing right now," Murphy said. "We want to limit the amount of quarantines that we need to have, and that really requires the cooperation of all of us — all of our students, all of our staff. People need to remain diligent. We can continue to provide in-person instruction five days a week, but we need the cooperation of everyone involved."