Every licensed nursing home and assisted living facility in Moore County has now experienced an outbreak of the coronavirus.
The N.C. Department of Health and Human Services reported the county's latest outbreak on Tuesday at Brookdale Senior Living in Pinehurst. Two residents and an employee of the facility recently tested positive for COVID-19, according to DHHS.
An outbreak is defined by the state as two or more active infections in a so-called congregate living setting. Brookdale, a 95-bed assisted living community on Regional Drive, managed to fend off an outbreak longer than any other long-term care facility in the county.
The outbreak at Brookdale means the virus has spread through each of the county's seven nursing homes and 10 assisted living communities. Several of these facilities have seen multiple outbreaks.
A second outbreak is underway at Penick Village in Southern Pines. At least 20 infections have been linked to the campus since Dec. 29, according to a memo sent out Wednesday by the facility's administration.
The memo, a copy of which was obtained by The Pilot, said 10 elderly residents are quarantined in a "dedicated area" of the village's skilled-nursing building to "prevent any further spread." Seven other residents tested positive at Garden Cottage, an assisted living building, in late December.
Three of the facility's staff members have tested positive in connection with the current outbreak, which has yet to be reported by DHHS.
"Our staff is going above and beyond to make sure our residents are comfortable, their environment is sanitized and personal protective equipment is being properly utilized," the village said in the memo, signed by both interim CEO Ronald Jennete and Tricia Wood, the facility's health care administrator. "With staff doing their part to be mindful of their surroundings and potential exposures, we have continued to protect our residents and co-workers from this seemingly incessant virus."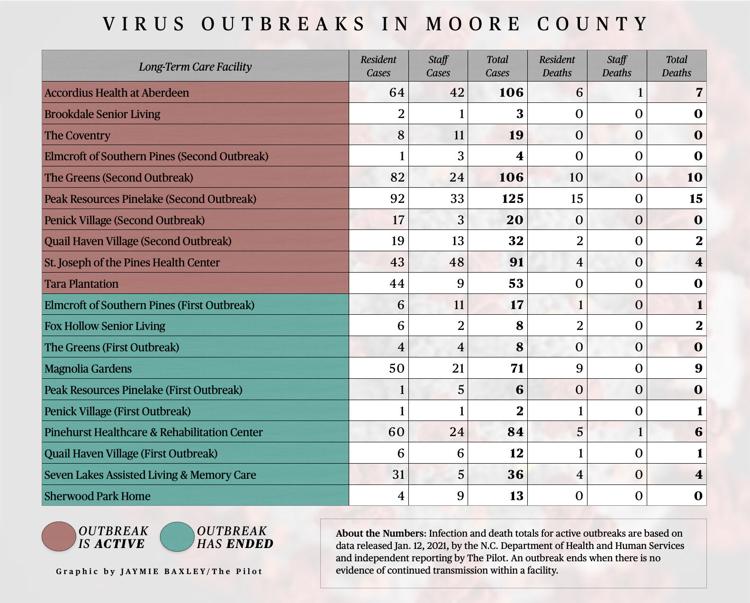 Two cases of COVID-19 and a death are linked to the previous outbreak at Penick Village. That outbreak began in October and was considered to be concluded by DHHS after weeks passed with no evidence of continued transmission within the facility.
The first dose of Moderna's two-part coronavirus vaccine was administered to residents and staff members at Penick Village on Jan. 6. Vaccinations have also started at The Greens, Magnolia Gardens, Seven Lakes Assisted Living and other long-term care facilities in the county under Phase 1A of the state's four-stage inoculation plan.
But many facilities are still waiting for their turn. Residents of Pinehurst Healthcare & Rehabilitation Center, one of the area's largest nursing homes, are not scheduled to be vaccinated until later this month.
Pinehurst Healthcare & Rehabilitation Center was ravaged by the county's first reported outbreak in April. Over 80 infections and six deaths were eventually linked to the outbreak, which did not conclude until July.
In a pre-recorded phone message sent to families of residents on Jan. 5, Pinehurst Healthcare & Rehabilitation Center said four residents and seven staff members had been diagnosed with COVID-19. 
A recording of the message, a robocall attributed to administrator Van Bergstrom but read in a computerized voice using a text-to-speech program, was shared with The Pilot. In it, the facility says all residents and staff members will be tested "twice per week until further notice."
"We are doing everything we can to prevent COVID-19 from spreading in our community including closely monitoring all residents," the nursing home said in the message. "We continue to screen all employees every time they enter the building and we are using universal mask precautions for each employee throughout the building at all times."
A person with knowledge of the situation, who spoke to The Pilot on condition of anonymity, said the cases date back to September and are not concurrent. The individual said that Pinehurst Healthcare & Rehabilitation has been rigorous in its enforcement of infection control measures since the first outbreak, and the facility was simply mentioning older, inactive cases in the robocall as a matter of transparency.
The Moore County Health Department has not publicly acknowledged a possible second outbreak at Pinehurst Healthcare & Rehabilitation Center, and the agency has not issued news releases announcing the confirmed outbreaks at Brookdale or Penick Village — something that has been done for every other outbreak identified in the county.
According to a Pilot analysis, outbreaks in long-term care facilities account for about 14 percent of all COVID-19 cases reported in the county since March. The health department said 55 of the county's coronavirus-related deaths are tied to outbreaks in long-term care facilities, but a recent review of death certificates filed with the Moore County Register of Deeds' office found that the actual number is quite higher.
There have been at least nine unreported deaths involving residents of The Greens, a nursing home in Pinehurst. While the unreported deaths at The Greens date as far back as Dec. 3, according to the certificates reviewed by The Pilot, the health department said it has not had enough time to collect the materials needed to report the deaths to DHHS.
Addressing the Moore County Board of Health on Monday, Robert Wittmann, director of the health department, said the state must be notified of COVID-19 deaths before they can be announced to the public.
"There's a process that's set up where we have to send to the state not only the death certificate, but we also have to send the lab report and the medical notes," Wittmann said. "We're also constrained because we're putting almost all of our energy into getting vaccine into people's bodies now, and that's the highest priority we have. Reporting deaths will continue, but that's not our top priority."
The federal government is overseeing distribution of the vaccine in long-term care facilities. The health department is currently administering the vaccine to local health care professionals at risk of exposure to COVID-19, and to senior citizens who do not reside in long-term care settings.