Since school closed last week, students at Episcopal Day School in Southern Pines are seeing their teachers and classmates as a collage of faces on a computer screen.
Online learning is still a novelty in fifth grade and under, where students most benefit from small class sizes and as much one-on-one attention from their teachers as possible. But after making the decision to close along with public schools statewide, EDS Head of School Jill Connett wasn't prepared to concede the cause of learning for the weeks or months it takes for the COVID-19 threat to pass.
"I have been conferencing with other heads of school around the southeast and a lot of people are kind of reaching for how you do this with elementary school kids," she said. "Our teachers have jumped on board and worked around the clock to make it happen."
Schools in North Carolina will be closed until at least mid-May. But for the 200 students at EDS, their days still revolve around the study of math and reading and joining their classmates, at least in two dimensions, for prayer and music.
"I was so impressed they were able to pivot so fast," said Keri Van Scoyoc, who has a pre-kindergartener and a third grader at EDS. "I feel like they're not missing a beat."
On March 16, teachers dedicated a single day to adapting their lessons plans for the Zoom online meeting platform. Even though most of them have never led virtual classrooms, they were teaching online the very next day.
Over the last week, Jen Barton has developed a routine: leading her 13 kindergarten students in three half-hour sessions between 9 a.m. and noon.
"I can see all of them and they can see their friends, and we all communicate with each other," said Barton.
"The biggest thing is staying connected with them. It's really hard for everybody: parents, teachers, the kids. So I'm just trying to be my spunky kindergarten teacher self, even though I'm not literally in front of them, and trying to keep things as normal as possible."
Some teachers have established temporary classrooms in their homes, complete with motivational posters, whiteboards and charts. Teachers who opt to teach from the school have direct access to their classrooms, so they can avoid interaction with other staff.
Every night, third grade teacher Jill Hutchison emails lesson plans and supporting materials to her students and their parents. The next morning at 9:30 a.m., she logs into her Zoom classroom to explain the day's work.
"It has been pretty slick," she said. "I can see all 20 of my students, they can see me, we can still go through lessons and I can talk. They raise their hands and I unmute them to share."
School in a time of social distancing comes with the added responsibility of getting work done independently and being prepared with questions when they log back in for a second session with their teacher.
"In the afternoon we're available for one-on-one conferencing, if a kid is struggling with something or needs more clarification," said Hutchison.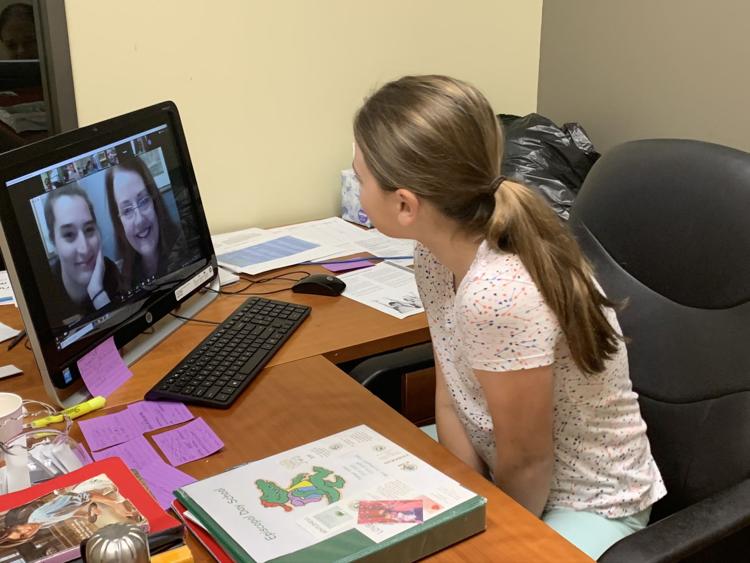 Along with keeping their students on track, teachers are dedicated to maintaining a sense of normalcy in the face of disruption and uncertainty. Chapel services are streamed on Tuesdays and Thursdays, and due dates for projects and presentations haven't been delayed.
This week, Hutchison's students have been taking turns presenting in the character of chosen historical figures for a "wax museum" project. In costume — as Amelia Earheart, Henry Ford, Kay Yow — they log in and recite the biographies they've researched and written.
"In general I feel like everyone is rising to the occasion. We're all doing the best we can do at this point. I have to give credit to the parents as well because they're getting a lot of hands-on involvement as well," Hutchison said.
"I just try to stay positive and keep focused on what we're there to learn each day. We always start with prayer at our first session and go from there."
Barton's kindergarten students have embraced the advent of "computer school," even though it's short on the puzzles and manipulative games they usually use to help solidify mathematical concepts. But necessity breeds innovation, and a printed 10-frame and cluster of pennies does the trick almost as well.
Now that school closures have been extended to at least two months, EDS staff are committed to online learning as a "new normal."
"It seems like such a long time, but we have our job to do and our job is to teach these kids and do what we can for them," Barton said. "Everybody's going to have to dig really deep to keep this going for so long. It's what we have to do for the kids, because it's even harder for them."
Back at home, parents are also cementing their children's new routine around virtual school hours.
"We have the same schedule every day. We have lunch at 12:30 and keep the same schedule during the school day," said Van Scoyoc. "This weekend we took a picnic and went on a hike to make sure that they know weekends are different from school days, just like they used to be."