It was a rolling party when Sheila Watson was discharged from Moore Regional Hospital last Friday. Some 200 hundred FirstHealth of the Carolinas staff lined the hallways and outside portico for a surprise send-off.
Watson, 60, waved regally from her wheelchair after defying the odds. The Rockingham woman spent 66 days in the hospital, including three weeks on a ventilator, in a fight for her life against COVID-19.
She is continuing her recovery at home, still supplemented with daily oxygen, and working her way back into a regular routine.
"I'm doing excellent compared to what I have been through," Watson said, with a light laugh. "I am great!"
Watson, a diabetic, said she first began feeling ill in mid-April but couldn't quite put her finger on what was wrong. She reached out to her sister, Sandra White, who was concerned enough to bring Watson into her home for closer observation.
"Sheila had lost her husband three weeks earlier of a long-standing cardiac issue. I was worried that she was grief-stricken and maybe a bit dehydrated and her blood sugar might be low," said White. "She was acting tired and run-down."
Two days later, Watson awoke so weak that her family decided to call 911 rather than chance her falling while walking to the car.
When she arrived at FirstHealth Moore Regional Hospital-Richmond, Watson was immediately tested for the novel coronavirus along with a battery of other tests.
According to the Centers for Disease Control and Prevention, signs and symptoms of COVID-19 can vary, though most individuals will experience fever (83-99 percent), cough (59-82 percent) and fatigue (44-70 percent).
Watson had a fever and fatigue: more alarmingly, she felt like she was struggling to breathe.
Twelve days after being admitted to the hospital, her condition further deteriorated. Watson was placed on ventilator support and transferred to Moore Regional Hospital's flagship facility in Pinehurst.
"I only remember this in bits and pieces," Watson said.
Strict visitor restrictions at FirstHealth kept her family at a distance; however, by then, White, her husband and daughter, had also tested positive for COVID-19 and were recovering at home under self-quarantine.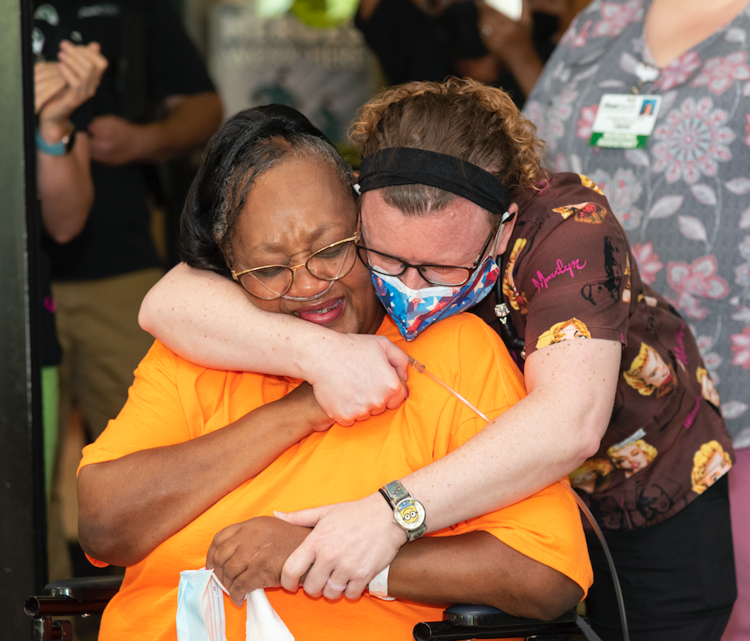 "Our sister Linda would call morning and evenings to talk with nursing staff. They were very helpful," White said. "And every three days, the doctor would call Sheila's son to give him a report."
At times, Watson became so unresponsive that doctors feared she suffered a stroke. One day when she was especially quiet, the Neuro-ICU nursing team put the phone to Watson's ear so her son could wish her Happy Mother's Day.
"We knew she could hear him because they said she tried to blink her eyes and move her legs," White said. "But she couldn't speak."
Kaitlin Stella, R.N., said that placing the phone near the patient or allowing their family to see them through a FaceTime chat can provide a sense of comfort.
"It is really motivating for patients, even if they are sedated to hear that familiar voice," she said.
Stella said the phone calls also help the nursing staff form closer relationships with the patient and their family. 
 "Everyday they would let us know how she was doing. Pinehurst was awesome and made sure we knew everything possible. Every test and every twitch she made, we knew about it," she added.
Eventually Watson was weaned off the ventilator, FirstHealth's first ventilator-dependent patient to survive COVID-19 according to Stella.
"That was the best day when I called her sister to tell her she'd come off the ventilator," she said.
Watson was transferred to Moore Regional Hospital's rehabilitation floor where she continued her recovery. She recalled one day when she was craving Chinese food. The staff made a special spot for her on a balcony, so she could wave and say hello to her son when he arrived with her special meal delivery.
Now back at home, Watson is still making strides towards a full recovery. Because of her severe symptoms coupled with underlying medical conditions, she suffered neuropathy in her feet as a result of steroids needed to treat COVID-19 that increased her sugar levels. 
"I can't walk without a walker. But I am home, I can breathe, and I am so grateful."