Two officers and an inmate at the Moore County Detention Center recently tested positive for COVID-19, making it likely that an outbreak will be declared at the jail. 
The N.C. Department of Health and Human Services defines an outbreak as two or more active infections in a so-called congregate living facility. Two cases can quickly lead to more infections, as seen at the many local nursing homes and assisted living communities that have been ravaged by the virus. 
In a news release announcing the outbreak, the Moore County Sheriff's Office said the infected inmate and detention officers all tested positive this week. The inmate is being kept in quarantine away from the jail's general population, according to the sheriff's office. 
"This inmate's positive test marks only the sixth time since the onset of the COVID pandemic that a Moore County inmate has received a confirmed positive test," the agency said in a statement. "To date, all inmates who have tested positive have been asymptomatic and have recovered completely."
When an outbreak is declared at a facility, all residents and staff members must undergo weekly coronavirus testing. An outbreak is considered to be concluded only after a facility goes 28 days with no evidence of continued transmission.
DHHS lists places with ongoing outbreaks in an online report that is updated twice a week with the latest available data on cases and deaths. 
The report, which was last updated about 4 p.m. on Friday, does not yet include the Moore County Detention Center, but it does list seven of the county's nursing homes and four assisted living communities with ongoing outbreaks.
The below chart combines the most recent data available from DHHS with independent reporting by The Pilot to create a comprehensive picture of both ongoing and concluded outbreaks in Moore County.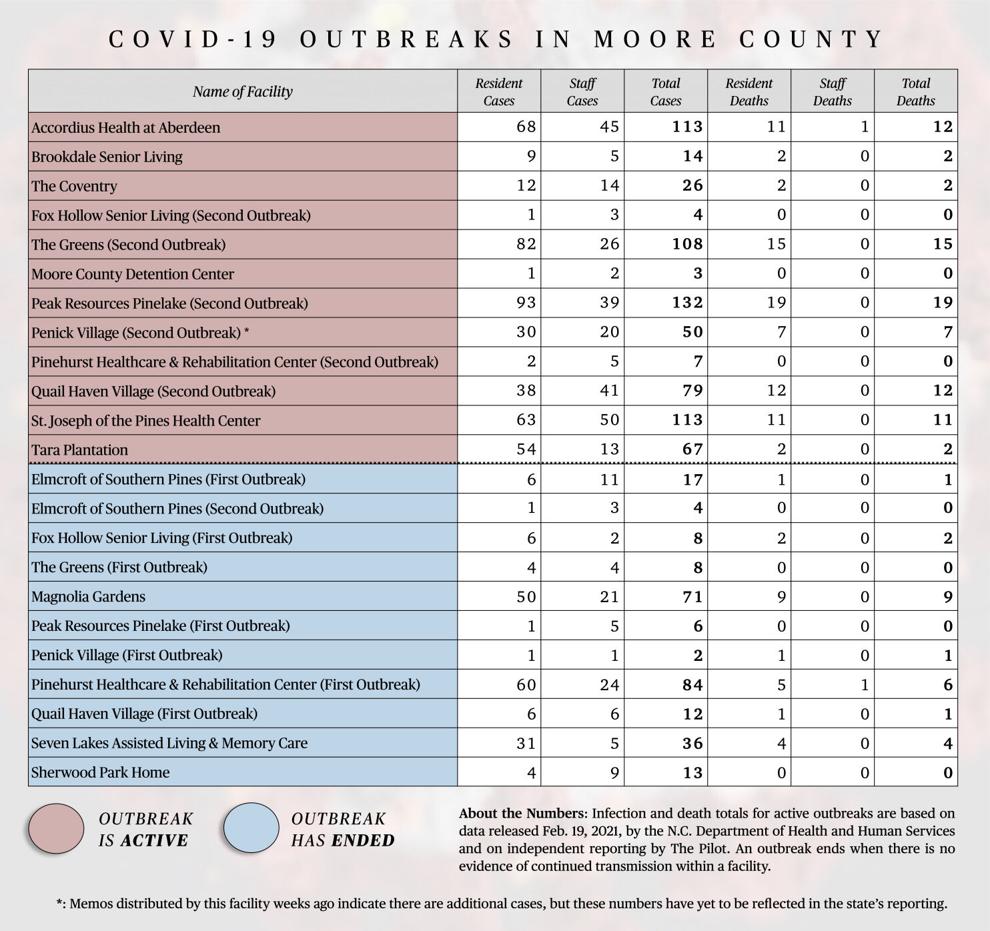 Several long-term care facilities in the area have suffered more than one outbreak, as denoted above. Note that some of the deaths related to active outbreaks in The Pilot's chart have been acknowledged by DHHS but not by the Moore County Health Department, which has consistently struggled to provide timely death reporting to the public.