Moore County had at least 14 coronavirus-related deaths and over 1,700 new infections in August, the second highest monthly tally reported since the beginning of 2021.
The two latest deaths were announced Tuesday by the local health department. Matt Garner, public information officer for the department, said the deceased individuals, a man and a woman both older than 75, died on Aug. 23.
Their deaths bring the pandemic's local death toll to 211. About 1.8 percent of the 11,240 infections reported in the county have been fatal.
More residents died of complications from COVID-19 in August than during the previous five months combined, an uptick fueled by the highly contagious delta variant of the virus. The strand has caused the county's cases to skyrocket, with infections up more than 300 percent from July.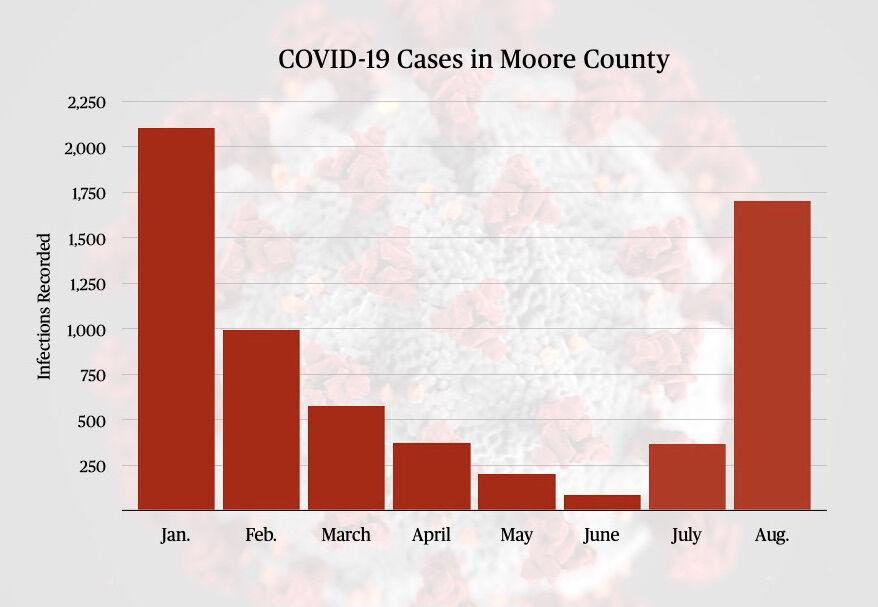 Infected patients accounted for over a quarter of hospitalizations reported by FirstHealth of the Carolinas on Wednesday. The company said 97 people were hospitalized with COVID-19 across its multi-county system, which includes FirstHealth Moore Regional Hospital in Pinehurst.
Fourteen patients were attached to ventilators and 19 were in intensive care units, according to FirstHealth. About 78 percent of the system's COVID-19 patients were unvaccinated.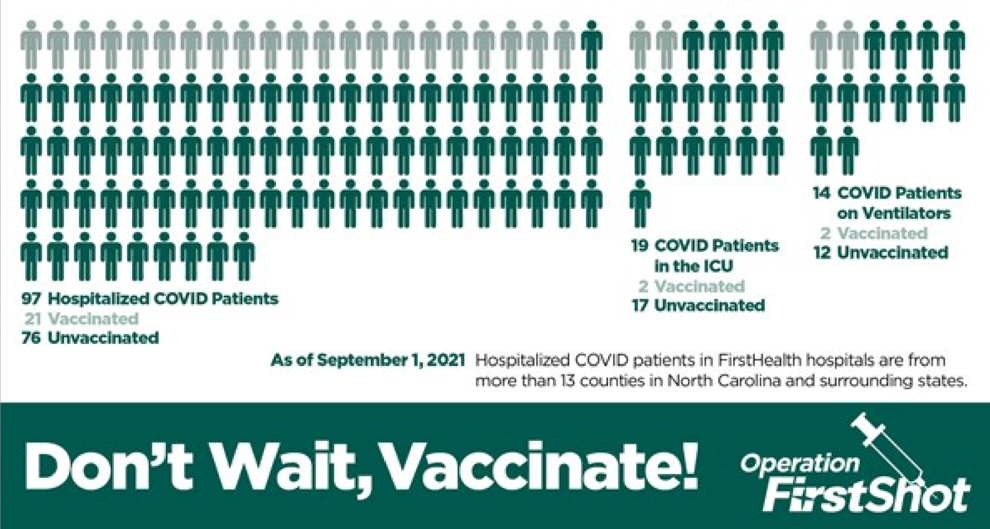 FirstHealth is the county's largest private employer. Unlike other hospital systems in the state, the company does not require its employees to get vaccinated against COVID-19.
Data from the N.C. Department of Health and Human Services showed that Moore County had a daily average of 94 COVID-19 hospitalizations during the two weeks ending Aug. 23 — more than any other county in the state.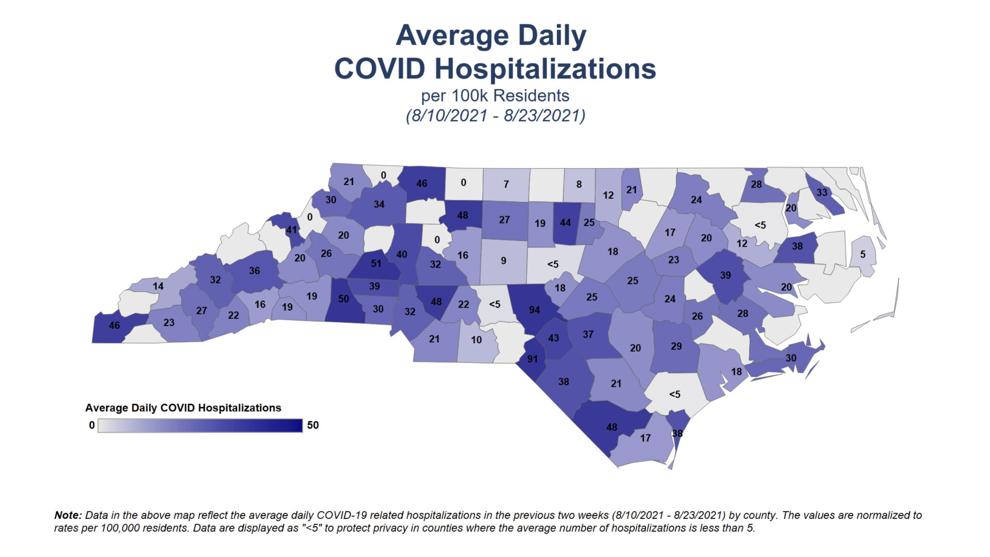 Students Under Quarantine
In an online document, Moore County Schools reported that 165 students and 10 faculty members were under quarantine Monday for potential exposure to the virus.
The document — a spreadsheet tracking new cases and quarantines across the school system — also showed that 86 students and 11 staff members have tested positive since the start of the academic year in August. Pinecrest High had the most student-related cases, with 18 infections documented at the school.
Data on infections at charter campuses and in private schools was not immediately available on Wednesday.
DHHS has identified three so-called clusters of COVID-19 at local schools. The agency defines a cluster as at least five active infections in a school or child-care setting.
Garner said two of the county's clusters are "linked to athletic teams at Pinecrest and Union Pines which preceded the start of school." The other cluster was identified at The Academy of Moore, where four students and two staff members have tested positive.
Last month, the Moore County Board of Education narrowly approved a policy requiring face coverings for students and employees until the end of September. When the policy was adopted by the board in a 4-3 vote, about half of the state's school districts had mask mandates in place.
That number has since grown, with face coverings required in 81 of the state's 100 counties as of Aug. 24. Masks have also been mandated at Sandhills Community College and in some of the county's private schools.
State Monitoring Outbreaks
Ongoing outbreaks of COVID-19 have been reported at five long-term care facilities in Moore County, according to data released Tuesday by DHHS.
The largest outbreak is at Quail Haven Village, a Pinehurst nursing home where three residents recently died of complications from COVID-19. Five other residents and six staff members have tested positive. 
This is the third outbreak identified at Quail Haven since August 2020. Thirteen deaths, all involving elderly residents of the facility, were reported during the previous outbreaks. 
Other facilities with active outbreaks include:
 • The Coventry, an assisted living community in Southern Pines where a resident and two staff members have tested positive. This is the facility's second outbreak. 
• Magnolia Gardens, an assisted living community also located in Southern Pines where six residents and two staff members have tested positive. This is, like The Coventry, the facility's second outbreak.
• Peak Resources Pinelake, a Carthage nursing home where a resident and two staff members have tested positive. The facility is the only local nursing home to experience four separate outbreaks. A total of 19 residents died during a previous outbreak at the facility, which remains the deadliest outbreak to date in Moore County. 
• Pinehurst Healthcare and Rehabilitation Center, a nursing home where four residents and four staff members have tested positive, and where a resident has died. This is the nursing home's third outbreak of COVID-19.
Of the nine counties that touch Moore, only Cumberland had more active outbreaks on Tuesday. 
An outbreak is defined by DHHS as two or more concurrent infections in a congregate-living setting. Every long-term care facility in Moore County has suffered at least one outbreak since the start of the pandemic.
An analysis by The Pilot showed that more than half of the county's deaths are linked to outbreaks in long-term care communities. Outbreaks account for about 9 percent of all infections reported in the county.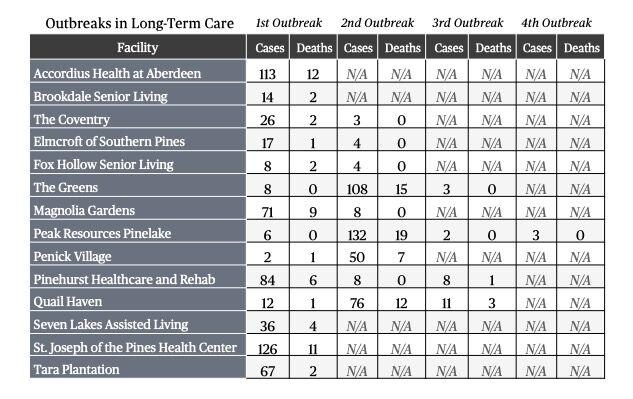 Only a handful of the county's nursing homes and assisted living facilities require their staff members to be vaccinated. The Pilot has requested the most recent vaccination data for long-term care workers from the Moore County Health Department.
DHHS reported that 48,749 local residents, or about 48 percent of the county's population, were fully vaccinated on Wednesday.