Infections have doubled in a coronavirus outbreak at a Carthage nursing home, according to the N.C. Department of Health and Human Services.
Peak Resources Pinelake now has 40 laboratory-confirmed cases of COVID-19, an increase of 20 cases since Tuesday. NCDHHS reports that 28 of the facility's residents and 12 staff members have tested positive for the disease.
Two deaths have been attributed to COVID-19 at Peak Resources Pinelake. Of the 36 deaths reported in Moore County since the start of the pandemic, 22 are related to outbreaks in long-term care settings.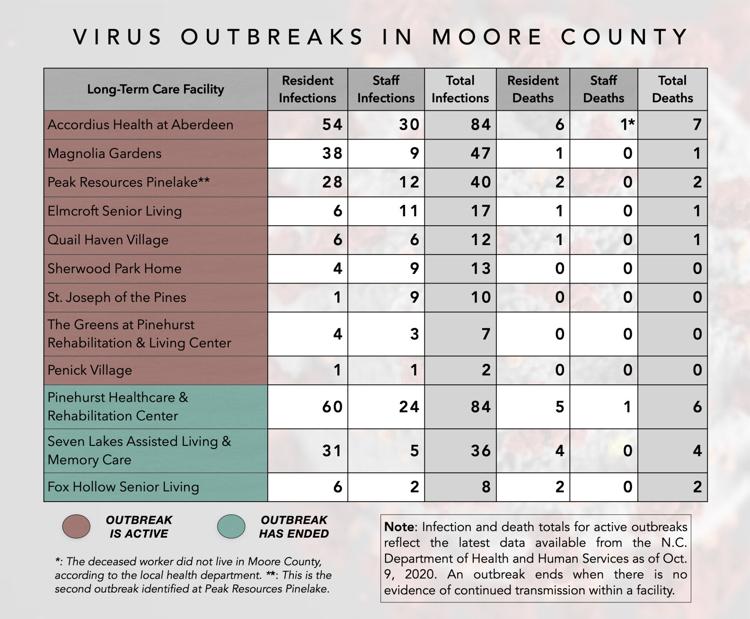 The death toll continues to rise at an Aberdeen nursing home with the county's largest active outbreak of the coronavirus.
Two residents of Accordius Health at Aberdeen recently died of complications from COVID-19, the Moore County Health Department announced earlier this week. Both of the men were older than 75, the agency said.
Located on Pee Dee Road, the 100-bed facility was previously known as Kingswood Nursing. Records from the Moore County Register of Deeds show the nursing home was taken over in November by Accordius Health, a Charlotte company. Officials with the company have not responded to multiple messages from The Pilot seeking comment.
The outbreak in Aberdeen began after three staff members tested positive for COVID-19 in July. Weeks passed with no new infections, and it began to look as if the nursing home had successfully prevented the virus from spreading to its elderly residents.
But shortly before Accordius Health at Aberdeen was expected to be removed from the state's list of ongoing outbreaks, a resident of the facility got sick. That infection is believed to have spurred a surge in cases.
At least 85 infections are now linked to the nursing home, and an employee and six residents have died.
Outbreak at Penick Village
The county's latest outbreak was announced Thursday after two individuals tested positive for COVID-19 in the assisted living section of Penick Village.
In a statement to The Pilot, Caroline Eddy, interim CEO of Penick Village, said one of the cases involves a resident who tested positive for the disease on Monday. The infection was discovered after the resident was admitted to FirstHealth Moore Regional Hospital with "symptoms unrelated to COVID-19," according to Eddy.
The other individual is a private caregiver who tested positive on Thursday. Eddy said the caregiver is isolating at home and will "remain there until medically cleared to return to work."
The state declares an outbreak when two or more active infections are identified in a congregate living setting. Penick Village is the 12th facility in Moore County to meet the state's definition of an outbreak.
Eddy said residents in "affected areas" of the campus are "quarantining in their own rooms."
"Protecting the health and wellbeing of our residents, and that of our staff, remain our highest priority," she said. "We greatly appreciate the help and understanding we have received during these challenging times, and we ask for continued prayers for the Penick Village family."
Rapid Testing Not 'Gold Standard'
In August, the federal government bypassed local and state authorities to ship thousands of rapid coronavirus testing devices to nursing homes across the United States.
All seven nursing homes in Moore County received the devices, along with most of the county's assisted living facilities. But Melissa Fraley, director of nursing for the Moore County Health Department, said the so-called PCR tests that have been used locally since March remain the tool of choice in long-term care settings.
While a rapid antigen test searches for proteins found on the surface of the virus, a PCR test looks for the virus itself. Results from rapid tests, which take 15 to 30 minutes to complete, tend to be about 15 percent less accurate than PCR tests.
"They're intended to screen for people who are potentially COVID-positive," Fraley said during Monday's meeting of the Moore County Board of Health. "They're a nice screening method, but they're not the gold standard."
Miriam King, a health educator with the department, said rapid tests are "cheaper to produce" than PCR tests, which must be sent to a laboratory for processing. But that savings, King said, "comes at the cost of sensitivity and accuracy."
"You need a lot of viral load in your system for the rapid test to detect it," King said. "There could be people who are sick and able to pass the disease on with a low viral load. The PCR test will (detect) that; the rapid antigen test will not."
Because the rapid tests are less reliable, NCDHHS will only accept them as "confirmatory results" for nursing homes with coronavirus outbreaks, according to King.
"If someone is symptomatic and they're given that rapid test and it comes back negative, they are still going to be required to follow that test up with a PCR test unless there's an outbreak," King said. "That's essentially two tests for the person, whereas if you only use that PCR test you would only have to have one of those tests, and it's the one that has the higher accuracy rate. That's extra effort and extra work when it would only take one test."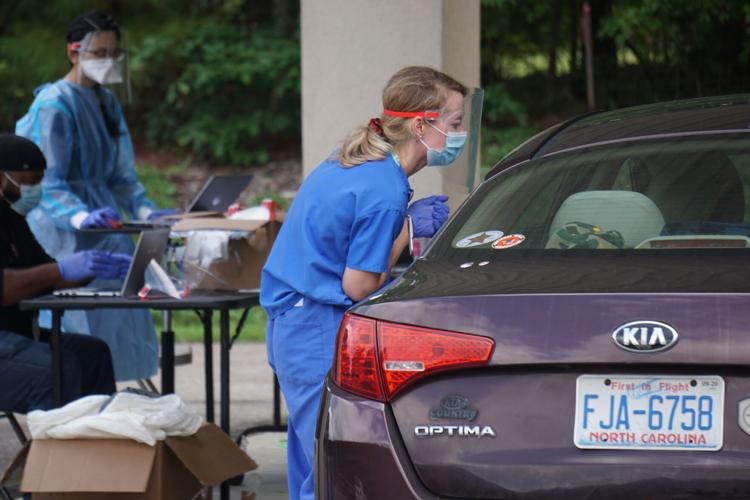 Positivity Rate Going Up
A recent secretarial order allowed indoor visitation to resume at long-term care facilities in North Carolina, but only if they meet strict criteria.
The order allows indoor visitation at facilities that have gone 14 days with no new cases of COVID-19. Visitation is not allowed at nursing homes in counties where the positive-testing rate is 10 percent or higher.
About 8.7 percent of all coronavirus tests administered in Moore County have come back positive, higher than the statewide average of 5.7 percent. Dr. Mandy Cohen, secretary of NCDHHS, has said the goal is 5 percent
The county is seeing an average of 19 new cases a day, according to the local health department. The state estimates that 194 cases have been reported for every 10,000 residents of Moore County.