It's a slow process to 3D print a N95-style face mask. Each one takes about 10 hours to replicate, said Sam Ransdell of Burney True Value Hardware in Seven Lakes.
"We made our first batch of 10 masks that we are donating to local fire departments. We can only go as fast as the printers, and they are running 24 hours a day."
Other local businesses with 3D printers have chipped in to speed up production, including Orthotics and Prosthetics of Pinehurst, Sandhills 3D, KreativDesigns, and Disco32 Tactical Antenna Systems. Their immediate goal is to provide quality, reusable face masks for first responders.
"People know Burney's is the place to go for anything," said Mike Lomax of Sandhills 3D. "We talked first about making masks for tradespeople. But when we heard the firefighters needed them, we decided to turn our production to that. That is more important to take care of."

He said he played around with a couple of models before settling on a design that incorporates cut-up HEPA vacuum bags and high-grade air filters, in addition to the plastic 3D-printed components that can be sanitized.
For less than $300, interested hobbyists can join their efforts, Lomax said.
"If you want to buy a 3D printer and recommended PETG filament material, we can help you get started. Or you can buy a machine and let us use it until this situation is over. Then I would be glad to bring it to your house, set it up and show you how to use it."
"This is a pretty easy hobby to get into," Ransdell agreed, noting they have shared instructional videos on Burney's social media. "We're trying to help anyway we can."
Southern Pines Ace Hardware has also stepped up its efforts to provide life-saving supplies to local first responders, nursing homes and government agencies including Moore County Emergency Management.
"I got my first call for help about two weeks ago," said co-owner Randy Saunders. "I realized because of my pottery business, I have a lot of connections overseas and there was an opportunity."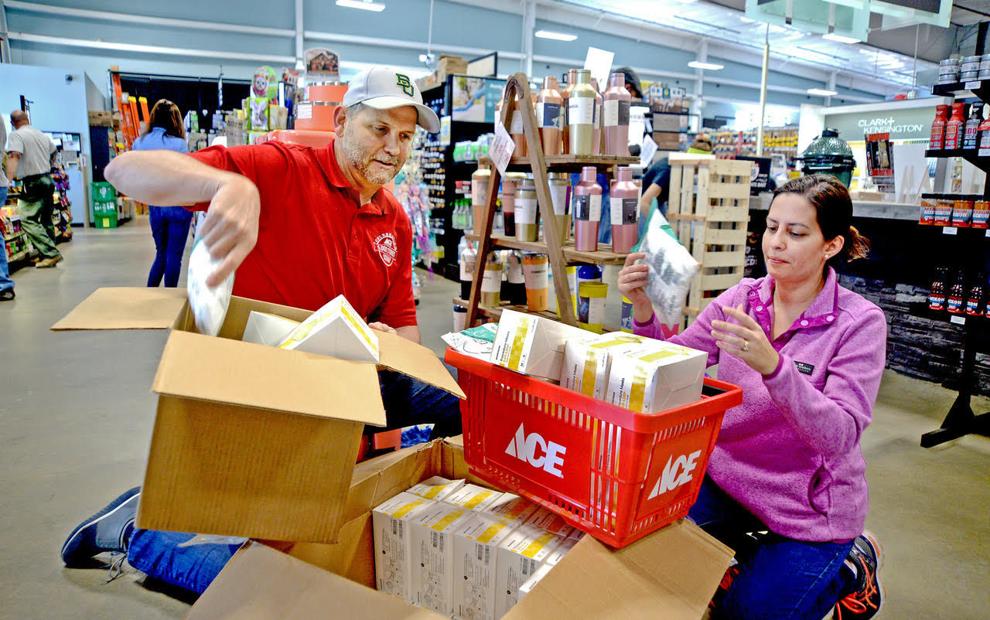 The novel coronavirus COVID-19 originated in China; however, as the global pandemic spread to Europe and North America, the situation in the Far East has improved greatly.
"They had been in desperate need of medical supplies, but now they have extra. I asked our agent in China, a family friend we've known for 15 years, to visit stores around her area and buy what she could."
This week alone he's expecting delivery of 10,000 surgical masks, a nearly equal number of N95 masks, 400 reusable face shields, and 100 gallons of hand sanitizer. Every single item is going directly to public safety or care facilities where they are needed, at-cost, nothing more.
"This has turned into quite a production, but that is a good thing. We will lose money and I don't care. We appreciate the opportunity to help," Saunders said.