At least 21 people died of complications from COVID-19 in Moore County last month, making August the third deadliest month of the pandemic in Moore County.
Nine new fatal infections have been announced since Tuesday by the local health department. Matt Garner, public information officer for the department, said the deceased individuals include four women and a man older than 75, a woman in the "65 to 74 age group," and two men and a woman in the "50 to 64 age group."
Two of the newly announced deaths involve elderly residents of Quail Haven Village, a Pinehurst nursing home that is currently experiencing the county's largest outbreak of COVID-19. Another resident recently died in connection with the outbreak.
About 9 percent of the county's 218 deaths were recorded in August. Not since the pandemic's winter peak have more people perished in a single month.
January was by far the deadliest month in Moore County, with 56 deaths tallied by the health department. Thirty-five deaths were counted in December.
More people died of complications from COVID-19 in August than during the previous five months combined, an uptick fueled by the highly contagious delta variant of the virus. The strand has caused the county's cases to skyrocket, with infections up more than 300 percent from July.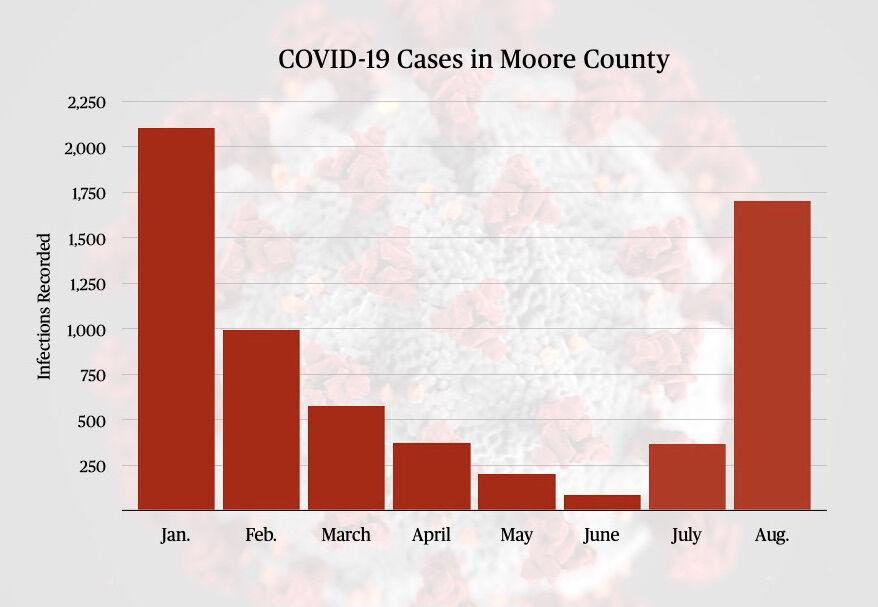 Infected patients made up nearly a quarter of all hospitalizations reported by FirstHealth of the Carolinas on Friday. The company said 92 people were hospitalized with COVID-19 across its system, which includes FirstHealth Moore Regional Hospital in Pinehurst.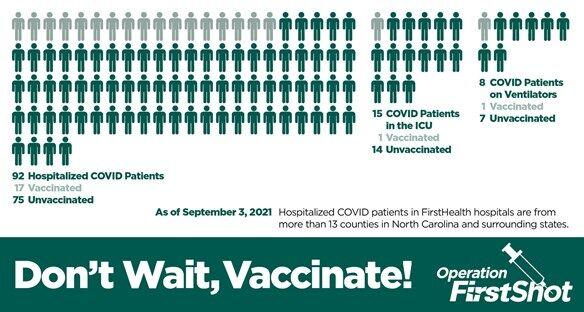 Eight patients were attached to ventilators and 15 were in intensive care units, according to FirstHealth. About 81 percent of the system's COVID-19 patients were unvaccinated.
FirstHealth is the county's largest private employer. Unlike other hospital systems in the state, the company does not require its employees to get vaccinated against COVID-19.
Data from the N.C. Department of Health and Human Services showed that Moore County had a daily average of 94 COVID-19 hospitalizations during the two weeks ending Aug. 23 — more than any other county in the state.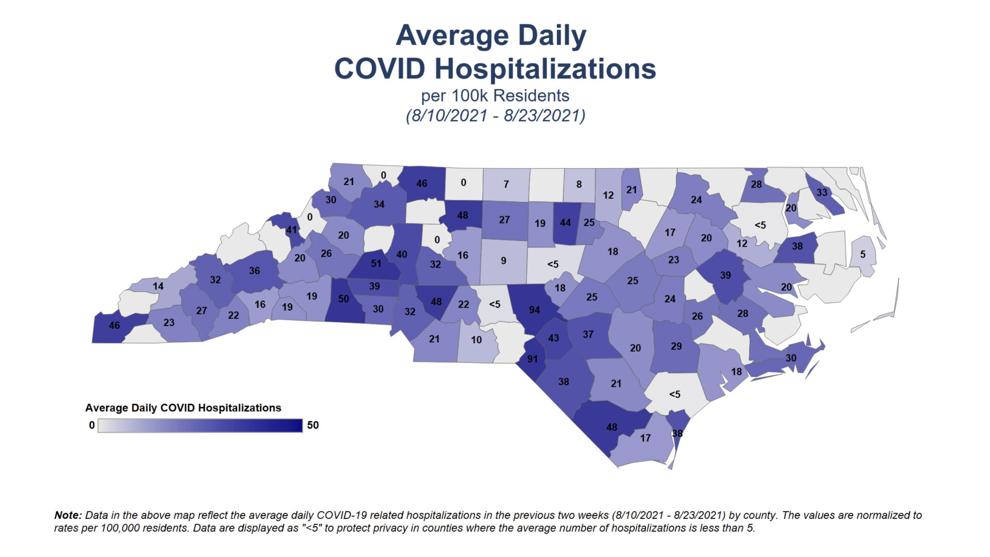 Students Under Quarantine
Catherine Murphy, director of communications for Moore County Schools, said 445 students and 13 faculty members were under quarantine for potential exposure to the virus as of Thursday.
An online spreadsheet tracking new cases and quarantines across the school system showed that 108 students and 18 staff members have tested positive since the start of the academic year in August. Pinecrest High had the most student-related cases, with 25 infections documented at the school.
Last month, the Moore County Board of Education narrowly approved a policy requiring face coverings for students and employees until the end of September. When the policy was adopted by the board in a 4-3 vote, about half of the state's school districts had mask mandates in place.
That number has since grown, with face coverings required in 81 of the state's 100 counties as of Aug. 24. Masks have also been mandated at Sandhills Community College and in most of the county's private schools.
Garner told The Pilot that cases have been linked to all four of the county's charter schools and Sandhills Classical Christian, a private school in Whispering Pines.
Of the educational institutions that are not part of the Moore County Schools system, the Academy of Moore had the largest number of infections as of Friday, with 16 people testing positive. The O'Neal School's volleyball team is currently under quarantine, Garner said.
State Monitoring Outbreaks
Ongoing outbreaks of COVID-19 have been reported at five long-term care facilities in Moore County, according to data released this week by DHHS.
The largest outbreak is at Quail Haven Village, a Pinehurst nursing home where three residents have died of complications from COVID-19. Five other residents and six staff members have tested positive.
This is the third outbreak identified at Quail Haven since August 2020. Thirteen deaths, all involving elderly residents of the facility, were reported during the previous outbreaks.
Other facilities with active outbreaks include:
• The Coventry, an assisted living community in Southern Pines where a resident and two staff members have tested positive. This is the facility's second outbreak.
• Magnolia Gardens, an assisted living community also located in Southern Pines where six residents and two staff members have tested positive. This is also the facility's second outbreak.
• Peak Resources Pinelake, a Carthage nursing home where a resident and two staff members have tested positive. The facility is the only local nursing home to experience four separate outbreaks. A total of 19 residents died during a previous outbreak at the facility, which remains the deadliest outbreak to date in Moore County.
• Pinehurst Healthcare and Rehabilitation Center, a nursing home where four residents and four staff members have tested positive, and where a resident has died. This is the nursing home's third outbreak of COVID-19.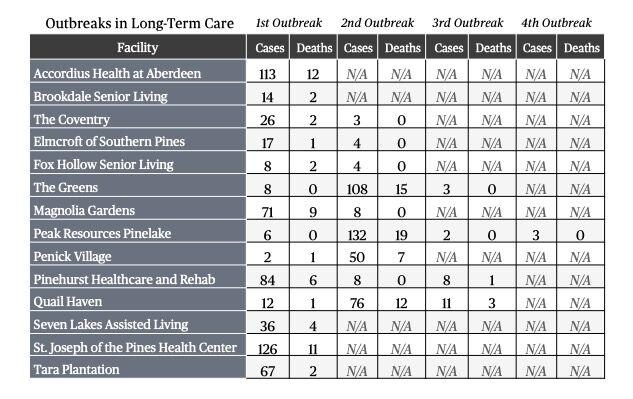 Of the nine counties that touch Moore, only Cumberland had more active outbreaks on Tuesday.
An analysis by The Pilot showed that more than half of the county's deaths are linked to outbreaks in long-term care communities. Outbreaks account for about 9 percent of all infections reported in the county.
Only a handful of the county's nursing homes and assisted living facilities require their staff members to be vaccinated. Garner said the health department would provide recent data on vaccinations in long-term care facilities ahead of the Moore County Board of Health's meeting on Sept. 13.
DHHS reported that 48,962 local residents, or about 49 percent of the county's population, were fully vaccinated on Friday. An additional 3,577 residents were waiting to receive their second dose of the vaccine.