The Moore County Health Department recorded three new coronavirus-related deaths on Wednesday. 
Matt Garner, public information officer for the department, said the deceased individuals include a man in the "65 to 74 age range" who died on Sept. 12, along with two women older than 75 who both died on Sept. 22. 
COVID-19 has claimed at least 237 local lives since the start of the pandemic, according to the health department. About 1.8 percent of the county's infections have been fatal. 
Sixteen residents died of complications from COVID-19 in September, down from 24 deaths in August. An analysis by The Pilot found that 46 percent of the county's deaths are linked to outbreaks in nursing homes and assisted living communities.
Six local long-term care facilities had active outbreaks on Tuesday, according to the N.C. Department of Health and Human Services. The largest active outbreak was at Quail Haven Village, a Pinehurst nursing home where four elderly residents recently died of COVID-19.
Other facilities with active outbreaks include Peak Resources Pinelake, Pinehurst Healthcare and Rehabilitation Center, The Greens, Fox Hollow Senior Living and Magnolia Gardens.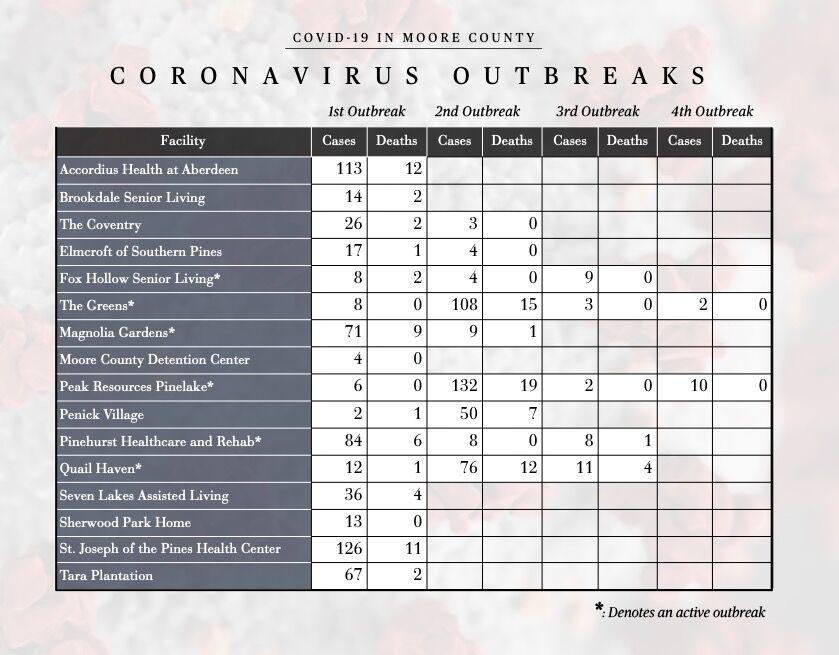 In a separate report on Tuesday, DHHS said five so-called clusters of COVID-19 had been identified at local schools. The largest cluster was at Westmoore Elementary, where 16 children and three staff members recently tested positive. 
Other schools with active clusters include The Academy of Moore, West Pine Middle, Pinecrest High and Crain's Creek Middle.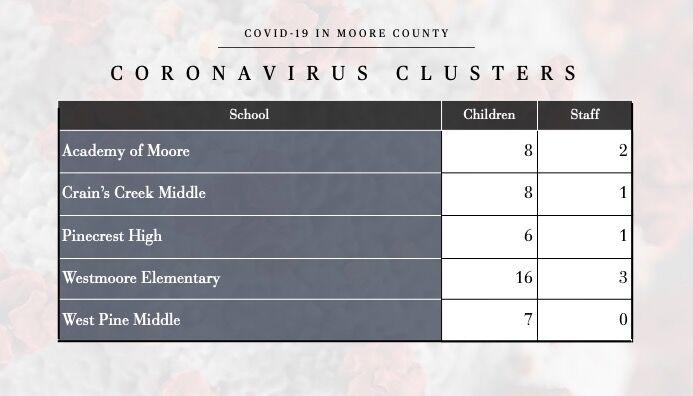 Data from the Moore County school system showed that 468 students and 56 staff members across the district have tested positive since August. Over 450 students were under quarantine because of potential exposure on Wednesday.
Infected patients accounted for about 13 percent of all hospitalizations across FirstHealth of the Carolinas' multi-county system on Thursday, with the majority of those patients being treated at FirstHealth Moore Regional Hospital in Pinehurst. FirstHealth said that 41 of the 49 people hospitalized with COVID-19 were unvaccinated.
Seven of the eight patients in intensive care units were unvaccinated, while four of the five patients on ventilators were unvaccinated.
A total of 51,209 people in Moore County, or about 51 percent of the population, are fully vaccinated against COVID-19. An additional 3,156 residents were waiting to receive their second dose of Pfizer or Moderna's two-shot vaccines on Thursday.
Following weeks of steadily worsening trends fueled by the highly contagious delta variant, the spread of the virus has abated.
The daily percentage of tests returning positive in Moore County stood at 14 percent on Thursday, down from nearly 17 percent two weeks earlier. The county saw a moving, weekly average of about 42 new cases for the seven days ending Thursday, down from 68 infections on Sept. 16.