In a time of social and political uncertainty in our country, the election of a new president has become a highly charged event. Political parties project economic doom and gloom should their candidates not get elected. Meanwhile, investors are stuck trying to cut through the noise to make informed decisions about their savings and retirement.
What are investors to do? Historical data indicates that markets rarely have such extreme reactions to changes in political control. While headlines can be very unsettling, these types of forecasts should not compel investors to make drastic shifts to their investment plans.
Here are my three pieces of advice:
1. Don't try to get ahead of a market reaction.
Expectations for the outcome are most likely already embedded in the prices of securities. In other words, if market participants already expect candidate A to win, there should not be much market price reaction if candidate A does indeed win.
Currently, the presidential race is very tight, but various prediction markets are showing about a 60 percent probability of Democratic candidate Joe Biden winning, and about a 60 percent chance of a Democratic Senate and House of Representatives.
While it may seem that a shift of this magnitude could send shockwaves through the market, it's much more likely that this outcome is priced into the market. Should sentiment change prior to the election, the market is likely to consider the impact and adjust accordingly.
---
2. Don't get caught up in the hype.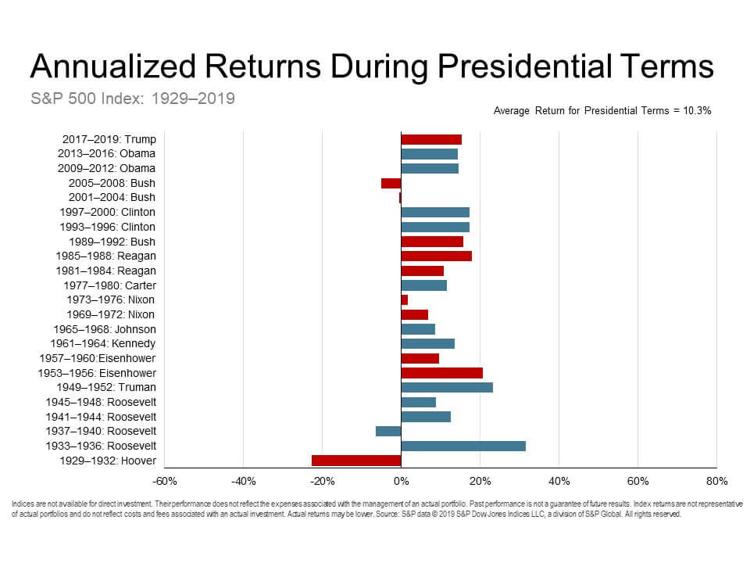 A review of the returns for each presidential term, going back to 1953, reveals that there is no identifiable correlation between stock market returns and the political party in power.
Furthermore, the variable of whether the President's party aligns with Congress also does not appear meaningful.
Since 1929, the market has returned an average of 10.3 percent per year, across every variety of presidential party and congressional alignment scenario imaginable, with very little variation between the returns during each party's time in office.
---
3. Don't abandon long-term goals.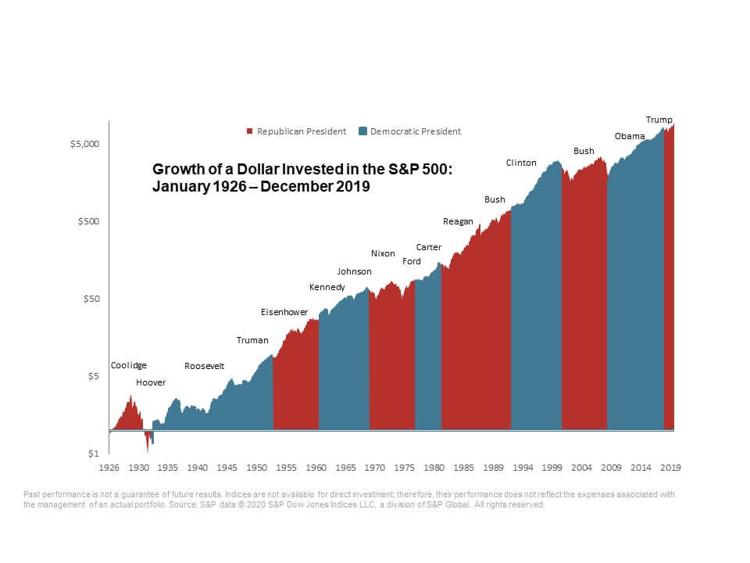 Equity markets have rewarded long-term investors for many years, and the notable periods of decline have far more to do with external shocks (such as the Great Depression, the dot com bubble in the early 2000s, and the housing market crash in 2008) than the party in the White House.
The tradeoff that investors must make to enjoy these long-term returns is to invest not only in the good times, but also to remain invested when conditions are less than optimal — and that includes periods of political uncertainty.
The upcoming election is likely to be characterized by increased market volatility as new information percolates into the market, but short-term volatility shouldn't distract investors from their long-term objectives. It is more productive to base your investment decisions on a disciplined process, including an examination of fundamentals and valuations, rather than emotions driven by the mood of the day.