On National Leave the Office Early Day, Clicksuasion Labs is releasing their newly published research about people's willingness to open their email when their "out of office" reply is active.
"The first thing many Americans do as they wake up: reach for their cell phone. Their eyes are half open as they lean over to grab their phone. They squint at the bright light coming from their screen as they begin reading their emails," said Michael Barbera, Clicksuasion's chief behavioral officer. "They are literally taking work into their bed."
The goal of the study is to understand what made some people more likely to open their emails when they are not at work. There are three categories of people this study effects -- employers and leaders, employees, and business-to-business (B2B).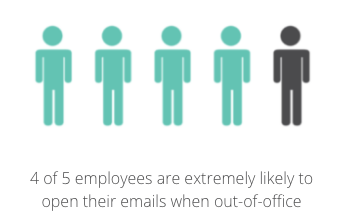 Here's what Clicksuasion Labs discovered:
-Zero (0) percent of .edu email addresses opened their emails while their out of office reply was active
-19 percent of all participants opened their emails while their out of office reply was active
-Four out of five people with a business domain address opened their email while their out of office reply was active
The study suggests leaders should improve their team's life-work balance to avoid burnout.
"To the dismay of our team, I am someone who always opens my emails while my out of office reply is on," said Clicksuasion's 'office ninja,' Crystal Suetterlin.
She said in trying to pinpoint why she does this, Suetterlin believes it comes down to three things.
"The first being, F.O.M.O, I have this Fear Of Missing Out on something important while I am away. Second, the fear of falling behind and being overwhelmed when I get back to work. The third is probably the funniest of all…I can't stand the red bubble notifications on my phone," she said. "I am trying to get better about that; however, I believe sometimes our life-work balance comes down to personalities."
Pinehurst-based Clicksuasion Labs is a team of behavioral science researchers who research how people make decisions and apply psychology to marketing, communication and employee engagement.