Black walnut is prized by woodworkers for its rich color, durability and grain. In time, the natural wood also develops a lustrous patina.
In a small workshop behind O'Donnell's Pub in downtown Southern Pines, Jake Kerr's Welding Wood is shaping giant slabs of locally sourced black walnut into custom table tops. The tree, like the carpenter, is destined for a new purpose.
Almost two years ago, Kerr loaded his U-Haul with his tools, a few duffel bags full of clothes, and about $2,000 in steel and wood, and hit the road back to Southern Pines.
He was just out of the Army, fresh out of a six-month trial run as a financial advisor in New York City — a job he hated — and ready to invest full-time in a hobby he had pursued all his life.
"I did really well in the Army. I was a Major, and had reached a point where I could write my own ticket. But I had already deployed a million times. I had missed all my kids' births, all their birthdays — if I had taken the next job in the Army I would've seen them even less," he said. "I had done all the things I wanted to do in the Army, and I wanted to do something new."
Kerr learned welding as a kid from his father, who entered the trade after leaving the Marine Corps. While still on active duty, he began working with wood, and eventually started putting the two together. With that, he found a mix of art and function that set him apart in business.
"I try to keep everything with a local story line," he said.
That means working with trees cut and milled in Cameron, designing custom pieces for individuals and businesses throughout Moore County, and hiring friends, many of them firefighters with side gigs, when he can.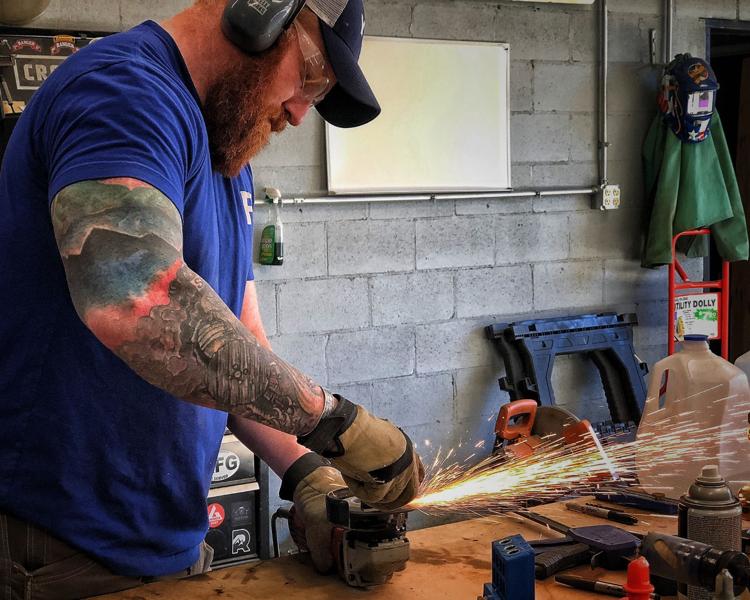 Kerr discovered Southern Pines when he was stationed at Fort Bragg before being discharged from the military. When he went looking for a location for his woodworking and welding business, he reached out to Pat O'Donnell, his old landlord.
Kerr asked if he could take over the tumbledown garage he had been using for a workspace behind Pat's pub. After installing a new roof, new windows, and a new door, Welding Wood was born.
But he's already set his sights on more space and is building a new workshop on his newly acquired five-acre property. And downtime is not really in his vocabulary, so Kerr also keeps a consulting job on the side, working with Spring Lake-based Sherpa Six on military and government contracts.
"I stay tied in with that and it's cool because I'm still contributing back to the military. We are taking stuff we learned over a decade or more in the field and putting it into something new," he said.
Kerr said growing up, he never wanted to do anything else except to join the military.
"I have about four or five best friends. We all went to West Point Prep and then West Point together. We all joined the rugby team, we all became Army Rangers and we went on the same deployments," Kerr said.
Today, they all live in Moore County, which he said has also been the ideal place to start a business.
"This is a good place to be," he said, "because in a small town, word of mouth goes around fast."
The first few months were brutal, he admits. He sold everything he owned to get his living costs to the bare minimum. Kerr also decided early on he would not keep any inventory, instead relying entirely on custom orders.
Welding Wood's first big job was a 10-foot long, 4-foot wide conference table for a military-connected training company. On a whim, Kerr showed them a photo of a table with an epoxy river running down the middle: they loved it.
After that came the sign outside the Leadmine on Pennsylvania Avenue and tables at O'Donnell's Pub. Then came the custom "live edge" bar at Hatchet Brewing, and the black walnut bar and table tops that are destined for James Creek Cider House's new tasting room in Cameron.
Kerr said his creative process requires strategy, and his goal is to cast a wide net in custom work. He uses no blueprints or directions, each creation is completely unique.
"It's a matter of laying it all out and using my vision of what I want it to look like. I will picture in my head what I want the finished piece to be," he said. "The more products I put out, the more I am solidifying my style. That is why I like custom."