Three years ago Aubriana Bishop picked up a golf club for the very first time. These days she's shooting in the mid-90s, and is quick to credit her coaches at First Tee of the Sandhills for her success.
"I'm proud of how far I've come," Bishop said. "First Tee is an amazing youth program. I couldn't have asked for anything better."
On Monday, the rising senior and Union Pines High golfer was one of a handful of local players who met with United State Golf Association (USGA) CEO Mike Davis and Courtney Stiles, executive director of First Tee of the Sandhills, to celebrate the USGA's $100,000 donation to the national program.
The USGA announced the donation on the first day of play at the USGA's 119th U.S. Amateur Championship in Pinehurst. The competition runs through Sunday.
Distributed through grants to 25 First Tee chapters across the nation, the donation will further the organization's efforts to introduce life skills and the game of golf to more young people. The Sandhills chapter received a $5,000 grant to expand its after-school outreach.
"We are so grateful to the USGA and organizations like this, as it is these partnerships that allow us to broaden our impact in communities across the country, engaging young people who we may not have otherwise reached," said Greg McLaughlin, First Tee president. "Together, we will inspire youth for years to come, engaging them in the sport and helping them to become leaders in their communities."
The USGA has supported the First Tee since its inception in 1997, providing more than $26 million in grants to the organization. With the USGA's support, First Tee chapters are reaching more than 136,000 young people annually at more than 1,200 program locations, with support from more than 25,000 volunteers.
First Tee offers group lessons to youth up to age 18, regardless of background or previous experience. Chapters provide access to clubs and balls for participants, and there are reduced fees and scholarships available for those with financial need.
Additionally, First Tee has been introduced to more than 10,000 schools and youth centers reaching millions more kids through these programs.
Bishop, 17, joined the Union Pines golf team and First Tee of the Sandhills when she was a rising freshman.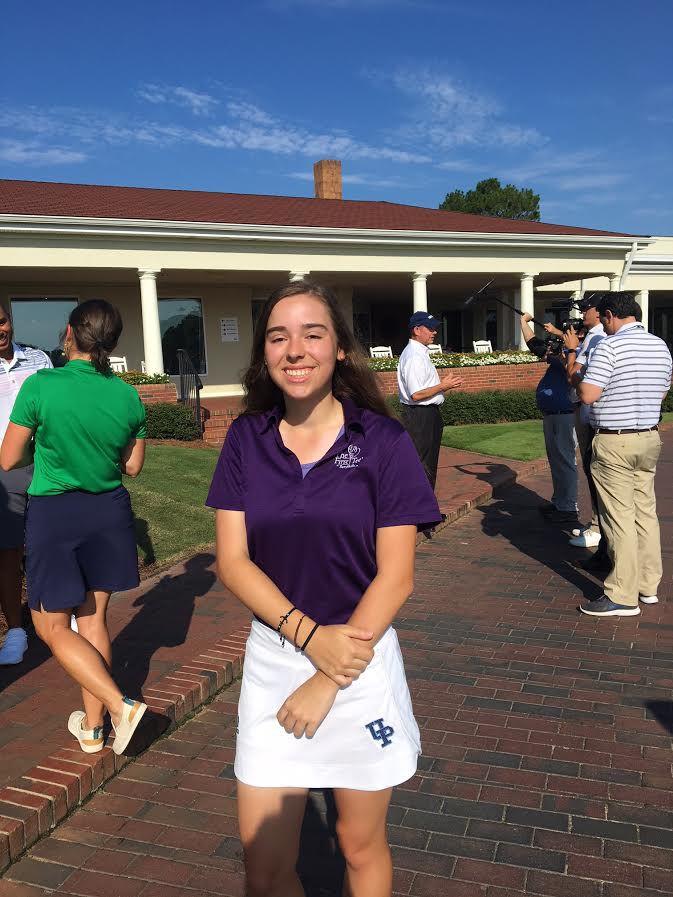 "I wanted to try a new sport and gave it a shot," she said. "Golf is an amazing game. And there is no better way to start then with First Tee. They take great care of us and the coaches make the lessons fun."
Earlier this year, Bishop and Jaclyn Kenzel, a rising senior at Pinecrest High School, were selected to attend The Joe Louis Barrow Jr. Life Skills and Leadership Academy hosted on campus at Boise State University from July 24 to 30.
While there the teens had the opportunity to develop and hone skills to become leaders in their chapters, schools and communities while experiencing championship golf, career exploration and dorm living.
Davis said the original concept of First Tee was to develop a national program to introduce juniors to the sport using best practices. From the beginning, bringing in both boys and girls was equally important.
"Where once girls were one-in-six players, we are now closer to one-in-three," he said.
First Tee of the Sandhills got its start in 2003, and operates programs at 13 facilities in the area. In addition, the Sandhills chapter opened a 'girls only' class, in 2013, and currently plan to add a second 'girls only' offering this fall.
Stiles said approximately 40 percent of the 600 children enrolled annually are girls.
"We serve a nine-county region through the Sandhills chapter. With the grant we will focus on continuing to expand our after school opportunities with elementary-aged kids," she said. "It is great to serve kids who can get to the golf course, but we are always trying to also serve kids where they are. So that is, a lot of times, at the schools."
Importantly the organization's mission extends well beyond the golf course, through positive educational programs designed to build character, instill life-enhancing values and promote healthy choices through the game.
"We try to do things geared to get kids involved and show them they don't have to want to play professionally to join or have fun," Stiles said.
"We want to grow good kids through golf," she added. "It is the experiences and the opportunities they will have. Golf is the hook, but it is not the outcome."