Only one player will hoist the Havemeyer Trophy this week: the winner of the 119th U.S. Amateur Championship. But each of the 312 players will get to take a little piece of Pinehurst No. 2 home with them.
This year the United States Golf Association (USGA) and Pinehurst Resort presented each qualifying competitor with an American flag, handcrafted locally by Heritage Flag Co. from century-old pine trees that once grew along the iconic course.
Robbie Zalzneck, USGA director of U.S. Open Championship management said the feedback from players has been phenomenal.
"A few have gone on to social media to say these are the best gifts they ever received," he said.
Heritage Flag Co. owner Heath Trigg said the buzz around the flag gifts has gone viral.
"We're getting inundated," he said.
The flags are part of Heritage's Homegrown Series, made with wood cultivated from trees that fell on the grounds surrounding Pinehurst No. 2 during Hurricane Matthew in fall 2016.
"We try to give the players a momento that is representative of the community or host club where our championships are held," Zalzneck said. "It might be something to use, or keep, or display."
And if at all possible the USGA tries to work with a local vendor. He described the opportunity to partner with Heritage Flag as "a perfect match."
Trigg said the player gifts are unique and the exact design cannot be purchased, though other flags in the Homegrown Series are available online or at Heritage Flag's retail showroom in downtown Southern Pines. For the player gifts, each has their name etched in the wood and the 119th U.S. Amateur logo is placed in the flag's "field of blue."
"We wanted to make the best player gift that has ever been given in the history of the U.S. Amateur. I think we accomplished our mission," he said.
Based in Southern Pines, Trigg founded Heritage Flag Co. in 2014. The cabinetmaker and homebuilder was finishing a custom bar for a local brewery and was inspired to make an American flag using repurposed whiskey barrel staves. This one-time gift quickly gained a following and a new business was born.
When Hurricane Matthew left a trail of destruction across much of Moore County, Bob Farren, Pinehurst Resort's vice president of golf course maintenance, went looking for the "best use" for the dozens of downed trees.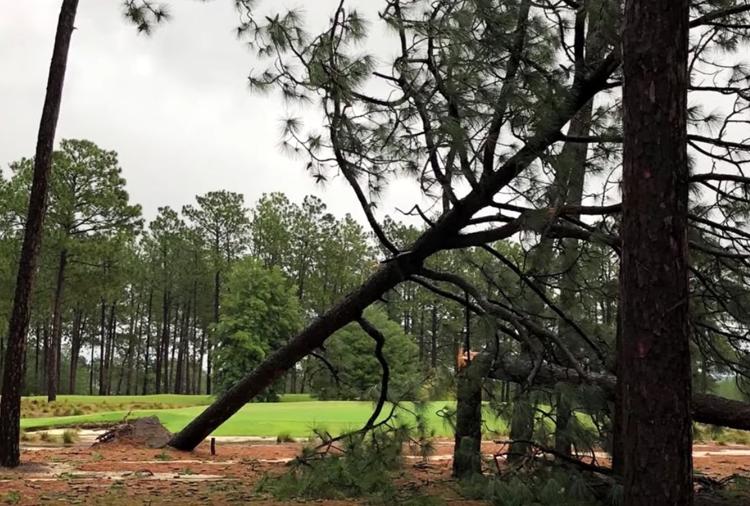 Farren called Trigg, who said he didn't hesitate to accept the offer.
"You don't pass on an opportunity to get 160-year original growth pine trees from Pinehurst No. 2," he said.
Mostly longleaf pines, the trees were milled, dried and delivered to the Heritage Flag workshop where, piece-by-piece, these works of art were brought to life.
Zalzneck said the USGA is proud of their relationship with Pinehurst Resort and Heritage Flag Co.
"This was the easiest decision we've made," he said, reflecting back to earlier this year when player gifts were determined. "That these flags are made locally, but also to build on the fact that they were made from trees downed when Hurricane Matthew came through. When we made the connection and reached out to Heath, it was a done deal on the first conversation."