Construction has begun on a new 14,000-square-foot retail center in the Tyler's Ridge development on N.C. 22, near the Moore County Regional Airport.
This corner of Moore County, in particular, has received a lot of interest from developers and home buyers in the last few years, prompting both private and public investment of services in the area.
The Shops at Tyler's Ridge is designed with several retail/professional office spaces and two potential restaurant spaces — one on each end. Both can accommodate indoor and outdoor seating areas, and one includes a dedicated drive-thru.
"We are actively pursuing all types of restaurants, which has been my number one request by people who live and work in the area," said developer Jim O'Malley,
Initial construction at Tyler's Ridge began in 2011, following a contentious public hearing process. The 46.2 acre mixed-use development includes an apartment complex on its southern side and commercial tracts on the northern side, anchored by the Southern Pines Ace Hardware store.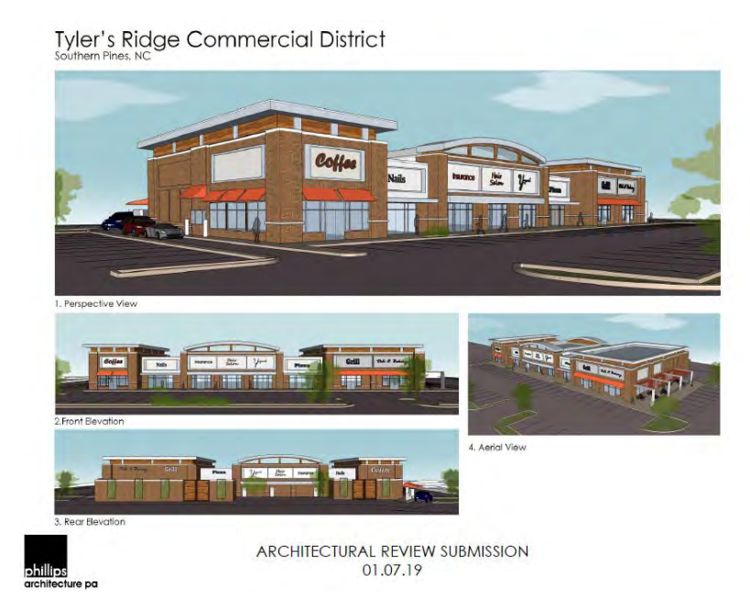 O'Malley said the Shops at Tyler's Ridge new strip center is well-positioned to serve area residents and also those traveling to Sandhills Community College, The O'Neal School, the new McDeeds Creek Elementary and the new campus of Sandhills Classical Christian School.
West End-based Rhetson Companies was hired on as general contractor. Construction is expected to continue through the winter.
"This area is continuing to grow with amazing results," O'Malley said, noting the 214-unit apartment complex is often at 100 percent occupancy.
Lash Hairston of Carolina Commercial said he is currently chatting with local and national brands interested in the new retail spaces.
"We are looking for companies that will integrate well," he said.
A dental clinic owned and operated by Dr. Olu Oyegunwa, or Dr. O as his patients like to refer to him, is the first confirmed tenant for the new building.
Earlier this summer the new Building Blocks Early Education Center opened at Tyler's Ridge. The 10,000-square-foot building includes an interior courtyard, twelve classrooms for infants to school-aged children, a playground and a tropical-themed outdoor water play area.
Founded by CEO Perry Melton, this is the fourth location of Building Blocks Early Education Centers — all are four or five-star rated facilities. Their curriculum focuses on early learning and brain development, and each of the centers use the same common design elements.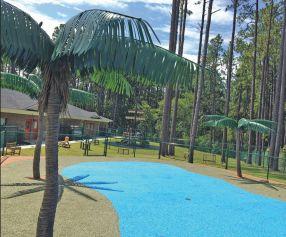 The center can accommodate 180 children; however, the two infant classrooms filled immediately.
"We are looking at opening up a third infant room," said LaQueena Balser, the Southern Pines center director. "There is a very high demand for infant space."