Moore County Partners in Progress has partnered with Richmond County Economic Development, the NCWorks Career Offices in both Moore & Richmond Counties, and NC For Military Employment (NC4ME) to host the Sandhills Veteran Hiring Event, a special hiring event for transitioning veterans and military spouses.
This is not a job fair, it is strategic placement based on each applicant's skill set. Transitioning veterans and their spouses will have the opportunity to meet directly with local companies.
The goal is not only to help these individuals find quality employment in the Sandhills region, but also to help local employers address their workforce needs. Many of our local employers are looking for qualified workers but are having a difficult time finding them.
This event is not open to the general public.
It's a more intimate event only for veterans and military spouses who have pre-registered to attend, and attendees are required to submit their resumes in advance so that job interviews can be scheduled with employers at the event.
The two-day event kicks off with a social reception on Wednesday, Jan. 29, 6:30-8:30 p.m. at the Southern Pines Brewing Company. During this time, employers and job candidates can mingle in a casual setting. Food and beverages will be provided.
The actual hiring event will be held Thursday, Jan. 30, 9 a.m.-3 p.m., at Richmond Community College in the Cole Auditorium. Candidates will be pre-screened (based on the resumes they submitted in advance) and matched to an employer's specific job requirements. On the 30th, employers will have interviews scheduled with pre-selected candidates.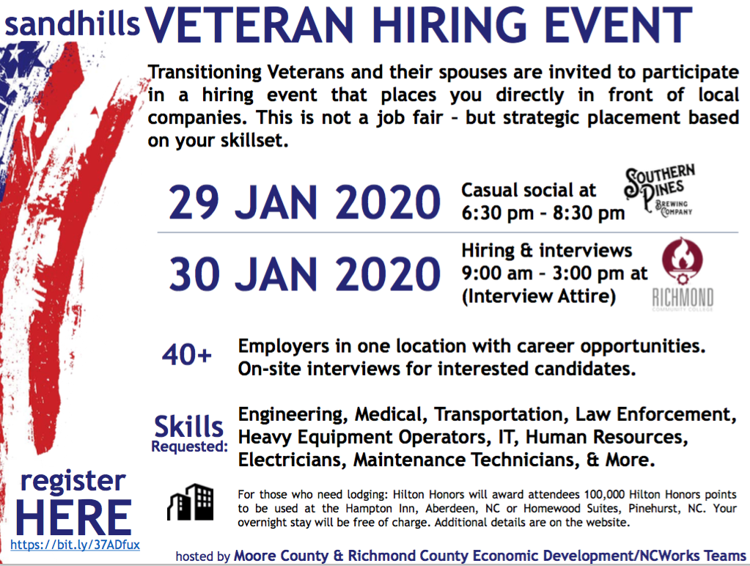 Appropriate interview attire is recommended for candidates. Each employer is free to review all applicants and select additional candidates to interview. Employers must be registered in NCWorks.gov and have their job openings posted in NCWorks.
Job candidates needing more information and employers needing assistance with registration or job orders can contact the Richmond County NCWorks Career Center at (910) 997-9180 or the Moore County NCWorks Career Center at (910) 944-7697, and should advise the NCWorks representative that they are participating in the Veterans Hiring Event.