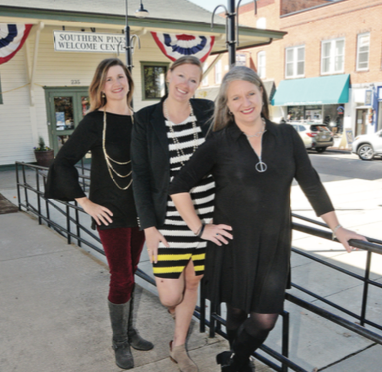 Winter is coming. That means the holiday shopping season has already begun and if you're like 40 percent of consumers, you've already started picking out gifts.
But where you shop is every bit as important as when you shop.
"For years we have all embraced the 'Shop Small, Shop Local' idea around the holidays. But it's time to think about this differently," said Linda Parsons, president and CEO of the Moore County Chamber of Commerce. "We have so many great businesses. We need that momentum to carry through the entire year."
That idea sparked #Together We Are Moore, a new year-round social media campaign focused on community-building that was initiated by the Chamber earlier this month.
"If we shop in our community, do business in our community, all these things we do together as a community, this is economically better and socially better. We can give back to the place that we all love to call home," Parsons said. "We are leading this to help everybody. It is not a Chamber thing: it is about supporting the community as a whole."
Families will spend around $1,048 this holiday season on gifts and decorations. And of those purchases, nearly 56 percent will be made online, according to the National Retail Federation's recent consumer survey.
To give mom-and-pop businesses a bigger piece of the Christmas pie, American Express came up with the Shop Small Saturday campaign back in 2010. Now almost a decade later, business guilds and Chambers of Commerce across the country participate annually in this Thanksgiving week campaign.
Parsons said the Moore County Chamber was one of the earliest adopters of the Shop Small, Shop Local concept, but feels it's not enough.
"We want people to realize that we are a community and together we need to support our local clubs, youth sports, nonprofits and businesses," she said. "It is not just a one day thing. This is a mindset we need to be in all year."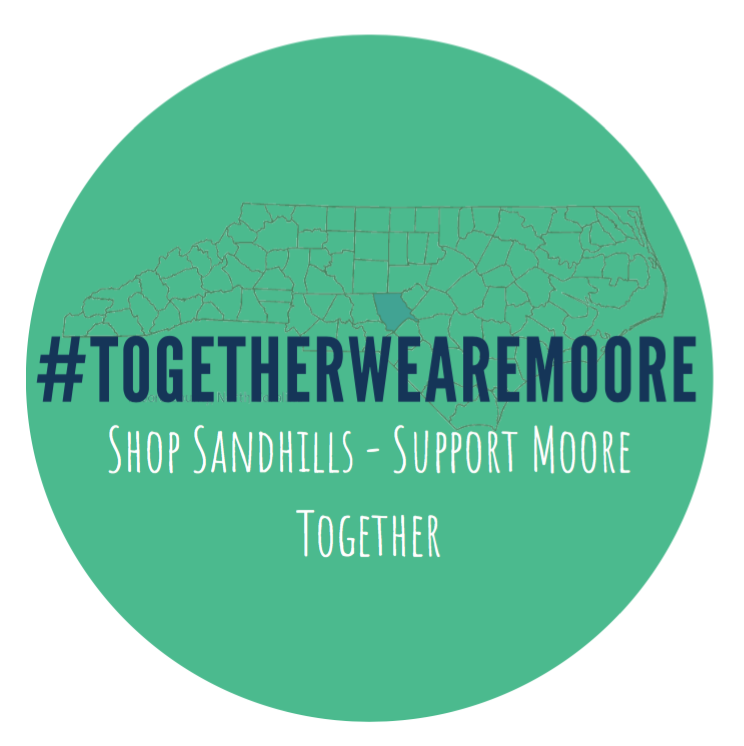 Through the #Together We Are Moore hashtag, the idea is to let the community harness the power of social media. The slogan, in effect, becomes a mutual expression of gratitude.
Katrin Frankin, president of Pinehurst Business Partners, said she is excited about the new initiative.
"I feel like the Chamber is perfectly positioned to spearhead this revamping and re-inspiring of what we already know and like about the holiday season," Franklin said.
"At this point, Shop Small Saturday is expected. But to turn that idea on its head and figure out how we can use that momentum to create a yearound investment, that is genius!"
Franklin opened Bump & Baby, an expectant mother and baby boutique, in the village of Pinehurst in 2015. Earlier this year she added This Little Piggy, a children's boutique in downtown Southern Pines, to her portfolio.
"So many people come to Moore County and are blown away by our unique ability to connect our community. And they are only seeing this on a small scale, popping in and out," she said. "But we get to live it."
Franklin said she, like other small store owners, spends a lot of time researching prices to make sure they remain competitive. But beyond fair pricing, she said the idea behind the Together We Are Moore campaign speaks to who we are as a community.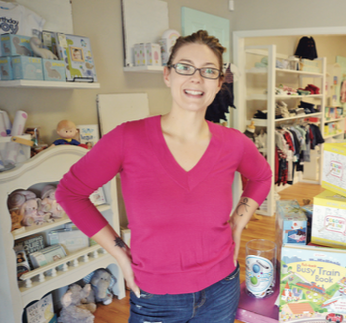 "What we have is a really strong neighborhood-driven mentality," she said. "In our shops, we are not just transactions. We are building relationships and solving problems for our neighbors. The added value you get from making a connection, as a business owner or a customer, is through the roof."
In the Seven Lakes business district, Ed Hill of Edward Hill Wealth Management sees similar strengths and challenges.
Born and raised in the same community he continues to call home, Hill also serves as president of the Seven Lakes Business Guild.
"I believe our county has a bubble over it. Especially here in Seven Lakes that is true. I can put my kids on bicycles and not worry. We have that small town feel," Hill said.
As a local businessman, a volunteer with multiple nonprofits and civic organizations, and father of three sons with his wife, Alicia, Hill said the family-oriented aspect of Moore County coupled with the demographics and market opportunities offer the right balance.
"In my profession, I do a lot of face-to-face business. It is important to have that interaction and look people in the eye," Hills said. "If you are trying to work over the phone or online, you can't build that same relationship."
He said #Together We Are Moore is a great reminder for people to think about what services are available in their own backyard.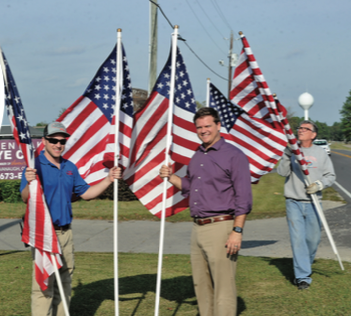 "It's amazing how many businesses are here in the community that people don't even think about," he said.
Seven Lakes is an unincorporated area, but population-wise is the area's fourth largest "town." The business guild welcomes new members and coordinates several community events including an annual Chili Cook-Off to raise money for road repairs in the main business village, and also civic functions like installing dozens of American flags along Seven Lakes Drive for Veterans Day, Memorial Day and the Fourth of July.
"People can go online and walk the Amazon sidewalk to find what they need and checkout. But there is a real difference when you walk outside and stop by your local shops and offices," Hill said.
Aberdeen's downtown planner Christian Haas said it is "absolutely vital" to think about shopping local more than just one day per year.
"Our focus should be to spread the value of local economies until it becomes second nature choose brick and mortar over mouse and keyboard," he said.
"The Amazon Effect is a real and is threatening the charm of small town America. While online shopping may allow us to get products cheaper and without getting off the couch, it results in fewer locally owned businesses, less homegrown entrepreneurship, fewer people walking around downtown districts, diminished municipal budgets from depressed sales tax revenues, and an overall disintegration of our sense of community. Every time we choose buying local over the convenience of shopping online, we're weaving the fabric of our community a little bit tighter," he added.
Jana Volitis serves as the Moore Chamber's director of operations. She said supporting the local economy also means supporting the area's nonprofits by attending events or volunteering, stopping by a Farmers Market or local produce stands, grabbing a show put on by a local musician, and selecting a local contractor or professional when you need services.
"If everyone realizes how little they would need to give back if everyone gave back," she said, "it would make such a difference.