There is an undeniable appeal about Broad Street. The downtown Southern Pines shopping and dining destination draws in both locals and visitors alike. 
But starting a business in this trendy spot takes financial risk for the mostly mom-and-pop shops that line the streets.
For three local home decor store owners, the right path meant settling on smaller retail spaces before taking the plunge with a solo storefront location.
Georgia gal Ashley Tramontin worked in nonprofit marketing and public relations before she arrived in Moore County. Three years ago she started a home-based business revamping furniture and using the scraps to make one-of-kind decorative items.
She sold her treasures at Green Goods, an eclectic shop featuring organic, recycled and upcycled products located next to the Sunrise Theater. When Denise Olson, who also teaches at Pinecrest, decided to shutter the store after 11 years, Tramontin was waiting in the wings.
Against the Grain opened in March, taking on the entire store instead of just a corner. But like her mentor Olson, she gives other small business entrepreneurs a place to sell their own goods.
"I love it here. This town is so special," Tramontin said. "I know all my neighbors and everyone is so supportive of each other. This is a fun community with so much going on."
She chose the name Against the Grain to reflect her own sensibilities, "the whole idea of not buying into mainstream."
She said it's been a steep learning curve, but the foot traffic outside on Broad Street is what encouraged her to dream bigger.
"That is why I wanted this space. I know the traffic that goes by and all the events that go on outside," she said. "I started by refinishing my own dining room table. That snowballed to a Facebook page, and then an Etsy page, then a retail spot and now a whole storefront of goodies."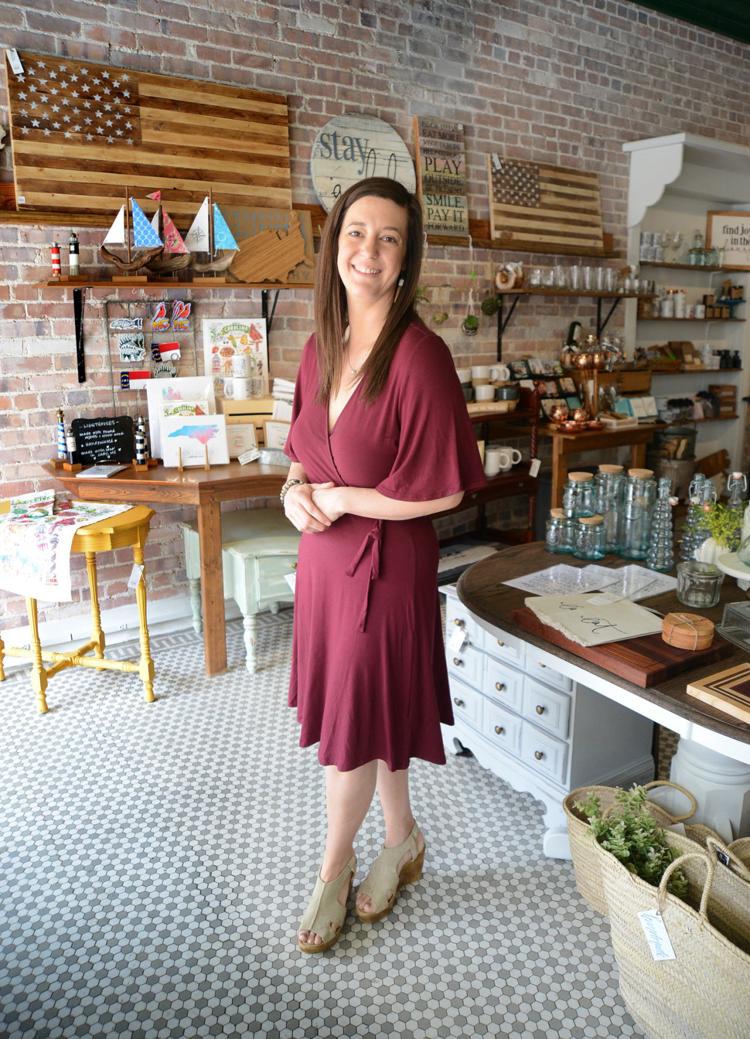 She buys vintage furniture for repurposing and everything else she sells comes from U.S. companies with an eye on keeping it as regional as possible. The idea is to fill her shop with locally-sourced home provisions for kitchen, dining and bar wares, soaps and candles, gardening seeds and kits, etched glassware, stationary, and pottery.
"I have a little bit of everything. Having been here for three years with Green Goods, it was natural that I step up," Tramontin said. "That leap? It was the perfect time."
Find Against the Grain at 220 NW Broad Street in downtown Southern Pines.
College friends Sarah Farrell and Betsy Moyer starting writing a design blog back in 2008. At the time Farrell was living here in Southern Pines and Moyer was living in Los Angeles.
They kept the Estate of Things blog highly active, with up to five posts a week offering decorating advice, design chatter, and DIY help. By 2010 they had a strong following with around 10,000 unique readers. Their goal was to figure out a way to monetize the blog.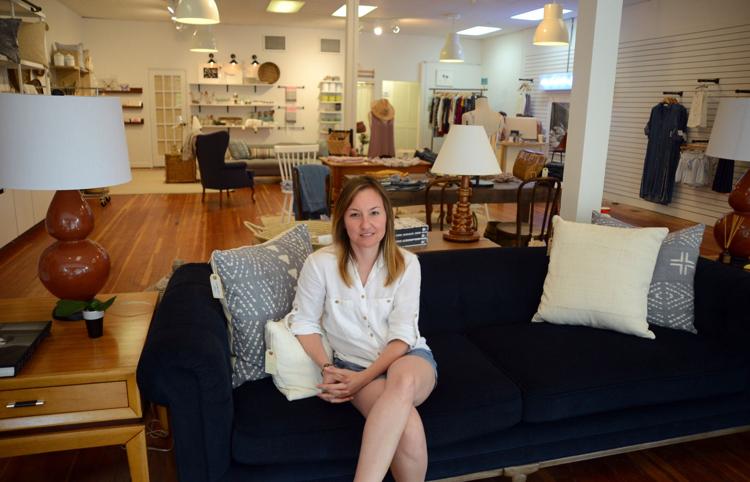 Importantly, their geographic split wasn't a hindrance online and remains today as a key ingredient of their blended style.
"From the beginning we talked about brick and mortar. All along we talked about what 'TI' — that's what we called it — could blossom into," Farrell said.
One day Moyer had come to visit and the friends saw a 'for rent' sign for a space in the historic Belvedere Hotel plaza on West Pennsylvania Avenue.
"We were both at a time in our lives when there was a shift happening in work and career. It was like the stars aligned and the universe shifted. It was time," she said.
Based on Moyer's professional background in social marketing, they felt they had an advantage in their corner from the beginning.
"She's a great storyteller and has that ability to engage with people. She knows about technology and graphic design and brings all that to the table."
Farrell's specialty is interior design, a lifelong love of vintage items, and experience in renovation.
"We feel we represent the best of the West Coast and the East Coast. We both respect tradition and pepper it with our own take on Bohemian flair," said Moyer. "We both love Southern farmhouse style and collectibles. It is those little items that we find that we hope spark joy and inspire our shoppers to feel the same way."
Their first location was ideal because, as part of the former hotel, it was set-up like a small apartment. The kitchen was filled with culinary items, the living room had a fireplace they could accessorize.
"But quite simply, we were off the beaten path. For some reason, a lot of people don't get there from Broad," Farrell said. "We thought we could bridge the gap and be a destination with our marketing strategy, but it just didn't work."
The friends set their sights on finding a storefront on Broad Street. When Living on the Bliss closed up shop, they moved in last summer.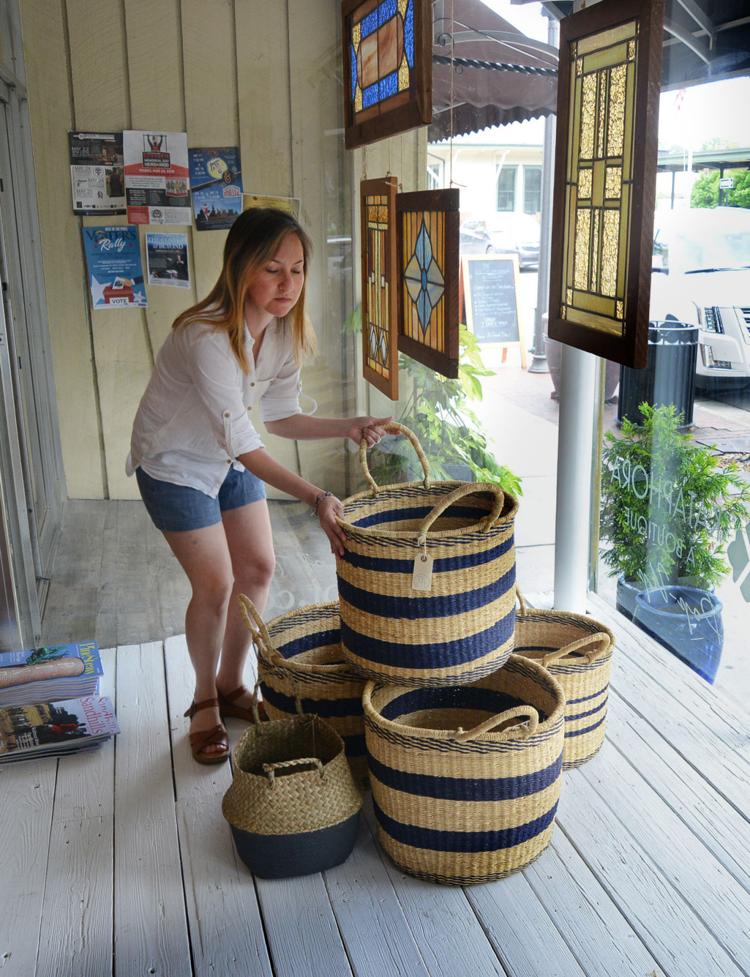 "It's been good, but life can throw you some curveballs," she said, noting they both have had to learn to balance their personal and professional obligations. "We don't have as strong an online presence which has put more pressure on the storefront."
Moyer is also opening a new West Coast-based TEOT space in Venice at the Mart Collective.
"I like to think we're bringing a little North Carolina to California," she said.
That includes blending the light and airy neutrals and natural textures popular in L.A. with the tradition and artisanal housewares more common to the Carolinas.
"We keep our ears to the ground of what is trending, as well as digging through antique fairs and the global marketplace online," Farrell said.
In particular she said they appreciate the blended shopping experience where housewares and attire are sold in the same shop. They partnered with local boutique Kataphora to sell women's clothing that capture their shared styles.
"We didn't want to venture into fashion ourselves. Rather than tackle that on our own it made sense to partner up with someone who's aesthetic we admired," said Farrell. "We want to look at those symbiotic relationship with other areas as well."
Moyer teased that they are busy "cooking up" a shift in their inventory.
"We have taken the big leap. We started on the courtyard and felt Broad Street was where we needed to be. We took that risk and what we are doing — like, with Kataphora — is mitigating some of that risk for other small business creatives like us who want to explore 'what ifs," she said.
Find The Estate of Things at 168 NE Broad Street in downtown Southern Pines.
Robin Bishop describes her shop as fun and filled with interesting things. Together with her business partner, Kelly Tierney, they shop just about everywhere including Europe, to find unique antiques and furnishings they can repurpose.
"Every year we go away for the month. We call it Road Trip USA and we go all the way across the country to shop," Bishop said.
But she doesn't hit up estate sales. Not that there isn't a need for them, Bishop explains, it's because she's looking for something a little different.
"I have contacts and clients who are looking for very specific items. They will wait years to get it," she said. "You work a long time to develop these relationships."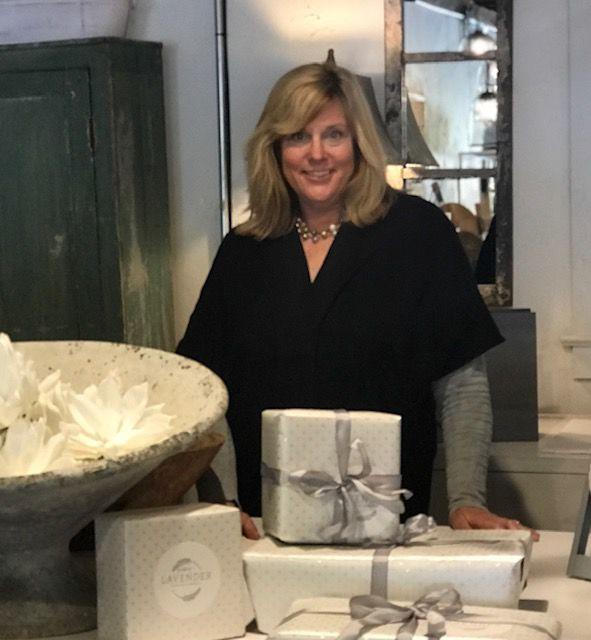 One of her more noteworthy contacts came out of the blue, right through her front door on Broad Street.
It was a producer for HGTV, who was visiting the area on a golfing vacation with her husband. Bishop said the woman spent a long time in the shop, looking at her husband's handmade tables.
You see, this family has his-and-hers businesses. Robin runs Lavender Restyle Market, a home decor boutique, and her husband Bruce runs Hogwild Tables. Together they also have a 7,000-square-foot workshop in Aberdeen, in addition to their storefront in Broad Street.
She designs all the specialty pieces and he builds him.
"I am very, very picky. We use only professional grade finishes and they are all vegan. They don't have any chemicals, I am all about that," Bishop said.
Within hours, the television producer offered the Bishops a contract for a custom table. One table led to another, and another, and another.
"Through HGTV, we have picked up clients from across the country. And then we started doing design workshops here in the store. We have four scheduled this year," she said.
The daughter of a general contractor, Bishop said she grew up in the building and design world. When she was a teenager, her mother hired an interior designer to redo their home. Unimpressed with the final result, she took it upon herself to redesign the space.
"My parents gave me creative freedom," she said. "So I've always done this but not as a business until the last five years."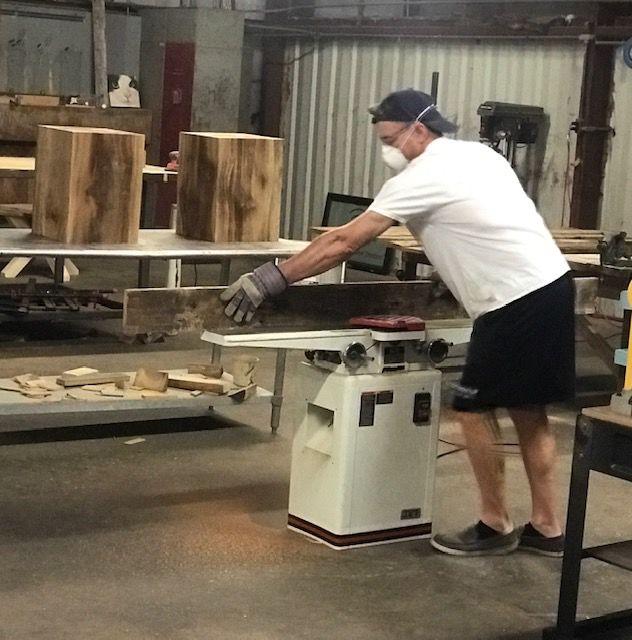 She first established Lavender three doors away from her present spot, next to the Bell Tree Tavern. When Jellison Press decided to move out, freeing up a vastly larger storefront on Broad Street in August 2017, Bishop grabbed the chance to expand.
"We had been looking for a bigger space, but it had to be the right fit."
Her first retail space was 400 square feet and she now has around 2,200 square feet to work with, plus a small outdoor patio addition that is coming along.
Her specialty is European antiques and furnishings that she can repurpose into custom designs.
"I tend to like buying bakery pieces. I also have bought pieces from a Belgium floral shop."
Bishop said what people are looking for is furniture and decor that is beautiful and functional. To whit, she only uses performance fabrics where spills can be wiped off, and dry kilned wood and vegan finishes on their Hogwild pieces.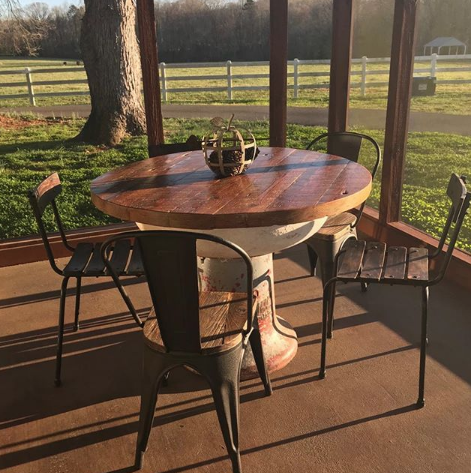 "You want things you don't have to worry about, but are beautiful," she said.
Her favorite HGTV project that she helped design was a mud room that featured a slate floor, chandelier, sliding barn doors and Hogwild benches.
"It was beautiful function," she said.
The Lavender Hogwild workshop is open for customers on Saturdays, 9-2 p.m. at 314 S. Pine Street in Aberdeen. The Lavender storefront is located at 135 NE Broad Street in downtown Southern Pines.