It was a cool and misty day, not at all like the Sandhills in June. All four top finishers shot par or better in the final round. But it was Payne Stewart who held the lead when he approached the 18th hole.
It's been 20 years since thousands of fans lined Pinehurst No. 2 to watch him sink a 15-foot par putt to win the 1999 U.S. Open championship.
A moment in time, forever etched into our collective consciousness as Stewart raised a triumphant fist and his foot in celebration, also marked a turning point for Pinehurst: The world took notice of this little slice of golf heaven.
"It was just magical," said Pat Corso, who was president and CEO of Pinehurst Resort at the time. "The enthusiasm and excitement in the community as we built-up to the event. Then the week we had and the contestants we had with Tiger Woods, Phil Mickelson and Payne. It was incredible."
But Stewart wasn't just any other player. A native of Missouri, he had first visited Pinehurst as a junior golfer and, later, became a regular visitor. Stewart was known to stay at the Pine Crest Inn and participate in the evening chipping contests, even signing his name not once but twice on the men's room wall.
In June 1999, Stewart arrived with 11 Tour wins and two major championships under his belt by then, including the 1991 U.S. Open in Hazeltine.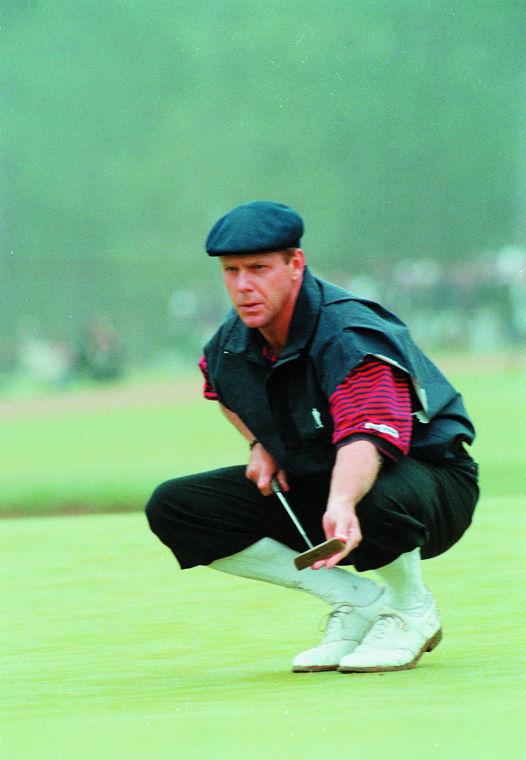 At the start of the final round, he held a 1-stroke lead over Mickelson. The two traded places midway through, but then Mickelson bogeyed on the 16th hole. Going into the final two holes, Stewart took the lead again with a birdie on the 17th and then his 15-foot par putt at the 18th to win.
Fans remember his final putt, how he bear hugged his caddie, and the sweet words that followed when he took Mickelson's face in his hands to speak of fatherhood.
It was Father's Day after all. Stewart and his wife, Tracey, had two children. Mickelson and his wife, Amy, were expecting their firstborn.
Four short months later, Stewart died tragically in a plane crash that also claimed the lives of his two agents, Robert Fraley and Van Ardan, golf course architect Bruce Borland, and pilots Michael Kling and Stephanie Bellegarrigue.
He was 42. Twenty years later, his legacy endures in Pinehurst.
"1999 was the watershed moment that caused us to become who we are," Corso said.
James Walker Tufts purchased nearly 6,000 acres more than a century ago to found Pinehurst.
He envisioned a health spa in the arid Sandhills climate, but those plans shifted to a more leisurely destination. In 1900, he hired Donald Ross to oversee all golf operations at his developing resort. A year later, the Carolina Hotel hosted its first guests.
Ross's first 18-hole design in Moore County was Pinehurst No. 2, and the resort quickly became known for its golf focus.
It was the host site of the 1936 PGA Championship, the 1951 Ryder Cup, and the 1962 U.S. Amateur Championship.
Just shy of a decade later, the Tufts family sold Pinehurst to Diamondhead Corp. in 1971. But the company proved more adept at developing its real estate interests than its golfing reputation, and the courses suffered.
With interest rates on the rise by the mid-70s, Diamondhead announced it was $73 million in debt. To stave off a complex bankruptcy, a consortium of banks took over the resort in 1980.
Four years later, ClubCorp of America (CCA), an operator of clubs and resorts, acquired the resort for $15 million and began making major reinvestments in the property. Owner Robert Dedman, Sr. and his son, Bob Dedman, Jr., brought in Pat Corso to lead the turnaround. He, in turn, brought in Don Padgett to oversee golf operations.
Importantly, CCA preserved Pinehurst's turn-of-the-century charm with an emphasis on its golfing heritage throughout the renewal process. The U.S. Golf Association (USGA) took notice.
Pinehurst was the site of the 1988 PGA of America Club Pro Championship and the 1989 U.S. Women's Amateur Championship. In 1991 and again in 1992, Pinehurst No. 2 hosted the PGA Tour Championship. Then in 1994, the U.S. Senior Open came to town, a precursor of sorts to prepare for the 1999 U.S. Open.
"The 1999 U.S. Open gave Pinehurst back its rightful place in the game of golf," Corso said.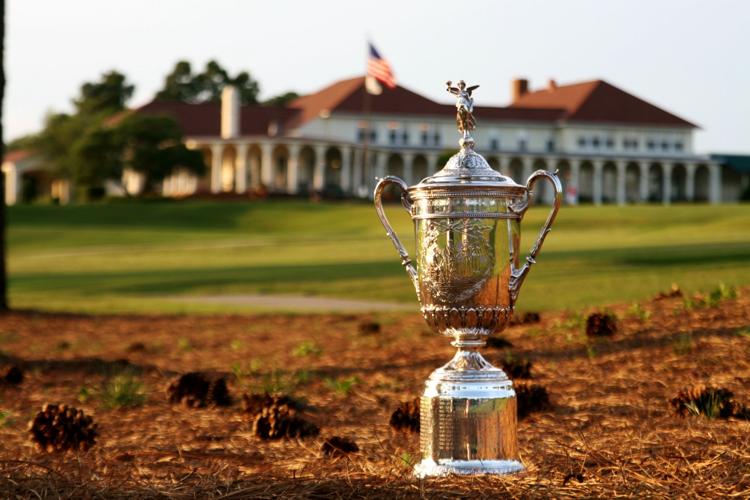 To put the importance of the event in perspective, Pinehurst Resort had not hosted a major championship since the 1936 PGA.
"It's hard to believe that we went from 1936 to 1999 without one," he said. "Certainly in 1980, when Pinehurst had in essence gone through a bankruptcy, people thought there was no way to bring the courses back."
Pinehurst No. 2 was foremost a masterpiece by Donald Ross, but under Diamonhead's management, the course had been groomed to sell real estate, not championship golf.
"The challenge for us was to take it back and to redo it. So we restored it. And the first time, we failed," Corso said, noting it was improved upon once more before the massive restoration project that was undertaken in 2010.
"The focus on restoration of No. 2 has been ongoing since 1987 — always with an eye on restoring it to its original uniqueness. It took a lot of years to get there but they have succeeded," he added.
By the early 1990s, Pinehurst Resort had turned the corner. The courses were upgraded, the hotel rooms were renovated, and the new conference center was constructed.
Off property, the Pinehurst community also turned the corner with new interest in old historic properties.
"It was a synergistic reinvestment in the community," Corso said, that led to more stores, restaurants and services. "Things started happening."
When the 1999 U.S. Open and its millions of television viewers came to town, it was the spark the economy needed to stay lit.
"You can draw correlations between that and all that has happened since," said Corso. "Today we are much more diverse. The folks that moved here, a retirement crowd, brought their affluence and their cultural interests."
"There are few people who remember this time before when the resort was really floundering. It is an anomaly for a rural community to do as well as we have," he added. "And in the meantime, Pine Needles was also creating awareness and held televised championships. Together we caught the wave. We made it back and more so."
When CCA acquired Pinehurst Resort in 1984, the population of the surrounding village was less than 2,000. Today, Pinehurst is the largest municipality in Moore County with an estimated population of more than 16,000.
After its flawless performance in the 1999 U.S. Open, the USGA brought the championship back in 2005, and again in 2014 for the historic back-to-back weeks of the Men's and Women's U.S. Opens. Pinehurst No. 2 will next host the 2024 U.S. Open.
"To me it is perspective. You come here today and think it's always been this way," Corso said.
The stakes were high back in 1999, remembers Beverly Stewart, executive vice president of the Convention and Visitors Bureau of Pinehurst, Southern Pines, Aberdeen.
"What was amazing is the USGA had never held an Open in such a rural area. I hate to use the word, but most of us at the CVB were terrified," Stewart said. "We were on the world stage and knew if anything went wrong it would have been really bad."
Traffic congestion was a major concern. Pinehurst Resort had to figure out how to move around up to 40,000 people a day. Temporary parking lots were set up with shuttle buses, a transportation model that was successful enough that it was reused in 2005 and 2014.
"It worked perfectly and the week went off so seamlessly," she said. "Payne loved this area. That last day when he sank that 15-foot putt was the piece de resistance."
In his younger days, Stewart was known to be brash and could be confrontational. But by the time he'd reached Pinehurst on that Father's Day weekend in 1999, he remained an intense competitor but had a softer approach. He donated his time and financial support to give back to the game and assist people in need.
"Payne was not this slick polished pro golfer. He worked hard, he had a temper, and he had put in his time in Europe," said Phil Werz, president of the Moore County CVB today. "Then he found his forum and found redemption, and transformed his life.
"He went through ups and downs. I think that is why his life really resonates with a lot of people. He is what we would all want to be, to overcome our trials."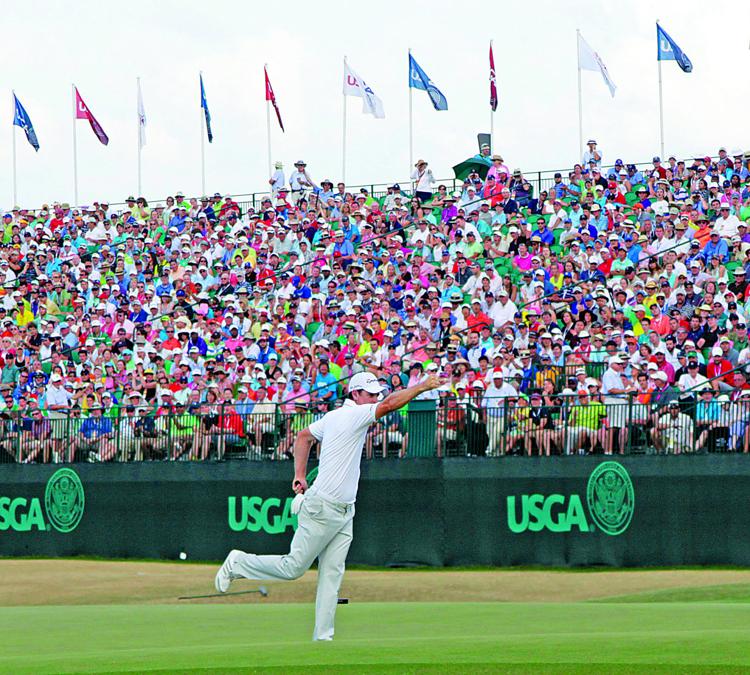 After his tragic death, Corso said the resort wanted to honor him "as our champion."
A bronze statue of Stewart was dedicated in 2001, and now stands just off the 18th green of Pinehurst No. 2. Aptly named "A Moment in Time," Stewart's memorable pose as his ball rolled into the cup in front of thousands of fans is a constant reminder of his outsized legacy to Pinehurst.
"Payne personified the U.S. Open at Pinehurst. What the U.S. Open means to Pinehurst," said Werz.
He walks by the statue often and said he always sees people stopping to take their picture with Stewart.
"That moment in time still means a lot to people. It is inspiring to see that statue," he said.
In 2001, Stewart was posthumously inducted into the World Golf Hall of Fame. Then five years ago, he was posthumously named the recipient of the 2014 Bob Jones Award by the USGA. Presented annually since 1955, the award is the highest honor presented by the USGA, and recognizes the individual who demonstrates the spirit, personal character and respect for the game exhibited by Jones, winner of nine USGA championships. Past recipients of the Bob Jones Award include Ben Hogan, Byron Nelson, Gary Player, Jack Nicklaus, Tom Watson, Bob Hope, Bing Crosby, George H.W. Bush, Nancy Lopez, Annika Sorenstam and Pine Needles matriarch Peggy Kirk Bell
"1999 put this area on the map as a world class golf championship destination," said Beverly Stewart. "There were a lot of naysayers that said it couldn't be done. And it went off without a hitch."