When you name your business for the small town where you work, it makes sense to throw out the welcome mat where most of its people congregate.
For Southern Pines Brewing Co., that means opening a new downtown taproom at the corner of West Pennsylvania Avenue and North Bennett Street. Owner Micah Niebauer has signed the lease to take over the soon-to-be vacated Southern Pines Growler space.
Meanwhile, Gerry Bateman and Brandi Underwood are waiting on the finishing touches to their "super-sized" Growler taproom and outdoor patio one block south on Bennett Street. Their new three-story building will also be home to the Moore County Chamber of Commerce.
"We are excited to be taking the corner space. That is such an incredible spot and it has a beautiful, outdoor patio," Niebauer said. "We will be able to enjoy the downtown area like we've never been able to do at the brewery."
"It's been fun to jump into this as fast as I can," he added, noting his optimistic opening date will be around July 1.
Heath Trigg of Heritage Flag Co., who designed Southern Pines Brewing's original taproom bar, tables and the whiskey-barrel American flag that inspired an entirely new business venture, is handling the taproom renovation.
"I was tickled and honored that Heath was willing to take on this project. Our first taproom is so beautiful because of his work. From where we started six years ago, I'm really excited to carry that through to this new space," Neibauer said.
The production brewery taproom on Air Tool Drive in Southern Pines will also remain open.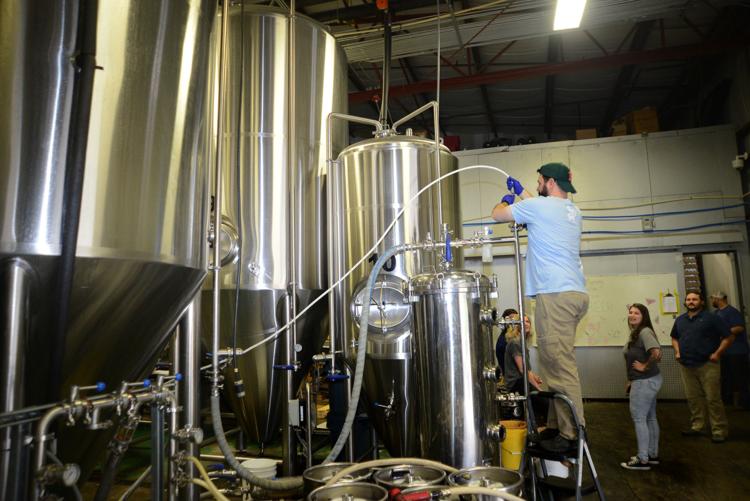 "When we started, our goal was to be here for our market. We make beer for the people where we live and beer that they want to drink," he added. "Our original concept was 'rooted in the community,' and it still is today."
A former Green Beret with the 3rd Special Forces Group at Fort Bragg, Niebauer partnered up with John Brumer and Jason Ginos to co-found Southern Pines Brewing Co.
"Start-ups are a team sport. I could not have started this brewery without the three of us coming together: start-ups are a team sport. It took all three of our blood, sweat and capital to bring the brewery into being."
"It's been six years. Most of my friends have not had the same job for six years and people's lives change," he said. "Your business is something you are married to and the people in it."
Brumer left the company in 2017 and is "living his best life," Niebauer said, surfing in Nicaragua and skiing in the mountains of South America.
"A goal of his was to buy one-way tickets and that's what he has been doing. He is living the adventure."
For Ginos, his decision to depart the business last December was something the two friends discussed through most of 2019, Niebauer said.
"We were fortunate when we started the business that we had a good operating agreement. We were three guys with three families and we had this viewpoint at the beginning," he added. "Before we committed our assets and money, we talked about 'your true North.'
"We had a no divorce clause in the agreement. It was always to be a voluntary decision to leave or a voluntary decision to stay in this business, forever. It was important to us to empower those left behind if anyone ever decided they wanted to leave."
Niebauer said photos of the three founders are still on the wall of the taproom at their production brewery on Air Tool Drive in Southern Pines, and they won't be coming down.
"What was so compelling and what people loved about our story is we were three guys from one team in the Special Forces. That hasn't changed. We all have left our marks on this business.
"This brewery exists because the three of us did this. I can't tell you how happy and blessed I am. I feel fortunate that our friendship and respect for each other was strong enough for us to go through these transitions and for the business to survive. Jason and John have gone on with their lives and I'm still here making beer."
Tapping 'Together We Are Moore'
There's a new pilsner lager going in the tanks at Southern Pines Brewing this week. Called Together We Are Moore, the name is inspired by the "shop local" initiative the Moore County Chamber of Commerce launched last year.
"It is such a great slogan. With all that has happened with the coronavirus, we've been racking our heads with how we could help our community. The service industry has been hit so hard," Niebauer said. "Beer is our way to help."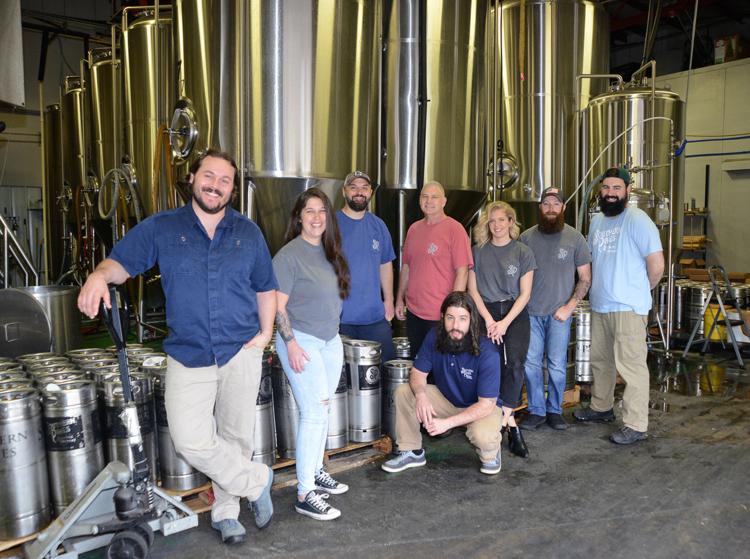 The specialty brew will be sold exclusively wholesale for $1 a keg or case to local retail establishments. When customers purchase a pint or a four-pack to-go, all of the proceeds will directly support that business.
Longtime collaborator Craig Morrison of Valhalla Tattoo in downtown Southern Pines is designing the artwork for the cans with graphic artist Kira Schoenfelder of Schon Design.
"We want to let our local bars and restaurants know it will be available," he said, anticipating a July launch date.