They say timing is everything. For first-time business owners, Scott and Karyl Chase, getting it right has taken 30-plus years of corporate work, a 2,100 mile cross-country journey, and a bold leap of faith.
The new owners of the Old Buggy Inn in Carthage plan to re-open the historic property as a bed and breakfast this fall.
"We went to a B&B early after we were married. I fell in love with that feeling of coming into a place and being welcomed," Karyn said. "At the time I remember thinking, I could do this. And it's been tucked away in the back of my head."
So even though she won't officially retire from her job in Ogden, Utah, until February, the Chases said their timing was close enough.
"Scott's dream was to move to Costa Rica. I told him I wasn't feeling it," Karyl said. "You could say that I crushed his dream and he fulfilled mine."
The couple share a warm smile and Scott said with 38 years of marriage under their belts, they know where they can find some give and take.
The couple had discovered North Carolina a few years back — one of their two sons lives in Wilmington — but their search for a B&B to buy started first in Oregon. Eventually they found the Carthage property and the rest, as they say, will be history.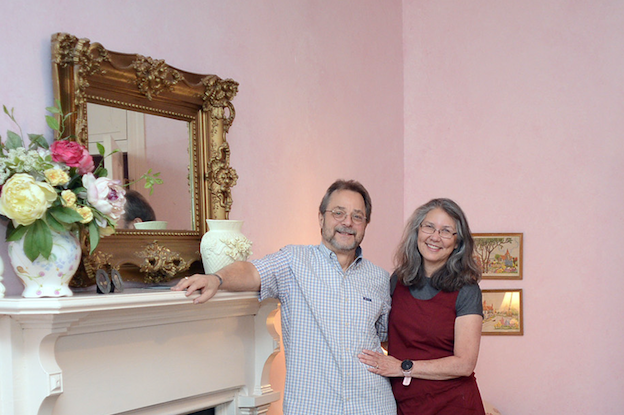 "I call myself starved for community. I made a living at talking to people," he said, "and told Karyl that my retirement would not be spent sitting in front of the TV."
"But I also know my level of incompetence with maintenance. I know when we'll need to call for help," Scott added.
Which means there have been plenty of outgoing phone calls from the 5,000-square-foot 140-year old inn since the couple acquired it in June. Scott noted the previous owner had struggled with health issues in the last few years and there has been some neglected areas.
"There is a lot of cosmetic work that needs to be done. The first thing people will see soon is new paint," Karyl said. "And everyone wants to know if the house will still be pink. It won't."
Built in the 1880s, the Queen Anne Victorian at 301 McReynolds Street stands at the entrance to the town's historic district.
The house was originally designed for William T. Jones, a cofounder of the Tyson Jones Buggy Company in Carthage. At its heydey, the company produced 3,000 carriages a year that were known as the "Cadillac" of buggies at the turn of the century.
Jones, a former Confederate soldier, was a business titan of his community and well-regarded member of local society. According to many, including the Old Buggy Inn's previous owner, Pat Motz-Frazier, Jones was also born of mixed race, which makes his story particularly noteworthy.
There is only one known photograph of Jones, and information on his life has been gathered in bits and pieces. The Chases said they are grateful for the history that Motz-Frazier took the time to collect.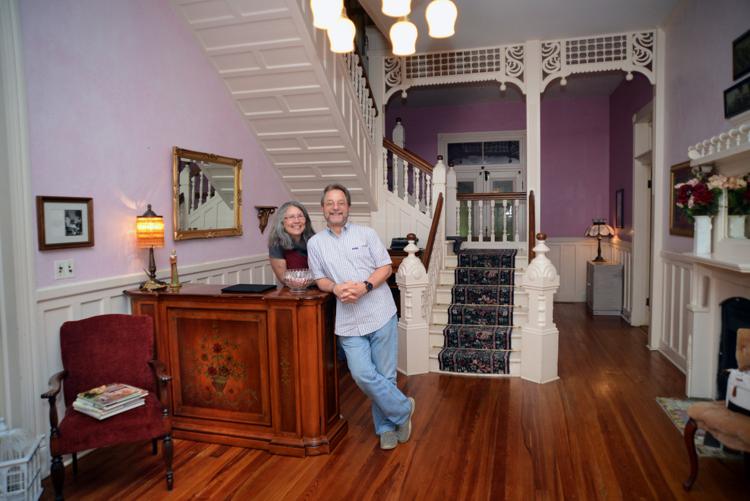 Jones died in 1910, not long before the rise of the automobile spelled doom for the entire buggy industry. His legacy — and this chapter of Carthage's history — is now best remembered each spring during the annual Buggy Festival and through glimpses behind doors of the Tyson Jones Buggy Company's founding partners majestic homes.
Replacing the Old Buggy Inn's current pink and purple trim, Karyl envisions grays and blues with maybe a little yellow.
The house has an inviting wraparound porch, two-story octagonal tower, and painted balustrades — all hallmarks of the Queen Anne Victorian style. Inside the double entry doors, a magnificent staircase stretches upward to the soaring ceilings.
"We love the history of this house and of William T. Jones," said Scott. "It is important and we want this to be more than just a big house with four rooms for rent."
The couple say they are the home's seventh owners.
"The timing was not perfect for us to retire yet. But we are Christian people and believe that God has a plan for us. That we can make it happen," said Scott.
To whit, they promptly hired Karen Woodward, who has previous experience with the house, to help them with day-to-day operations until Karyl and Scott can move to Carthage on a full-time basis.
"I think of myself as an entrepreneur. I've made some good contacts here and I am content with knowing this is a business we can grow," Scott said. "I want to bring the community in through special events and live music."
Nettie Calfee, of Berkshire Hathaway HomeServices, assisted with the property sale.
"I don't think there is another place like it. The history is so interesting and the house itself is so beautiful," she said.
"We always wanted to buy an older home so it is kind of self-fulfilling that we have reached this point," he said. "And in owning a B&B, you want that character and history. This home checked all those boxes."