Spartan Blades is known in the knife industry for being a cut above the competition, crafting premium fixed and folding knives that have captured awards and won over fans across the country.
A newly announced joint venture — Pineland Cutlery — with New York-based Ka-Bar Knives is going to help bring its lofty price point down to earth and expand its distribution footprint.
Spartan Blades co-founder Curtis Iovito anticipates the company's new capacity will double production, from 500-600 knives a month to as many as 1,000 a month — to start.
"With Spartan Blades, we've always had great reviews," he said. "But what we hear a lot of people say is, 'We just wish we could afford them."
Iovito began making knives as a young U.S. Army sergeant, while serving at Fort Lewis in Washington state. In 1997, he met fellow Special Forces soldier Mark Carey when both were serving as snipers for a counter-terrrorism unit station in Southeast Asia. The men were later sent to Fort Bragg and, following retirement, they founded Spartan Blades in 2008.
Initially they began crafting combat knives from a barn and workshop on Carey's property in Aberdeen, then moved to the former LobSteer restaurant on U.S. 1 near West Wisconsin Avenue. Spartan Blades and Pineland Cutlery will operate from the Southern Pines headquarters.
"We are local. We are not leaving," Iovito said.
Accolades and Partnerships
Four years ago, Spartan and Ka-Bar first collaborated on a limited release — a knife called the Spartan EK dagger — that proved popular. Only 400 were made.
"They evaporated," Iovito said. "It was meant as an introductory fun project and they sold very quickly."
And this was not the company's only highly successful joint effort.
In 2014, Spartan Blades won the International Blade Show's Knife Collaboration of the Year award, together with Les George, for the V-14 Dagger. Then in 2016, the company won the coveted American Made Knife of the Year award for its Spartan-Harsey folder, or SHF, a collaboration between iconic knife maker and designer, William W. Harsey, Jr. and Spartan Blades.
A year later they repeated that performance, this time for the Kranos folder which was recognized as the best knife made in the United States, an award voted on by their competitors and peers at the International Blade Show, sponsored annually by Blade magazine.
When Spartan began looking for ways to expand production, the owners looked to Ka-Bar's expertise.
Founded in 1898, the Olean, New York-based company produces military, hunting, sporting, utility and outdoor survival knives. Most famously, the company created the official-issue U.S. Marine Corps fighting/utility knife during World War II. So well-known — and repeatedly copied — the term "Kabar" became synonymous with this knife pattern.
"We knew how to craft high-end knives in small batches. They knew how to do more affordable knives in larger production. So the idea was to bring it together," Iovito said.
Ka-Bar CEO John Stitt said Pineland Cutlery is a "force multiplier" for both companies.
"We are excited to work hand and hand with Spartan," he said. "Mergers, partnerships, and most importantly friendships are something that Ka-Bar has been built on. It is at our core; it is in our values. It is something everyone who has a Ka-Bar story knows."
"Spartan Blades brings certain elements to the table that are very hard to find and even harder to cultivate," he added.
Over the next year, three distinct product groups will be created under the Pineland Cutlery brand.
The gold line is Spartan Blades' elite grade and will continue to be made exclusively in North Carolina using premium steel, double deep cryogenically treated and premium PVD coatings. The silver line is considered a pro-grade line — with three prototypes already designed — with all knives manufactured in either North Carolina or at the Ka-Bar facilities in New York. The bronze line will be field-grade production using international partners in friendly nations for manufacturing.
Iovito acknowledges that it was a difficult decision for them to make, but will help fulfill the numerous requests they've received over the years for more modestly priced options.
All of the new knives will have a small pine tree next to the Spartan Blades logo, a way of marking the new beginning with Ka-Bar while honoring their own past accomplishments.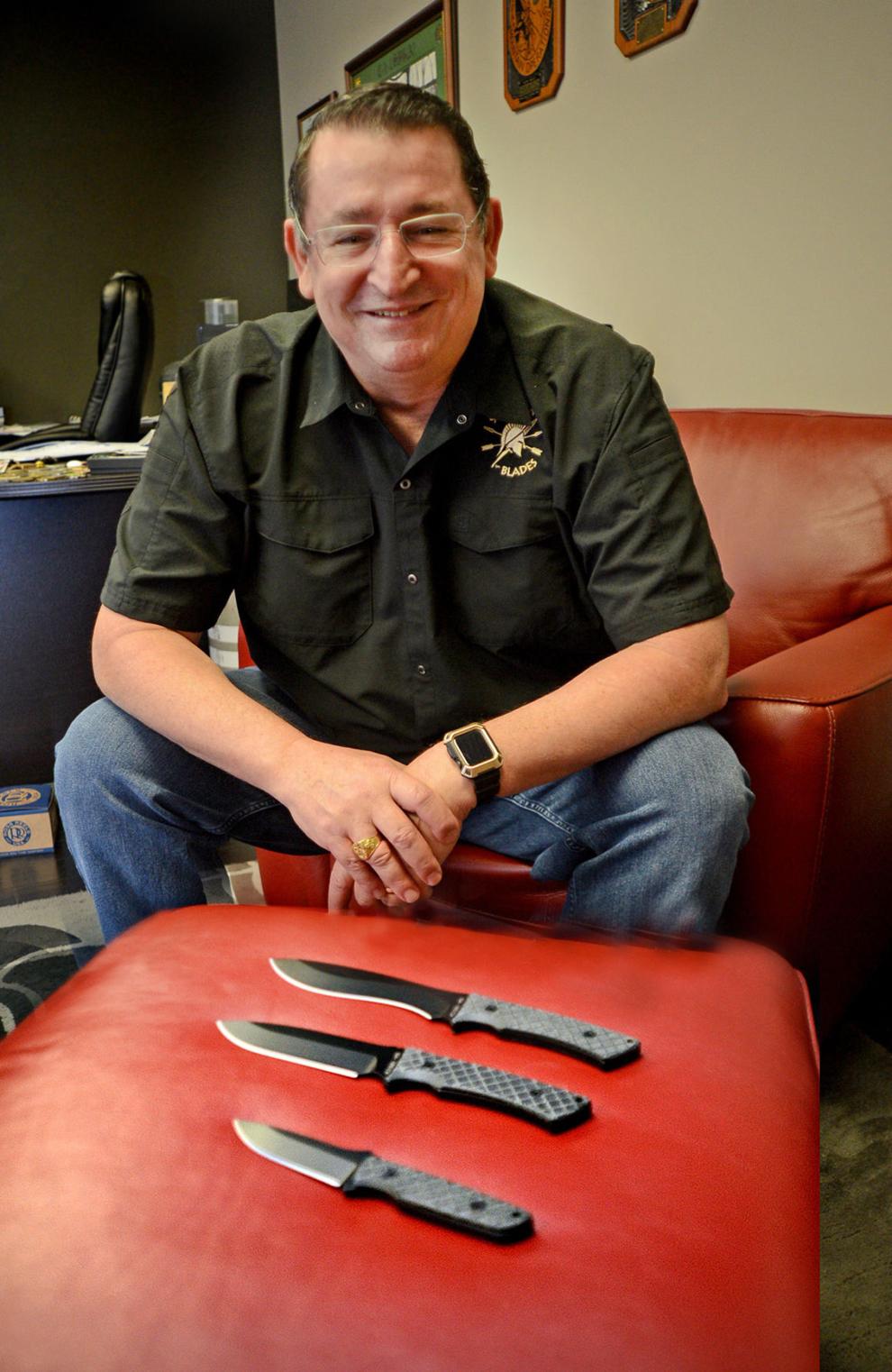 "Spartan is known for our fixed-blade combat knives. With Pineland, we hope to do more outdoor camping knives. It will be a little bit gentler, friendlier company," he said.
Iovito and Carey note the Pineland Cutlery logo, inspired by the Pineland "flag," was a fun way to play up their own military ties and the heritage of Moore County, which abuts Fort Bragg, the largest military installation in the world and headquarters of the U.S. Army Special Operations Command. The name also refers back to the Allegheny Mountains, where Ka-Bar is located.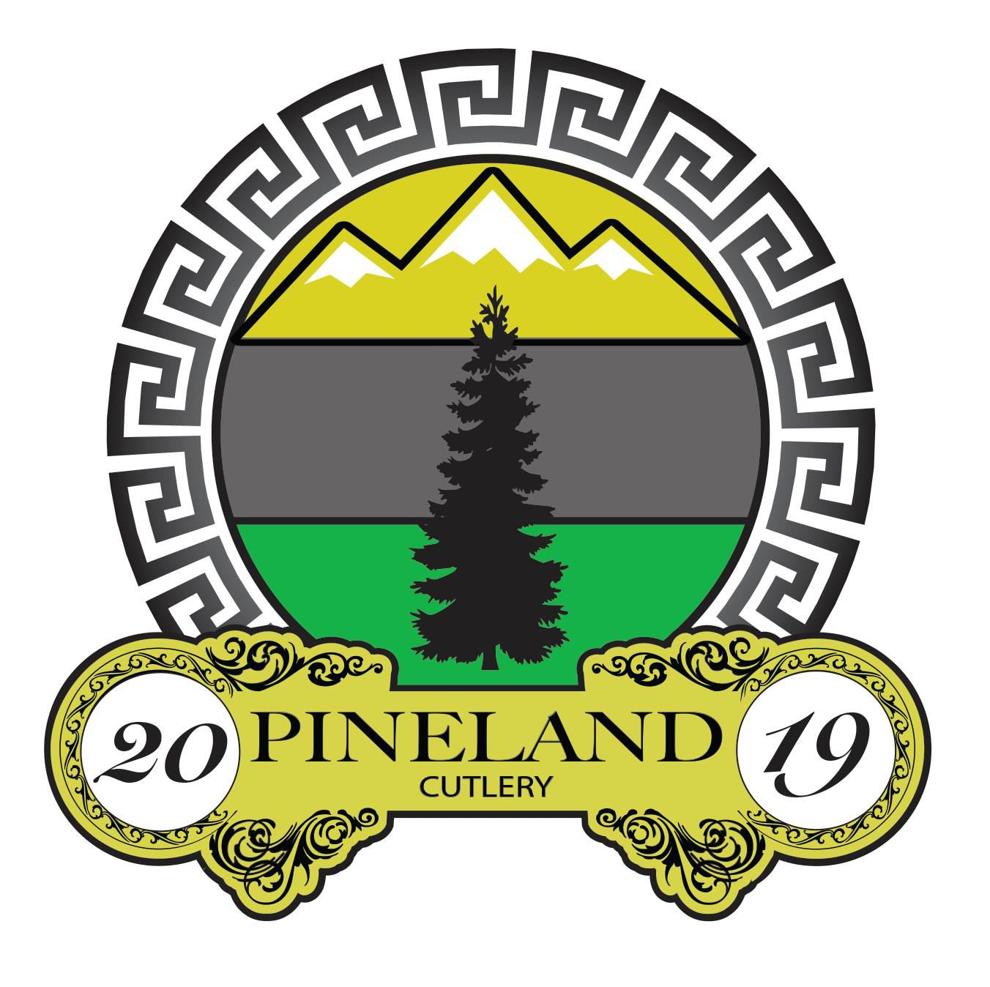 The People's Republic of Pineland is a fictitious country created by the Army as part of its Special Forces training. It is inhabited around eight times a year by soldiers who infiltrate into a 15-county region of North Carolina, including Moore County, to link up with "guerilla forces." The intensive two-week exercise, known as Robin Sage, is the final exam for Special Forces candidates. Those who succeed earn the right to wear the coveted Green Beret.
Developed as a real-world experience, Pineland has its own flag, a national anthem, and its own currency, called 'Don.'
Iovito said he was concerned about how people would respond to the new branding announcement, but said so far most everyone has been very enthusiastic.
"The number one word I keep seeing is 'excited,'" he said.
The three silver prototypes that go into production this summer include a small outdoor camping fixed blade knife, a medium-sized combat knife, and a large chopping knife.
In addition, Spartan Blades will be introducing a new dagger in collaboration with William W. Harsey, Jr. , at the end of August during the Usual Suspects Network Gathering, to be held in Las Vegas.
"We are excited about this one and we know it will do well," Iovito said.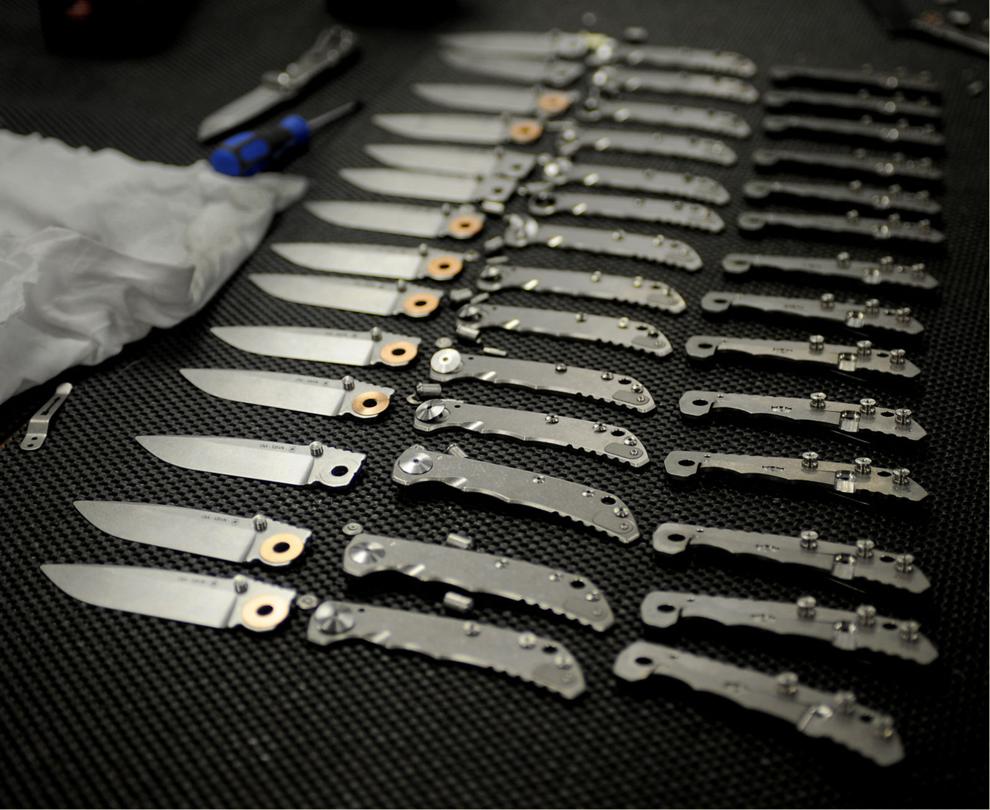 Harsey, who previously collaborated with them on the award-winning Spartan-Harsey folding knife is a well-known figure in the industry. One of his most significant designs is known as the Yarborough Knife, named after Lt. Gen. William P. Yarborough, the "father of modern Special Forces." It is given to each graduate of the U.S. Army Special Forces Qualification Course.
Daggers are defined by their symmetrical shape and became part of the Special Forces culture during the Vietnam War.
"There is a lot of excitement here in the shop about this new collaboration," Iovito said.
Spartan Blades is located at 625 S.E. Service Road in Southern Pines, near U.S. 1 and Morganton Road. The retail showroom is open by appointment only, call (910) 757-0035. To learn more about Spartan Blades visit spartanbladesusa.com.