Airbnb announced today that North Carolinians in rural counties earned over $76 million in supplemental income while welcoming 436,000 guests through the Airbnb home sharing platform over the past 12 months. That $76 million in income represents a remarkable 74% rate of year-over-year growth.
Moore County ranked 15th, with $1.4 million in combined host income over the past 12 months.
For this report, Airbnb compiled data for the 80 North Carolina counties officially designated as "rural" by the NC Rural Center -- not including the 20 counties designated as either "urban" or "suburban." The NC Rural Center's map and list of designations can be found here.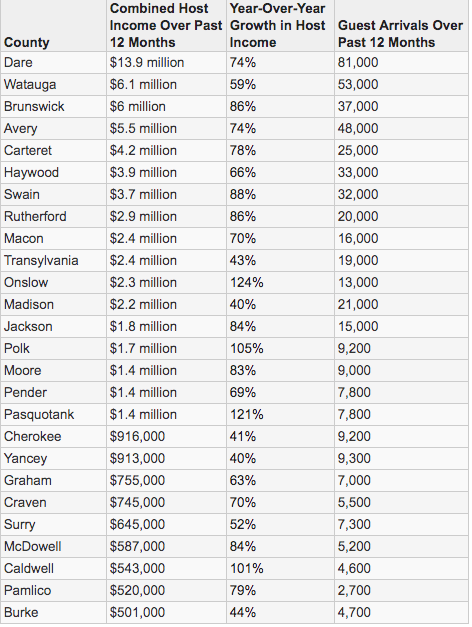 The 74% growth rate of Airbnb guests to designated rural North Carolina counties significantly outpaces the growth rate to urban and suburban counties. The data is indicative of an increasing desire among travelers to get off the beaten path and experience all of North Carolina, not just the big cities or traditional vacation hubs.
This report comes on the heels of new data via a state-commissioned lodging report demonstrating that North Carolina hotels are experiencing significant growth in overall occupancy, revenue and prices. Yet the vast majority of North Carolina's hotel inventory is centralized in the large metro areas as well as well-known beach and mountain towns. This leaves large swaths of rural North Carolina with very limited traditional lodging options -- and sometimes none at all.
As such, home sharing has allowed homeowners in rural regions throughout the state to fill that void and earn valuable supplemental income while opening up their counties to tourism and the revenue that comes with it. For example, Hotels.com lists zero hotels in Yancey County, yet the local Airbnb host community has helped the county take full economic advantage of its growing popularity with visitors, welcoming 9,300 guest arrivals in the past year while hosts earned a combined $973,000 in income.