Leisure travelers across the state have rediscovered Pinehurst Resort, particularly for weekend trips. But a new partnership with Dallas-based JSX 'hop on jet' has opened up a new opportunity for non-stop, roundtrip air travel from Dallas Love Field and Westchester County (NY) Airport to Moore County Airport.
"This was another way to be creative to get people to come to the Cradle of American Golf in a safe way," said Eric Kuester, Pinehurst Resort's vice president of sales & business development. "It's a really unique way to get to Pinehurst in less time than it takes to play 18 holes."
The limited offering is part of the resort's stay-and-play golf packages. Beginning June 25, JSX charter-style planes will carry as many as 30 passengers on selected dates through mid-July. Prices run $2,400-$2,900 double occupancy, including air travel and ground transportation, accommodations, meals and golf rounds.
"We had not worked with JSX before. This was a concept that originated with (Pinehurst president) Tom Pashley and JSX," Kuester said. "We are seeing success in the promotion which is encouraging."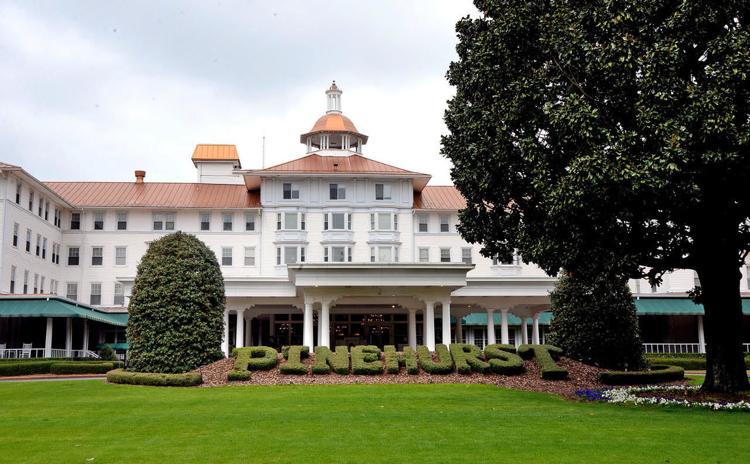 One of Moore County's largest employers with a staff of more than 1,300 employees, Pinehurst Resort shuttered its three historic hotels and many of its restaurants in mid-March due to dramatic decreases in volume as a result of the coronavirus global pandemic.
However, the resort's golf operations have remained open throughout the COVID-19 crisis. Kuester said that has been advantageous as interest has returned for leisure travel.
This weekend, he estimated the resort's occupancy rate was 80 percent; next weekend, both The Carolina and Manor Inn will be operating at 100 percent capacity.
Moore County, in general, is well-situated for a tourism rebound. It's proximity to the four-to-six hour 'drive market' for overnight visitors from Atlanta to Washington, D.C. and rural character appeals to travelers looking to avoid crowded beaches or other more congested destinations.
"Golf being deemed a safe activity by the governor's order has helped. Most other states were also able to keep golf open," he said. "And that message was heard loud and clear."
"I think the golf industry has come through this, as a whole, very positively. We have benefited from that."
In addition, upon reopening The Carolina Hotel on May 22, the resort unveiled its 'Pinehurst Promise' program which offers very specific guidance on additional safety and sanitation protocols guests can expect during their stay.
"Leisure travel has bounced back quicker and sharper than we anticipated. We are seeing an incredible amount of demand with our call center, and it is all leisure," Kuester said. "Leisure travel and hosting golf groups are our bread and butter. We are pleasantly pleased with the demand we've seen."