A group calling itself the Pinehurst No. 4 Action Committee has filed a formal complaint against Pinehurst Country Club alleging its cart policy at its No. 4 course violates the American with Disabilities Act.
According to paperwork submitted Wednesday to the civil rights division of the U.S. Department of Justice, the group states it has discussed its concerns with resort management, "but they have refused to comply with the law."
The Pilot, seeking a response from Pinehurst Country Club, notified club officials of the complaint Thursday. On Friday, spokesman Alex Podlogar issued a statement saying the club was not aware of any formal ADA complaints.
"To the best of our knowledge," the statement said, "we are compliant with all ADA requirements." The club did not amplify its comment.
A Donald Ross-designed course, Pinehurst No. 4 was updated by Tom Fazio in 1999, before a complete overhaul to align the layout completed by architects Gil Hanse and Jim Wagner that was unveiled in 2018.
The course reopened to rave reviews for its rolling topography and natural ridge lines, with exposed sandy areas, cross bunkers and native wire grasses that provide a natural 'Sandhills aesthetic" similar to Pinehurst No. 2.
In fact, the N.C. Golf Panel recently ranked the top courses in North Carolina in the April issue of Business North Carolina. Pinehurst No. 2 secured the top slot, with No. 4 also in the Top 10.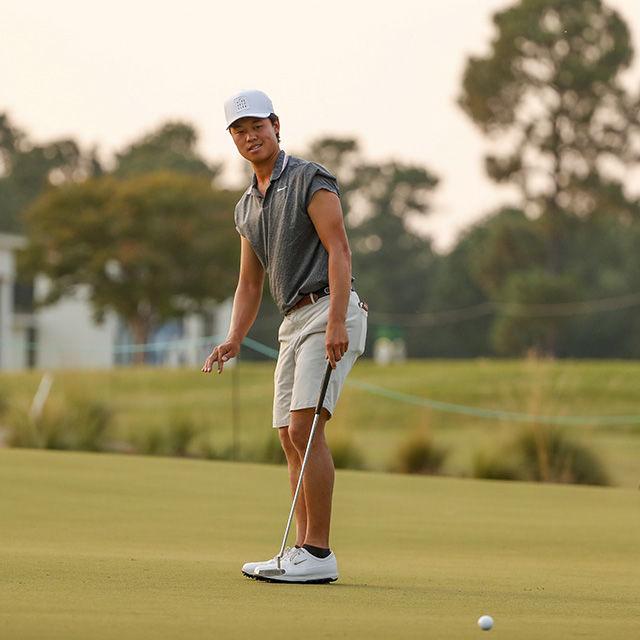 The basis for the ADA complaint, according to several members of PCC, is that play on No. 4 is restricted to cart-path use only. If a person of limited mobility wants to take their cart onto the fairway, they must hire a resort caddie to drive the vehicle.
This requirement did not exist before the course was redesigned.
According to the resort's website, caddies are highly encouraged on Pinehurst No. 2 and No. 4. It further states that golf carts are required to stay on the cart paths of both courses and that "Golfers riding these courses experience a considerable amount of walking due to the distances from the path to the course."
Since Pinehurst No. 4 is available to both PCC members and the general public on a fee-for-play basis, the action committee believes it is defined as a "place of public accommodation" and, therefore, must adhere to ADA laws.
In addition, amended standards that went into effect in 2012 are required on newly constructed or altered golf courses including public, municipal and private courses open to play by the general public.
Donald Tortorice, a PCC member who spoke on behalf of the action committee, said the added requirement that carts must be driven by caddies on No. 4 "constitutes an obviously discriminatory obstacle to every round of golf played by disabled golfers."
"For people in their 70s or 80s, riding in a cart and walking back and forth for 18 holes is disabling. You figure they are taking three or four shots at each hole. They cannot do it," he said.
Tortorice estimated the added cost per round to hire a caddie ran $60 to $100.
The committee developed an informal poll and surveyed approximately 300 PCC members who participate in organized golfing groups. Of those players, over two-thirds indicated the cart policy on No. 4 limited the number of times a year they visited that course. The vast majority of respondents also felt the decrease in member play on No. 4 made it more difficult to secure tee times on other PCC courses.
PCC member John Hamblen said committee members had made suggestions to Pinehurst Resort for alternative solutions without success.
"Point blank, they've said no," he said. "They said they want this to be a prestigious course without carts on the fairways."
According to Tortorice, approximately 80 percent of the Top 100 courses ranked in the U.S. allow golf carts on their fairways.
"Having No. 4 as a walk-only course is not what makes it an elite course," he said, adding it is not the group's intent to hurt Pinecrest Country Club.
Tortorice and Hamblen said they have spoken to PCC about the cart path policy for more than a year.
The PCC Board of Governors, a member-led advisory board, is also aware of the situation. In an email to the action committee members, president Steve Griswold said the issue of restricted use of carts on No. 4 was discussed in October 2019, and the PCC Golf Committee, at the time, agreed they should be permitted on the fairways. However, the board acknowledged and accepted the authority of resort management to make the final decision about cart use.
"We felt comfortable after reading Pinehurst's response that they, at least in their opinion, were meeting ADA requirements. If these members wanted to file a complaint that they were not being accommodated, that is fine," Griswold said, in a brief telephone interview with The Pilot. "But, bottom line, we were not going to support a lawsuit against Pinehurst. We were not on-board with that."
Hamblen said the decision to file an ADA complaint with the Department of Justice was made "out of desperation," after the resort failed to respond to what the action committee felt were reasonable alternatives.
"If you ask the resort why they require carts to be kept on the path, they can't complete that sentence. In our opinion, it does not besmirch the course and it does not damage the fairways," said Tortorice. "We have beseeched them to change and given them our reasons, but they have remained intransigent to our reasoning."