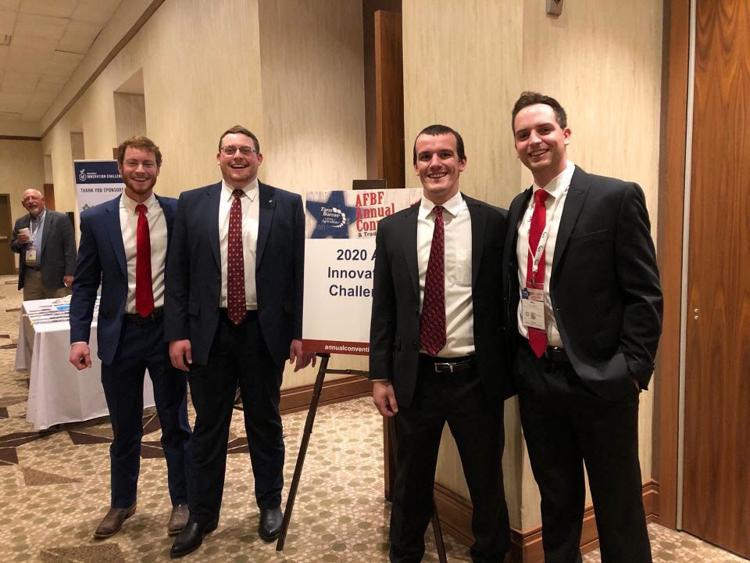 It was a landslide win for the Pine Bine team at this past weekend's American Farm Bureau Federation Ag Innovation Challenge held in Texas.
The Carthage-based company was recognized with the People's Choice Award, earning 54 percent of all votes cast. They also advanced to the final four round in the Farm Bureau Entrepreneur of the Year competition.
The People's Choice Award winner is determined by public voting and the recipients take home a $25,000 prize.
Matthew Parker, a Moore County native and team leader for Innovative Agriculture Technologies, said the outpouring of support was phenomenal.
"It was just grassroots people sharing," he said, noting that friends and colleagues from the N.C. Farm Bureau, N.C. State, and Campbell University School of Law, where he is currently enrolled as a second-year law student, had all joined in the effort to encourage people to vote online for the team. His parents took the message directly out to their hometown around Cameron and Vass, hanging up flyers to encourage people to vote.
"It was pretty awesome how everyone came together," said Parker.
A big portion of their winnings will be used to apply for a design patent on the Pine Bine, a cost Parker estimated at around $10,000. The remainder will be split between research and development efforts, and marketing.
The Pine Bine was originally designed while Parker was an undergraduate student in the N.C. State Agricultural and Environmental Technology and Biological Engineering program. Together with his teammates Ben Cauthen, Ben Cranfill, Alex Greeson and Will Marsh, they developed a processing machine to sort and clean pine straw to make it easier for baling. The project was funded by a small grant from N.C. State and nearly $14,000 on in-kind donations and assistance from members of the North Carolina Pine Needles Producers Association.
It was hailed by N.C. State as one of the best projects ever to come out of the program, and the Pine Bine team was presented with the Superior Senior Design Award upon graduation in 2018.
Since then, Parker said they have signed a contract with a manufacturer, licensing their patent to produce what they anticipate will be a more streamlined version of the Pine Bine that can combine existing technologies in the marketplace. In addition, they have continued to work with the N.C. Pine Needles Producers on research and development ideas.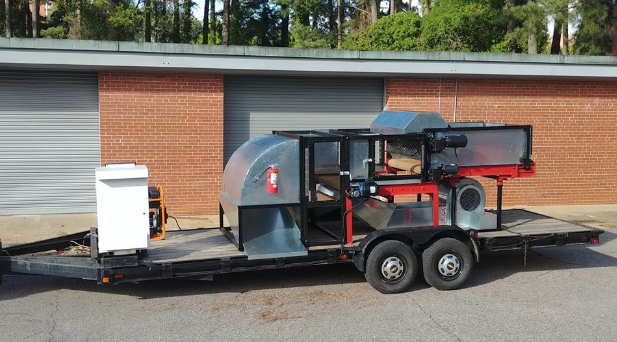 Last year Innovative Agricultural Technologies, LLC, the Pine Bine team's official business enterprise, was selected as a top ten semi-finalist and then named to the final four round in the Ag Innovation Challenge that coincides with the Farm Bureau's 101st Annual Convention and Trade Show in Austin.
The theme of this year's convention, "Sustaining America's Agriculture," focused on steps farmers and ranchers can take to enhance soil health and improve water quality, and agriculture technology's role in helping with labor shortages; increasing competition; mitigating risk and protecting food safety.
Parker said there were 220 people in attendance from North Carolina, including a number of Moore County farmers.
"A lot of the people we met are not from this area. So we were educating them on the pine straw industry, which is substantial and has the potential to grow," he said.
For more information about Innovation Agricultural Technologies, visit www.pinebine.com