Local peach growers are finishing up what has been a bumper crop year. The four-month peach season runs to mid-September with some of the sweeter varieties, like China Pearl, at their peak now.
"It's been as good a year as we've had in a decade," said Taylor Williams, Moore County's agricultural extension agent. "But we've also had a number of really, really bad years to contend with."
The Sandhills region is famous for its peaches. Biscoe, Candor, Derby and Windblo are all common types of peaches grown in North Carolina that take their names from these nearby farming communities. In fact, the state's annual Peach Festival is held in late July right up the road in Candor.
Art Williams of Kalawi Farm in Eagle Springs said it's the combination of the region's climate and soil that work together to make a good peach.
"The Sandhills makes the best peach. It's just the way it is," he said. "We've had good peaches all year. A lot of good peaches. And they have been exceptionally sweet this year because of the dry weather."
The history of peach farming in the Sandhills is fairly short. Production first gained a foothold with the arrival of a few gentlemen farmers a century ago following World War I, according to Katherine Ball Ripley's memoir, "Sand in My Shoes."
The Northerners — men like Raphael Pumpelly, son of a famous geologist, who purchased 500 acres at the highest point in Moore County which he named Samarcand, along with Ralph Page, philanthropist Frederick Taylor Gates, and Roger Alden Derby, gentlemen farmers all — began raising peaches on large tracts in the area.
In the early years, North Carolina's peach crop, concentrated mainly in the Sandhills area, was shipped up the East Coast. The sandy soil proved ideal for growers and the warm climate meant peaches ripened weeks before those in Northern states.
Today there are more than 50 cultivars in North Carolina that are suitable for production, categorized by two main types: clingstone and freestone.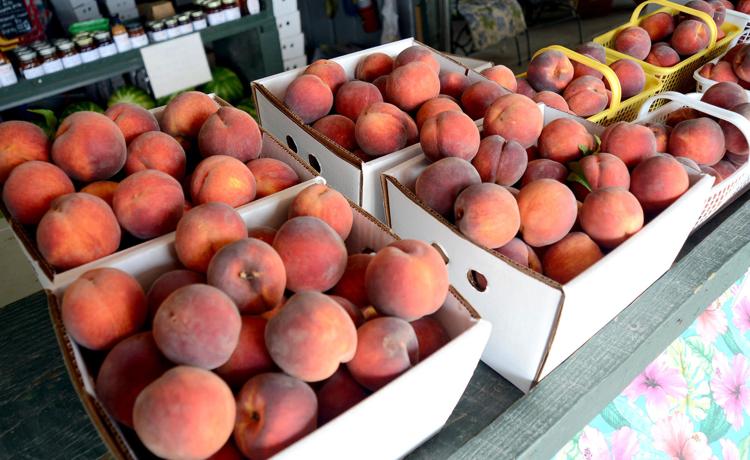 Clingstone get their name from the way the fruit flesh adheres to the pit. These juicier, yellow varieties ripen from May to August and have a soft texture and high sugar content. Good examples include the Derby and Candor peach.
Freestone peaches are also popular, but have a firmer texture — so they are better for baking — with a bit less sugar content. They also have a longer season, running May to September. Good examples that carry North Carolina-derived names include Norman, Carolina Bell and Windblo.
In Moore County, T. Clyde Auman and later his son, Watts, tended up to 80 acres and about 4,000 peach trees on their land in West End, before shuttering the business in 2015.
The area's main commercial growers now include Ken Chappell's Peaches and Kalawi Farm in Eagle Springs, Triple L Farms in Derby, and Highlanders Farm in Carthage.
"You are trying to get a full season starting in May," said Taylor Williams.
The earliest May peaches are clingstones like Rich May, a California variety, followed by Ruby prince, Redhaven and the Clayton, which is a smaller but excellent quality peach.
"A lot of people like the peaches that come out of the prince varieties. Some others are the Windblo, which is really a Fourth of July timed peach, and then Contender which is a very consistent cropper," Williams added.
As the season is starting to draw to a close, he said the later varieties now or soon-to-be hitting their peak include the China Pearl, Cresthaven, Sunprince, and then Big Red and O-Henry.
"We still have a few good varieties left," he said. "But the main varieties are on the downward slope."
The Fickleness of Weather
Fourth generation farmer Ken Chappell said the last four or five years have been good "field tests" of some of the different peach varieties.
"This season's crop has been big and the weather has been good," he said. "But a farmer's memory is short."
For nearly a decade now, the bipolar winter weather means it is warm enough for peach trees to begin to blossom in early March rather than a more typical bloom at the end of March.
"The challenge for farmers has been late freezes. The winter weather is so erratic," said Taylor Williams. "We had it okay in 2012, but not as good as this year. Both 2013 and 2014 were slim, and 2015 was tough."
Peaches, like other blooming fruit trees, have an "off button," Williams said. When the leaves fall off, they require a certain number of chill hours, when temperatures dip from freezing to 50 degrees. Peach trees usually need 600 to 1,000 hours of cold weather to reset.
"It is hard to see these buds breaking early. This year we had bloom as early as February. But then it got cold again and the blossoms held off," he said. "And we had no severe freezes after the beginning of March."
In Eagle Springs, Chappell said he experienced dips in temperature but nothing in the teens that would be detrimental to his crop.
"Most varieties bloom within a week of each other. Early peaches are sometimes just more vulnerable, a little more sensitive to the cold," he said.
Chappell said many farmers have started growing the hardier varieties to cope with the erratic winters.
"They are not always the prettiest peaches. You pick your poison," Chappell said. "Most of the hardier ones tend to be more plain. But we'd rather have some peaches. If they don't hit but every other year, well, we can't do that."
Several local growers have purchased wind machines, a $30,000 investment that can mean the difference between a full crop and no crop at all when cold weather snaps bear down on fruit blossoms.
Chappell said his produce is a bit less diverse than some other local growers with 35 acres of peaches and five acres of apples. He estimated 90 percent of his crop goes to wholesale, and about 10 percent is sold at his fruit stand at the corner of N.C. 211 and Samarcand Road.
Of the 30 varieties of peaches he grows, Chappell said it's the ones that can weather tough years, like 2017, "those are the kind of things we want to stick with."
His own personal favorite is the July prince.
"It's a good peach with a good flavor and it holds real well. But everybody has a favorite."