He's been the chief executive at FirstHealth of the Carolinas for less than a year, but the news has been pretty good on his watch.
Most recently, Moore Regional Hospital has ascended to a spot in the top five of the state's best hospitals, climbing from an 11th place rankings just one year ago.
Perhaps more importantly, the flagship facility of FirstHealth of the Carolinas, along with Moore Regional Hospital-Hoke and Richmond campuses, was also recently ranked No. 4 for "patient picks" according to Business North Carolina magazine.
Foster, who took over the top job at Moore County's largest employer last summer, believes there is a basic formula for success in the healthcare industry.
At the top of his list is employee engagement, which is why you might find him spending a day passing food trays to patients, sorting prescriptions or scrubbing in with a team of surgeons.
"To build anything great, it starts with employee satisfaction and morale," he said. "When you capture morale in healthcare, or any business, all the rest will follow."
Foster stepped into his top leadership role last July, but it wasn't his first time in the door of Moore Regional Hospital.
Back in the early 1990s — as a fresh-faced college graduate — he interned and was later hired to work in the hospital's corporate education office. He went on to complete graduate school and 25 years in progressive leadership roles as a healthcare executive with experience in community hospitals, academic medical centers and multi-hospital systems.
A native of Sanford, Foster said returning to the Sandhills to oversee FirstHealth has been the best decision of his career.
"I want to create the best place to work in healthcare in the country because you can't have a great patient experience if your employees are not engaged. I want my employees to really love coming to work here."
In his first few months on the job, Foster has instituted several programs to encourage a culture of open communication. That culture now includes a "Walk in my Shoes" day where he spends time every other week working side-by-side with colleagues in a specific department.
Foster also created "Mickey's Message," a weekly email newsletter sent to board and staff members that highlights different employees, physicians and celebrations within the FirstHealth organization. He also conducts town hall-style forums with staff and schedules a monthly luncheon, dubbed "Meals with Mickey," at different FirstHealth campuses within its 15-county footprint.
"Leadership helps me pick some of our best employees to attend, our role model employees who are making our organization better. They have the chance to come and share their concerns and ideas. Those are some of the best hours I spend every month."
He also meets regularly with a 20-member "cabinet" of influential physicians. This mixed group includes FirstHealth providers as well as physicians from partnering facilities such as Pinehurst Surgical and Pinehurst Medical, among others.
"They tell me what I need to hear, not what I want to hear," he said, noting that there is always a lot of history and politics when it comes to healthcare systems. "This is an invaluable group. I can run confidential stuff by them and have this venue and forum for those discussions. They've given me good coaching and feedback.
"In healthcare, that voice of your medical staff has to be present. The cabinet really serves that role for me."
Relentless Pursuit of Quality
Over the past year, FirstHealth has demonstrated an uptick in employee engagement — now at the 89th percentile — that exceeds national trends, but Foster is focused on a much higher goal.
Before joining FirstHealth, Foster was president of Moses H. Cone Memorial Hospital and senior vice president for Cone Health in Greensboro, a position he held from 2014-2019.
However, earlier in his career when he led Annie Penn Hospital in Reidsville, he saw firsthand how employee satisfaction can drive patient satisfaction and, thus, quality in healthcare.
"In Reidsville, it was a struggling hospital when I went in. I knew we couldn't bring the hospital back until the employees came first. We brought our engagement up to 99 percent, and that is when the magic happened," he recalled. "Both quality and patient satisfaction rates went to the top 10 percent in the country."
"I'm on that journey (again) to be in the 99 percentile. I want this to be the happiest place to work in the country because that drives the patient experience."
His other priority goals are to achieve "zero harm" in healthcare — a lofty goal that seeks to create an environment of patient safety with no falls, no infections, and no medication errors, among other potential "harms" — and development of FirstHealth's Cancer Center.
Last October, the Pinehurst Village Council approved plans for the four-story comprehensive outpatient cancer center on Page Road, across the street from the Moore Regional main hospital campus. Plans call for a 120,000-square-foot facility with an adjoining four-level parking deck.
Construction on the $60 million project is expected to begin next year. The FirstHealth Foundation has begun a major fundraising campaign for the facility.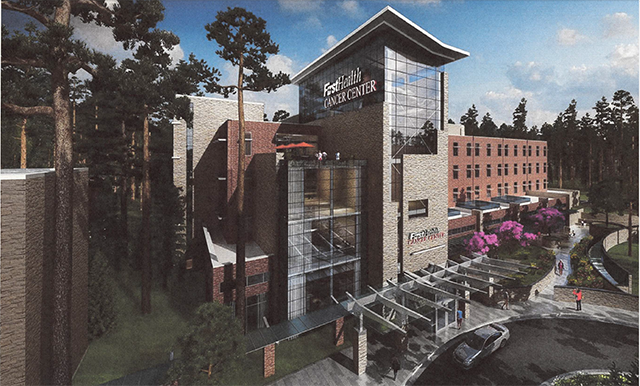 "We've hired our architect...I really want a lot of thought designed with regards to flow and having our patients, staff and physicians involved. I am a big believer in involving your stakeholders."
One floor of the Cancer Center will house FirstHealth's clinical trials and research program. Foster also envisions a healing garden and space set aside for oncology navigators to meet with patients in addition to treatment and physician areas.
Foster said the new facility enhances the important relationships FirstHealth has already established with Pinehurst Surgical and Pinehurst Medical Clinic.
"Together we are always looking at how we can make this a better medical community together," he said, noting that Moore Regional is a major referral center across the Sandhills region. "Nothing is more rewarding for me than to see a vision turning into outcomes."