Blame the fertilizer. It was a bad batch of chemicals that put Terry Bryant out of tobacco farming and into the business of growing what many call Mother Nature's perfect mulch: longleaf pine straw.
You see, there are two things that grow exceptionally well in Moore County's sandy soil: tobacco and pine trees. This natural asset attracted Bryant's grandparents, and he later inherited his own piece of the family business. Then came the mishap.
"We had a bad crop one year. We used terrible fertilizer that had a weed killer in it," said Bryant. "I was a smoker at the time and I knew what smoking had done to my grandparents. So I decided to give it up. I quit smoking and I quit farming tobacco."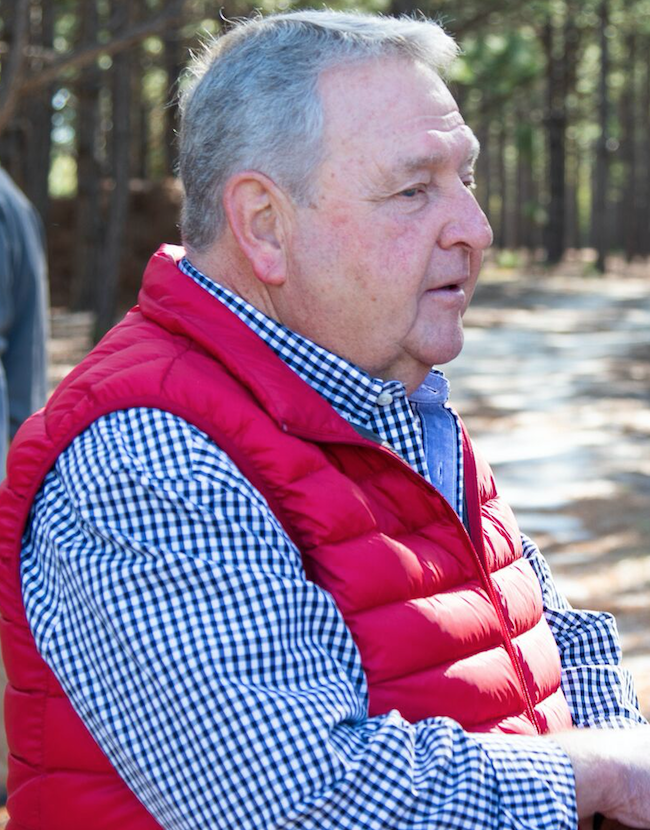 And so he converted his fields to longleaf pine and started leasing more acreage from Carthage to Wilmington.
The owner of Carthage-based Pinestar Farms, Bryant also played a founding role in establishing the North Carolina Pine Needle Producers Association and has spent the last few decades at the forefront of this burgeoning industry.
The Ubiquitous Money Maker
The longleaf is North Carolina's official state tree. What you consider an omnipresent piece of the landscape, the N.C. Department of Agriculture and Consumer Services recognizes pine needles as a horticultural crop.
Also known as pine straw, the brown cast-offs are a cost-effective and long-lasting mulch that is spread easily and never compacts. Landscapers love its ability to conserve moisture, buffer ground plantings from extreme temperatures, and that it does not harbor fungus or termites.
Locally, pine straw production generates a $10 million industry for operations based in Moore County, said Extension Agent Taylor Williams, and he estimated north of 20,000 acres are engaged in active production.
"Some of these operations are quite large and can span several counties. Pine straw is a significant thing," said Williams. "It's a good, logical way of preserving a shrinking resource. It gives landowners a way to preserve the habitat in a natural use in this area while they also can generate income."
The longleaf used to grow in huge stands throughout the South, stretching from Virginia to Florida to Texas. The diverse ecosystem covered an estimated 60 to 90 million acres of longleaf prior to settlement.
Today that figured has dwindled to 3 million acres, and there is a national effort to try and restore it.
Much of the remaining longleaf in the Sandhills — approximately 70 percent — is on privately owned property around Fort Bragg and Camp Mackall, land that has been targeted to help create a natural bridge that will eventually stretch from Drowning Creek to the Uwharrie Mountains.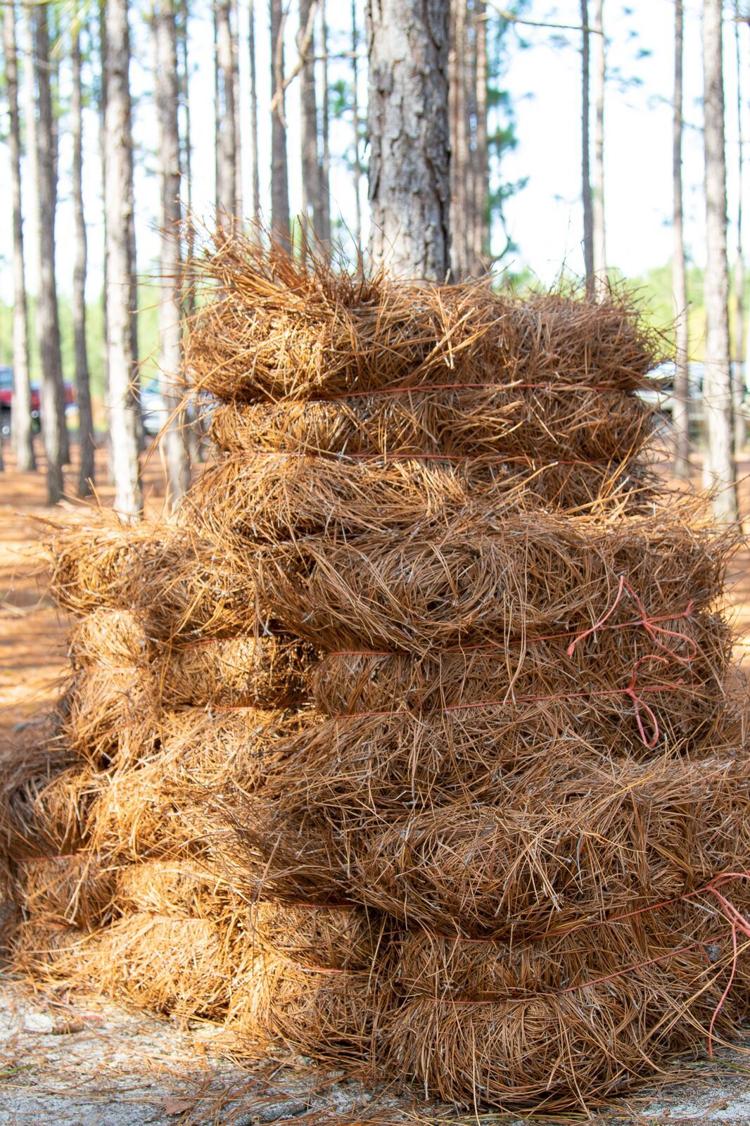 "We want the longleaf because it is historically natural but landowners want to see a return on their land," said Jesse Wimberley, a fourth-generation farmer and the longleaf pine project coordinator for the Sandhills Area Land Trust (SALT).
Wimberley also coordinates the NC Sandhills Burn Association, which connects landowners with peer support, training and tools to meet the longleaf restoration goals on their property. The initiative is a partnership between SALT, the NC Cooperative Extension, and Natural Resources Conservation Service.
"Straw raking is a fairly new forestry practice. It is a phenomenon that came out of trying to create a more sustainable arc to forestry," he said.
The loblolly pine is actually a faster growing tree — which provides farmers a quicker turn on investment — but the wood does not offer the same quality or conservation value. Loblolly needles are also longer, which makes it harder to bale and they do not hold up as well on the ground.
It is the longleaf that produces poles strong enough for utility companies and highly valued timber in proportions that far exceed other pine species. The problem is it takes decades to reach harvest.
"Then someone came up with the idea of using pine needles for landscaping mulch," Wimberley said.
While it takes a good 50 years to produce a telephone pole, a longleaf tree planted on converted farmland will produce pine needles in as little as 12 years.
"Straw was the game changer. It was the tipping point for landowners. Now with pine straw in the equation, you start seeing a different outcome. It starts working for folks," he added.
But there was a big farming problem: a little black and white bird. The longleaf ecosystem is endangered and so too is one of its feathered inhabitants: the red-cockaded woodpecker.
To compensate for restrictions that were put in place to protect the birds, pine straw farmers like Bryant encouraged more people to plant longleaf stands to increase the number of productive acres.
In the 1990s, the Environmental Defense Fund, the U.S. Fish and Wildlife Service and the N.C. Pine Needle Producers Association partnered to establish the first-ever safe harbor agreements for red-cockaded woodpeckers on private lands around Fort Bragg. These public-private partnerships created a new model of collaborative conservation that has been used to protect other at-risk wildlife.
Williams said the Safe Harbor Program served as an important foundation block that helped rebuild the pine industry, "It offers a good collaboration for land stewardship."
"The Safe Harbor program allows people to maintain their land in such a way as to provide for the woodpecker that is on there, but not be responsible for any new population growth," he said. "If they do need to cut their timber, then Fish & Wildlife has an opportunity to relocate those birds to another stand before it is cut. This is a good thing."
Balancing Threats and Diverse Interests
The pine straw market has matured over the last 15 years but, with time, some flaws in traditional practices have become evident.
"What we are seeing is that not all areas where you plant longleaf are equal," Wimberley said.
Farm fields converted to longleaf production are planted very densely. The tight stands discourage anything else from growing, which keeps the pine straw cleaner and easier to sell.
The problem is this creates an unnatural condition.
If left to its own fate, the longleaf forest is an open canopy ecosystem. It is filled with birds and other plants that depend on that sparse canopy to let sunlight reach the forest floor.
"Pine plantations are unnatural forests and this can create pest problems," said Wimberley.
There are three species of bark beetles that affect pines in North Carolina: the southern pine beetle, black turpentine beetle, and the Ips engraver beetle, or Ips for short. All three are attracted to weakened trees.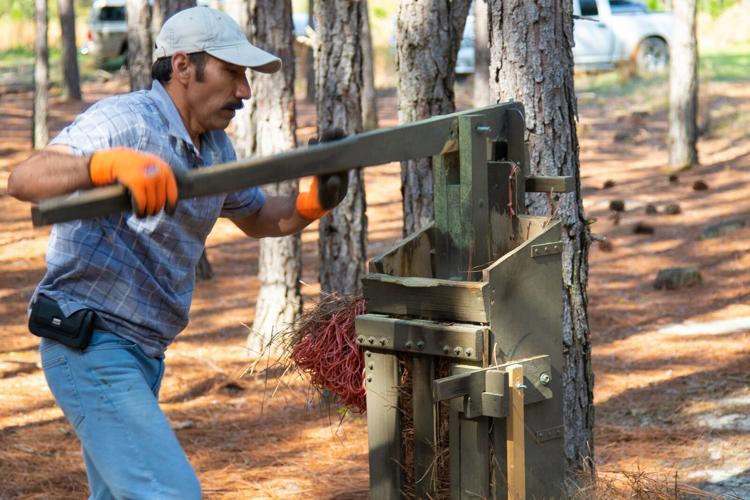 A densely planted tree can be stressed. And for the same reason that pine straw is beneficial in a decorative landscape — because it retains water — removing it can be detrimental to the natural place from where it was harvested.
Ips beetles have become especially problematic and treating them with pesticides is cost-prohibitive. The N.C. Forest Service recommends a three-year cycle of prescribed burning the first year, raking the needle fall the second year, and leaving the stand alone in the third year.
"Here is where it gets complicated," Wimberley said. "How do you continue to develop this market without losing your investment because of the Ips beetle?"
"You want the long gain. We tell farmers the problem is not Ips, the problem is in your forest management," he said. "The only solution is better management."
Wimberley said straw raking is also frowned upon within the conservation community because in a commercial pine stand, the diversity that exists in the natural ecosystem is stripped away.
He takes a philosophical approach.
"It is like solar farms. Some say they are unattractive, but many landowners would be making the decision to sell their land otherwise for development. If the big topic is to retain working lands, then solar farms and pine straw production are things that are keeping some families in open land," he said.
"We have to come up with plans to keep development in areas where it is best suited and keep areas with high conservation value in a natural state. We have to figure out ways to incentivize people and pine straw fits into that equation," Wimberley added. "I believe it is better to have a less-than-perfect forest than a shopping center."
It's hard to come by good numbers for pine straw production in North Carolina. A survey conducted in 1996 indicated annual sales exceeded $25 million.
The one thing that hasn't changed over the years is the per bale price of around $3.50 for processors.
"It takes an awful lot of pine land to keep a farm moving and growing, to make it profitable and sustainable. Pine needle prices have not increased in 20 years," Bryant said. "In order to grow, you have to manage more land. Producing more bales is the only way to sustain yourself."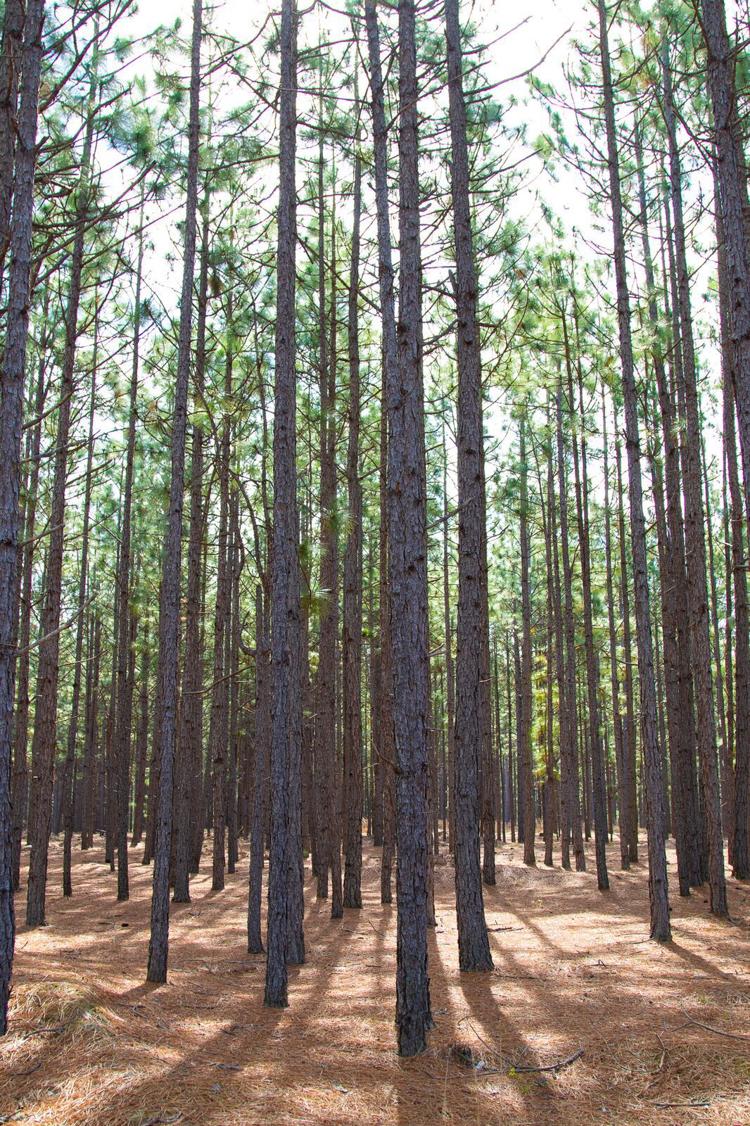 The North Carolina Pine Needle Producers Association (NCPNPA) was founded in 1988, by Bryant and other producers concerned with enhancing professionalism in their industry and increasing the availability of quality pine needles.
One of their initial goals was to have pine straw declared as an agricultural product, which also gave the producers a seat with the state Department of Agriculture as commodity group.
The association members also helped to establish a standard bale size — three cubic feet — and worked with state legislators, sheriff's offices and the N.C. Forestry Association to combat pine straw theft.
While North Carolina law designates theft of personal property valued at less than $1,000 as a misdemeanor, the group successfully lobbied for any amount of pine straw theft to be classified as a Class H felony.
"The longleaf is quite an amazing tree," said Bryant.
His preferred method of farming is to start his longleaf pines in thick stands where they compete for nutrients, water and sunlight. This inhibits other plants from sprouting and forces the trees to grow slowly.
"The problem with growing timber fast is you will not get good, solid wood. The growth rings will be a long-distance apart and the soft wood in between will rot quickly," he said. "If you grow a longleaf slowly, the rings are tight and this makes for great power poles, flooring and furniture wood.
"Straw is a byproduct of growing timber. That is the only way we can afford doing it because it takes so long to grow timber," Bryant said. "Timber is high value but over the course of a lifetime, the amount of pine needles sold will outweigh the value of the timber."
Bryant said (prescribed) fire can be a good tool to control undergrowth, in addition to herbicides and mowing or raking, but he is cautious about burning debris piles too close to his trees.
"I've seen it happen. If you burn too close or at the wrong time of year, it can draw insects. They will attack the healthy trees," he said.
Branching Out to the Next Generation
If sustaining the industry is one challenge, perpetuating the business to attract a new generation of farmers is another.
"The focus of the NCPNPA must change. We have to educate the young agriculture students that this is a viable alternative to conventional farming," Bryant said. "There is money to be made and there is a future in it."
In partnership with N.C. State University, several members of the producers association funded an engineering project aimed at mechanizing the most labor-intensive aspect of pine straw production.
Pine straw is typically raked and errant debris is sorted out by hand. Using a primitive cart with a lever, the clean straw is packed into a tight bundle that is tied.
"Historically we had plenty of laborers to bale the straw. But now we endeavoring to get manufacturers to come up with machines to take the place of some of this labor," Bryant said.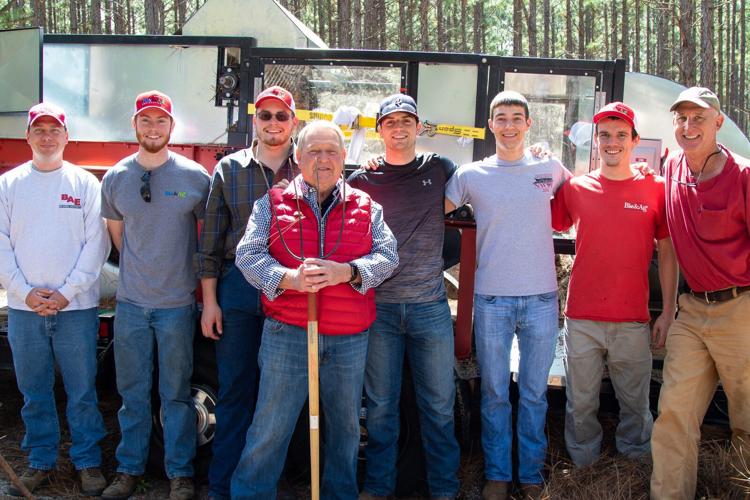 Five students in the Agricultural and Environmental Technology and Biological Engineering program designed the Pine Biner, a processing machine that sorts straw to make it easier for baling. Hailed by N.C. State as one of the best projects ever to come out of the program, Ben Cauthen, Ben Cranfill, Alex Greeson, Will Marsh and Matthew Parker, who is a Moore County resident, were presented the Superior Senior Design Award upon graduation in May.
Bryant estimated the machine is capable of reducing 15 percent of field labor, energy that could be redirected to other tasks. His hope is the design will interest big name manufacturers to develop new tools to enable the pine needle industry.
"This," he said, "could be the start of something big."